NOSTALGIA- USC 1997 Magazine
It was past midnight and the prints still subjected to amendment and rectification at 'Jamana Printers'. Also operational was the dedicated and devoted Mustafa Pirbhai's optical shop that had been transformed into a writers' office and working full time. The deadline for the sports magazine had to be met while the night ticked away. It then dawned but it was dusky and the rains poured on. We made our way for prayers to the mosque and there arrived in a bus the contingent from Mombasa. The 'Jafferies' had landed amid onlookers chanting 'naare takbir'. It heralded the sports festival, the first ever 'Supreme council Tournament'. That was way back in 1984.
The oncoming community progeny may pop a cricket enquiry into the computer referring to Zanzibar, Union or Supreme Council Tournament. It is therefore appropriate if we precisely dwell upon our cricket.
Here we need to understand that while our local cricket level is second rate when compared to international standards (even though Asif Karim and his Kenyans might have beaten the mighty West Indians on neutral soil) it is also a fact that nothing, not even a tensed India- Pakistan encounter, can match the intensity felt in local matches contested at community level.
The cricket history of the community dates back to mid nineteenth century from the time the conversion or division of Khojas was taking place. At that time their sizeable portion had already ventured the greener pastures of East Africa and at first landing off the coast on an island by the name of Zanzibar that they in their lingo proclaimed 'Jangbaar'.
Cricket, the great leveler, had deep roots in Zanzibar where it was played more than a hundred years back and the Ithnashris forming one of the participating teams then. There have been even photographs evidencing this. They portray our forefathers in turban and those old attire, holding bat and ball.
However it was later under the British Colonial Administration that the Cricket Sub-Committee was formed and in 1933 a prominent community member, Husain Rahim, made its Chairman. Ithnashris reigned supreme winning regularly in 1930s and 1940s the league (Dr.Albuquerque Shield) and in 1950s and 1960s the knockout (KJ OR Karimji Jivanji Cup).
The memories of Sherali Megji, Gulamali Kabana and Gulamhusain Dharamsi provide fundamental pathos to the past inhabitants of the island. Even today when they visit Zanzibar and pass via Mnazimoja they would visualize Sherali hitting sixes or Kabana and Gulamhusain thundering upto the wicket to bowl.
The 1964 revolution not only brought an end to cricket but also led to the migration of the community to mainly Daressalaam where also the game thrived among the community youths. Its pedestal was the 'Chungani' ground which nurtured potential stars in Kara brothers, FHR and Muslim, whose exploits and feats get still talked about. But besides 1954 when the league was won for the first time under the captaincy of Pyarali Merali, championship always eluded Ithnashris till 1973.
In the field of administration veterans like RR Jaffer played key roles. He became TCA's first non European official. He was also Ithnashris' defensive batsman who once batted whole day scoring mere 10 runs. For that matter our Vice President (Supreme Council) Mohamed Pirbhai(HM) had also solid concentration and opening the innings he remained bat in hand till the very end not once but five times. HM was also a firm administrator and it was during his tenure as Chairman of Tanzania's Selection Committee that Ithnashris' cricket received real boost. This phase coincided with the beginning of Ithnashris most glorious era. The name of the club also underwent change from Ithnashris to Union.
Union came to symbolize 'champions'. Nothing is invincible but Union's cricket had an aura of its own. Led by the authentic Amir Yusuf they would walk majestically on to the cricket field and then entangle their opponents left, right and center. Managing the Gulf Air Office located beneath the MD Kermali mansion in Zanzibar Amir today may be far from the present scene but once he used to be an enigma with mystical cricket mind that never went wrong. The disciplinarian Amir ruled the roost. Even in the selection sittings none could overpower his decision or challenge his strategy.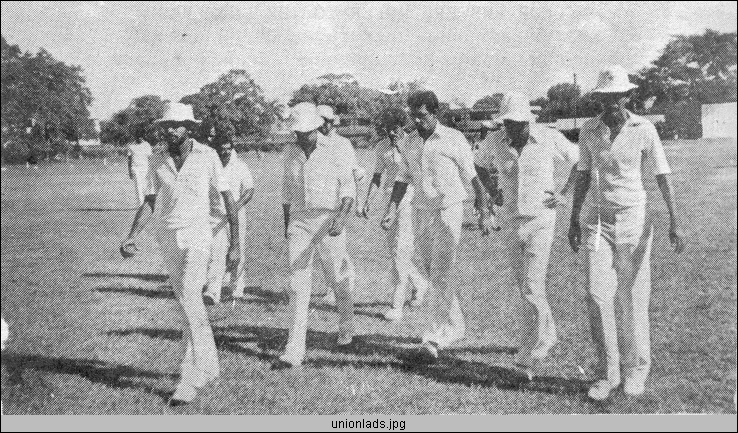 The Union lads walking majestically on to the field
From 1973 to 1992 the championship evaded Union just thrice. Even when it came to knockout or other tournaments Union hardly missed a trophy. For Union supporters cricket became the biggest pastime. They even abandoned their evening drive to Oysterbay as the matches stretched upto 6.30.Carrying their foldable chairs they came in hundreds and reached the ground at the earliest possible. They also brought their thermos filled with black coffee along with the small coffee cups that made the rounds. They excitedly watched the cricket proceedings and chewed the betel leaves and nuts. At every run scored they exulted while sighed at dropped catches and tumbling wickets. What mattered was that they always left feeling high and jubilant for Union never let them down. They discussed about the match the whole week and awaited the next Saturday and Sunday with great expectations. It was a great era.
Today cricket has lost its old touch. Even at international level commercialization and the advent of limited overs matches has robbed cricket of its aesthetic value. No doubt the traditionalists and purists view it with dismay if not contempt. In the olden days it used to be sheer test matches, and those also very rare, one or two five test series in a year. Cricket lovers enthusiastically awaited the 'Ashes' and looked forward to series with the fabulous West Indians. The 'Rubber' between India and Pakistan was not heard of for almost two decades after their 1960 series.
Today there is cricket every alternate day and thus the charm gone. Modern technology may bring in live to our rooms actions from far off distance but the immense pleasure derived from those radio commentaries by John Arlott, Allan Mcgilbert, Brian Johnson, Tony Cozier, Maharaja of Vizenagram(Vizi) and Omar Qureshi remain unsurpassable.
Whatever the status of cricket today it is tournaments like this that foster brotherhood. They also remind of those dear ones who once had been so involved but remain no more. One of the highlights of our 1984 souvenir was an article by Juma Aley that Akbar Gulamhusain had obtained for our magazine and one of those on its committee was Mohamed Kassam (James). Sadly all the three have quit the world. So many others also associated with the 1984 tournament have passed away. RR Jaffer called all the way from London furnishing minute details. Rafiq Somji enlightened on history. Pyarali Merali featured prominently in the magazine. The donor Mohamed Virani was made the team manager. There was the charismatic Iqbal Damji (Bali) and the jovial Husain Datoo who were active as participants, and so was the youthful and ever helping Bashir Lalji from Arusha. Abbas Tejani, Amir Nasser and Raza Nathoo were staunch supporters. The kiddy Kazim Nathoo, cheery and ever ready, was there to render his little helping hand. Alas they have all parted.
Time is a big healer and it elapses. The past is mere nostalgia. The community keeps spreading all over the world. Those lovers of the game of cricket from Tanzania, wherever they may be, at times ought to be reminded of the good old days:-
Bashir Nasser clean bowling Hanif Mohammed at the first pitch at Mnazimoja, Akbar Gulamhusain on the boundary line catching Agha Jawad off Muslim Jivraj at Khalifa ground, Amir Yusuf knocking a solid 97 against Kenya at Gymkhana ground, Yusuf Kabana wrapping up the cream of Indian line up at the same venue where also Basir Tejani and Mohamed Nathoo put up a 117 runs stand against Minor Counties of Britain, Amir Gulamhusain's fiery initial spell against Universal of Zimbabwe at Burhani ground where also Sajjad Lakha struck a hat trick against the formidable AK Club, and all around Shakir Sherali lofting his 'ndimus'.
They were all great cricketers. They have now almost quit the cricket scene. They provided real thrill to us. We salute them.
---
| | |
| --- | --- |
| Last updated November 2007 | Copyright © Abdulrazak Fazal 2007 - All Rights Reserved |