SAYYID NYANYA- THE GREAT SPORTSMAN- 3rd March, 1994-The Express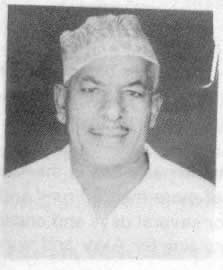 To see Sayyid Mohamed or Sayyid Nyanya as he is popularly known, rushing to the cricket ground, is a common sight. Also it is usual to see Sayyid offering asar prayer at the ground itself as it coincides with tea break. It reflects the pious nature of this humble and friendly soul. Sayyid is also well conversant with international cricket and cricket laws. Besides playing he also used to umpire the matches. The most striking aspect of Sayyid is his sincerity and keenness to promote cricket and in particular among the youths. He takes personal interest in their performance and is a fatherly figure to many. Sayyid is such a pleasant personality that he would stop on the road and talk to one and all.
Said Nyanya
Juma Aley, the Zanzibar cricket captain of the 1950s and a great academician, had this to say of Sayyid while writing for one of the magazines:-
"One aspect of Zanzibar cricket was the services of the well known Sayyid Nyanya who is now established firmly in his business at Kisutu Street. Sayyid's grocery at the Zanzibar market was a club for all, so is his store now at Kisutu in Daressalaam. Sayyid is certainly one of the best sportsmen Zanzibar has ever produced and his participation in Daressalaam sports is too well known. His motto in sports as in life is 'never say die'" What a tribute!
Sayyid , born at Hadhramaut in Yemen in 1928, landed in Zanzibar in his childhood. Football was Sayyid's first obsession. He was one of the founder members of Malindi Club and played as its halfback right from 1942 to 1960. Sayyid had the honour to represent Zanzibar in the Gossage Cup from 1942 when Zanzibar participated in it for the very first time up to 1956.
Sayyid's cricket career began in 1949 when the Arabs' cricket team under the patronage of Juma Aley was introduced for the first time. They began with a bang winning the KJ Cup that year. Discussing his mentor, Sayyid said, "Maalim Juma was a well dressed, disciplined and such a fine cricketer that he created an everlasting impact upon us. We all used to be in awe of him."
Sayyid was all nostalgia as he reminisced Zanzibar, "Cricket in those days was competitive. Once the KJ finals between us and Ithnashris stretched for almost five days. Eventually the end came one Thursday evening as we lost by just three runs when Akbar Gulamhusain caught Agha Jawad on the boundary line. Both Jawad and Akku were great cricketers and sadly remain no more.
"In that Arabs team was Ahmed Bachoo who also is no more. Ahmed was a real fast bowler and always among wickets. I can still visualize him coming in to bowl in his thumping action. In these few years quite a few Zanzibar cricketers have died. Harji Mawji being one of them. He was the finest batsman I have ever seen. Others who passed away recently were Gulamali Kabana and Ibrahim Abdulhusain(Patraiwala), both great bowlers and unplayable on their day.
"Zanzibar was a cosmopolitan small town and we had teams of even Goans and Parsees. The Goans had James D'Lord who was their star batsman and the hardest striker of the ball. The Parsees were fun loving people and spoke a peculiar dialect. Everyone used to enjoy them. Rusi Madon who was Zanzibar's most consistent batsman was a Parsee."
On today's cricket Sayyid said, "The recent Union versus AK final was a close contest. Union's trio of Hasnain Rahim, Salim Akber and Sajjad Sumar did a fine rescue job. Even then 15 runs were needed and only a wicket remained but Union did it as their last pair steered them through.
"Also Ekta in a Saturday game successfully chased Burhani's 180 runs target. Their hero was Yasin Kassam who has a fine footwork and seems a good potential. So is Kishan Gajjar, another of those Ekta youngsters. All credit to veteran Ahmed Osman for his dedication and the uplift of Ekta.
"Besides teamwork individual performances also count a lot. Yakesh Patel's hurricane century that included 13 sixes against Upanga was a joy to watch. So was Devpal Gupta's century against the formidable Eaglets that steered Gymkhana to victory. Eaglet's tot Mohamed Rahim's two timely sixes cost Burhani the game as eventually they lost by the same margin. Shabbir Mulji's control over line and length has consistently rewarded him with wickets and aided his team's performance. Also Gymkhana's Brijesh Mehta and Eaglet's Ankit Asar have been displaying fine all round performance.
"However, my favourite cricketer is Ilyas Abdulla. He is a complete cricketer and a treat to watch. Burhani have other lads too. Salim on his day can be the best. Zulfikar is a fine all rounder and his sixes on the off side are unusual. AK's Ayzaz Jessani is the most prolific scorer. I really admire his temperament. These youngsters should emulate Kenya's Sibtain Kassamali who is such a class player. Besides he is disciplined, patient and calculative. He makes a perfect coach for our youths."
Coaching reminds Sayyid of Zanzibar's Rati Balsara and Ahmed Iddi. "They were excellent coaches who guided us even when we played against them. Ahmed Iddi was a dashing batsman and none dared stop his cover drive. He formed the Comorians team that had such class players as Ahmed Himid, Zaglul Ajmi and Ahmed Islam."
Comorians are indigenous to Africa and Sayyid was amazed. "Why can't we have local Africans playing cricket over here? We have only two of them, Subira Husain and Omar Osman. Omar can be developed into a good fast bowler. In fact the school teams must come up with as many African players as possible. The Kenyan team made up mostly of indigenous Africans have put up a fine show in the ongoing ICC tournament. Tikolo brothers are really impressive. It is high time we produce the Tikolos and Walusumbis."
---
| | |
| --- | --- |
| Last updated November 2007 | Copyright © Abdulrazak Fazal 2007 - All Rights Reserved |