CRICKET MANIA- Dec.,1986-USC Magazine
Regrettably the contents of this prologue accentuate too much of 'I' as necessitated by its 'subject matter' and hence the readers to bear its monotony.
My obsession with the game of cricket and at times a trifling talk on the subject puts me in an awkward position when confronted with a retort if I ever played cricket. Besides a lot of tennis ball cricket there was only one game that I played with actual cricket ball. It had been an interclass game in which a lucky sneak yielded me two runs and what transpired later in the fielding department was unbearable, its mere thought mentally torments me even today. The clumsy little fellow that I have always been deceives my sporting instincts.
Too much obsession is said to imply a weak personality and hero worship denotes a sort of complex but my devilish possession with cricket remains unperturbed. Once in 1975 as I was about to present a paper at the IFM during the National Bank of Commerce Managers' Conference I was in for a shock when my file instead of carrying a paper on the 'Analysis of Branch Viability' sneaked out 'Lillee and Thomson terrorize Englishmen'. Fortunately the handouts lay in abundance and the situation was saved.
On another instance while in Dubai I called off an official meeting under the pretext of ill health as its timing coincided with the radio commentary of the finals of the 1979 World Cup between my favourites West Indies and England.
There have been some unpleasant moments too, like getting a rebuff from Union Sports Club sometime in 1973 when Ijaz Butt, a former Pakistani test cricketer who resided for sometime in this part of the world could have been made to play for Union and train the boys. The offer slipped down and an opportunity of receiving free services from a test cricketer went down the drain. This was unlike Zimbabwe who sought the professional services of Yunis Ahmed of Pakistan that did a lot of good to its cricket.
My cricketing chapter opens up with the visit of the Pakistani side in Zanzibar in 1956. Merely a tot of eight years then I was more fascinated towards the much talked about Pakistanis than the game itself. I still treasure the brochure and can vividly recall fetching a glass of water for Waqar Hassan and getting snubbed by Omar Qureshi whilst seeking his autograph. The great Hanif Mohamed was bowled by Bashir Nasser and that was the talk of the town for sometime.
In those days the names of English and Australian cricketers commanded great respect. Hanif and Fazal Mahmood received lots of adulation from the Muslims while the Hindus had their heroes in Vinoo Mankad, Polly Umrigar and Vijay Manjrekar. Hanif's marathon innings of 337 against the West Indies was the talk of the town.
Around that time I came across this photograph of a black youth in the 'London Magazine' and its caption read that Garfield St. Auburn Sobers' unbeaten 365 against Pakistan was a world record. Two distinctions struck me instantly; first that cricket was not the monopoly of Whites and Browns and second and more important that none of my contacts had given mention to the black youth. My socialist instinct reacted and I took fancy for the black youth, his picture found its place in my wallet and Sobers became my hero.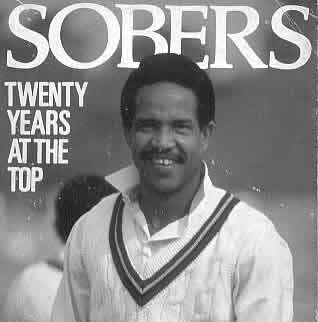 The greatest of them all- Sir Garfield Sobers
Sobers had mounted on the cricket scene. What followed is history. Gerry Alexander gave way to Frank Worrell and the 1960-61 West Indies-Australia series became the turning point of the cricket world. The White supremacy succumbed gradually to the powerful Blacks. Indeed the West Indian domination over cricket today gives me immense satisfaction and is a fulfillment of my desire. A test match in the West Indies with a favourable West Indian position keeps me awake till quarter to two at night when BBC broadcasts 'Sports Round Up'.
Interestingly Murad Kermali had a bat with Sobers' autograph on it. The bat had become a deity to me and I would stealthily give it a sacred touch whenever I happened to be around it. My Sobers mania put me in all sorts of problems. I was caught red handed by one of the teachers detaching the blow up of Sobers from one of the sports magazines in the school's reading room. I also got a smack from my mathematics teacher for sticking a Sobers photograph on my geometry text book.
I can also perceive the rare slap I received from my brother way back in 1960 for banging his Grundig radio in sheer desperation of Sobers dismissal for 92 against England in the fifth and final test. Sobers had been on his way to his fourth century in that series and I always wished that he recorded more than three centuries in a series which unfortunately never materialized.
I could not control my tears as BBC flushed its 2 pm news announcing the dismissal of Sobers for naught at Oval in the final test of the 1966 series against England.
In the third test at Madras against India in 1967 Sobers was unbeaten on 95 and on his way to his 18th test century. I spent a sleepless night in sheer excitement of the century that would follow. The next morning he was caught off Chandrashekhar in the very first over of the day and I spent the day in mourning.
In 1970 Sobers' visit to Zimbabwe, then Southern Rhodeshia, evoked a lot of criticism and Khalid Ansari, the editor of Sports Week invited its readers' views. Ever ready to defend my hero I came up with my point of view that won me a prize.
In February 1984 I found myself seated at the Wankhede stadium in Bombay on the occasion of the Faroukh Engineer benefit match. The stadium erupted hysterically as Sir Sobers came out to bat. What an ovation it was! But the king was limping and the phenomenon was history. To me it was very sad.
Wankhede has replaced Brebourne which to date remains my favourite ground. Even the intoxication of Lords and Oval could not influence my preference for Brebourne. It was outside Brebourne stadium in 1969 that my friend and I had spent an entire sleepless night to procure tickets for the India-Australia test. The riots that broke out at the stadium on the dismissal of Venkatraghavan had the East Stand burning and the fire then spread towards the West Stand where I was seated. There was stampede as we rushed out when a soda bottle struck right on the face of one hawaldar(policeman) standing by my side.
Brebourne accommodated 'Kanga' library that had only cricket books. I enrolled myself as its member and there I used to see BB Mama engrossed in his statistics. As the refund of my deposit with the library could not be obtained in due time before my departure from Bombay I stealthily retained 'The Tie Test' by Jack Fingleton which still makes me feel guilty.
Once on a visit to St. Xaviers College Hostel I met a somewhat reserved lad. He was their college's leading batsman. None then had the slightest inkling that Sunil Manohar Gavaskar would go on to dominate the cricket record books.
The selfless services accorded to Tanzanian cricket by Dr. Kulbirsingh Gupta reminds me of the 'Tanzania Students Association' that we had formed in Bombay and sitting on its committee along with me was this Sardarji who even then impressed me with his sincerity.
Unlike Brebourne Stadium Karachi's National Stadium lacks appeal. There in 1968 I witnessed one of the dullest innings played by Hanif for PIA against Pakistan Blues. It took him almost two days to score a century. On the second day at tea time a spectator rushed towards him saying with sarcasm "Munshiji, ab cricket khelna chor dijiye." What a contrast when eight years later at the same venue I saw Majid Khan slashing a scintillating century before lunch against New Zeland!
Of recent cricket has been given a lot of prominence in the Gulf countries due to the Indian and Pakistani settlement there. I could very well sense big cricket coming to the Gulf with Abdulrahman Bukhatir making headway in the 1970s. Today at times I wish I could be still there to adventure not petro dollars but great cricketing thrills that have invaded Sharjah.
During my stay in Dubai Pakistan's victory over India in 1978 led to celebrations at our bank by jubilant Pakistani members of our staff and the Indian staff had to be dragged into the reception. The 'Kadir Restaurant' at Deira came up with a brilliant idea of screening the final moments of the game in its dining hall to attract customers. Along with my Pakistani friends I must have dined there at least five times just to view those tense moments of the game. In a way I was in a fix as my Indian pals suspected my loyalty.
Nevertheless the crushing defeats India suffered at the hands of Pakistan led to the introduction of new blood and hence its revival since then. Today Indian cricket has made great strides. The adulation that its cricketers receive and the big money that pours into the game has given Indian cricket a tremendous boost. Time may not be far when India with its massive population and cricketing craze will take over the reign from West Indies where there is little money that detracts its small population to better outlets.
The cheering Ian Botham received from his English fans as he wrapped up the Australian innings in the 2nd test last year signified his immense popularity and made my visit to Lords a memorable one. Sadly the English side lacks luster and its plight today is a dismal chapter in its rich cricket history.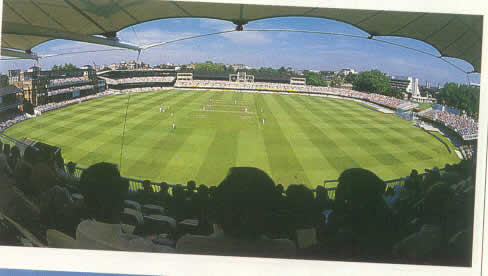 Lords cricket ground- the Mecca of cricket
Talking about home a sad chapter also relates to Zanzibar where East African cricket was most deeply rooted but has vanished today. Its exciting cricket still makes me visualize Anvar Ladha and Yusuf Alidina opening an innings or Sajjad Musa in his 'horse gallop' action coming in to bowl or Ahmed Juma(Kakay) taking a catch in the slips.
There were peculiar characters in Zanzibar such as Muslim Dungersi who was a fanatical supporter of Ithnashris. He had made a replica of the huge KJ Cup that he carried along with him in his red sports car ZAA 100 making rounds of Forodhani and chanting victory songs whenever Ithnashris won the KJ finals.
Muslim's shop at Changa Bazaar was a get together for commentary listeners. Beside it was the shop of Chunilal the tailor who had kept a score board outside his shop. As a child I derived great fun dusting the board and chalking scores.
Today when Maalim Muhsin Alidina applauds Union shouting at the top of his voice 'come on champions' it reminds me of Aunali Yusuf Salehmohamed(Gheewala) who used to indulge in tantrums provoking the rivals. A couple of years back when I had met him at his residence in Surat our conversation drifted to those old days of Zanzibar cricket.
Raza Khakoo(Bhabha) was another such character who sensing an Ithnashri victory provided hot saffron milk stuffed with pistachio and nuts at tea time.
As supporters can be seen restlessly walking to and fro at those critical stages of a game it makes me recall two very interesting characters in those days, Mohamed 'Mandazi' and Husain 'Madawa' who during such moments turned their backs praying for God's mercy and reverting to the scene after the action had preceded.
Zanzibar with its youths like Amir Yusuf,Yusuf Kabana,Amir Ghulamhusain, Bashir tejani, Mohamed Nathoo and the like had naturalness about its cricket, alike the West Indies island of Barbados which in fact is smaller in size and population than Zanzibar but has produced some of the greatest cricketers in the world.
---
| | |
| --- | --- |
| Last updated November 2007 | Copyright © Abdulrazak Fazal 2007 - All Rights Reserved |