CRICKET FEAST- 26th, Dec. 1993-The Express
I have had this affinity with the Bohoras since my childhood days. From my experience they form undoubtedly the most cordial people. It is their innate quality that has a lot to do with their devout and mindful upbringing. They are an exceptional and exclusive class of noble people who definitely are a great exemplar to others.
The Bohoras value their traditions immensely and strictly adhere to discipline. Whether a feast or a funeral, all their occasions are sacramental purity. Such etiquettes emanate not out of nothing but call for solid background.
When it comes to humour one has just to admire their facetiousness, and the best time to elicit this humour is of course during a cricket match for the Bohoras love cricket, whether at local level or international level.
Their cricket team, Burhani Sports Club, is one of the finest local teams with such stalwarts as Kutbuddin Dossaji, Iqbal Amijee, Ilyas Abdulla, Salim Nurdin and Zulfikar Adamji. For that matter the Bohoras have always produced great cricketers, the likes of Abdulkader Makra, KT Karim, the Sulemanji brothers and Mohamedhusain Wallijee, and from Zanzibar Ibrahim Abdulhusain, Tayabali Goribai, Mansoor Karimjee, Ibrahim Karachiwala and Abitalib who all form part of nostalgia now.
The later phase saw performers in Shokat Raja, Zulfikar Yusufali, Asif and Moez Noordin, Feroz Kondo, Mohamed Gowa, Taher Amijee, Shabbir Kaderbhai, Hassan Januwala and of course Adam Akberali who features prominently in this feature.
Adam's cricketing career lasted for a long period stretching from 1961 to 1987. He was an elegant and stylish cricketer, a classic back footed batsman who represented the National side many a times. Adam recorded many memorable knocks. His superb century in 1964 against Agakhan School after his side Young Challengers was trailing at 15 for 5 still gets talked about.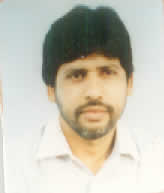 Adam hit another century against YMCA in 1979. In 1975 playing for Tanzania against Zambia in the Quadrangular at Kampala he won the best batsman award. Incidentally he also held 5 catches in that match. In 1978 he captained Burhani Stars and won the inaugural KJ Cup.
Adam later developed into a fast bowler opening the attack for Burhani. As a bowler he shall always be remembered for his fiery bouncers. Once he bowled out the formidable Union Sports Club for mere 101 runs and provided Burhani with a convincing win.
Adam Akberali
Almost retired from cricket now Adam has transformed himself into a cricket chatter today. He loves talking about cricket. Besides he is a cricket philanthropist. The kits, bats and balls that he has donated to various individuals over the years know no bound. He is also a voracious collector of cricket materials and his shelf is lined up with cricket books and cassettes.
Adam is also a member of 'Limra Group', a group of cricket enthusiasts. The group had the misfortune of losing two of its prominent members during the year. One was Amirali Adamji, an old veteran who despite ailing legs always availed his presence at the ground while another was Akbar Hakimjee, a jolly good fellow. Both died of sudden heart attack, in fact Amirali while on his way to a Saturday afternoon cricket match.
Back to Adam who derives immense pleasure in entertaining his 'Limra Group'. A tea time at the cricket ground is a feast for the group. They are regaled with 'samosas' and 'kababs', and tea is provided by Mohsin of the 'Kayzars' which is poured into the cups for one and all. Mohsin is another guy who is generous and at times even throws lavish lunch for the group. The elder brother, Abid Kayzar, has a tremendous 'know how' and is also a great talker. On his arrival the conversation gains momentum and the discussions deviate from one topic to another.
Else the group has commissioned Aziz Raja as its exchequer to collect funds from one and sundry. He would then arrange menu for lunch and tea placing order well ahead of the match.
The jester Mushtali Lukmanji with his witty remarks exudes tremendous humour. None is spared from his sarcasm, the cricketers included.
Last Sunday's feast was provided by Adam at the Burhani ground where 'Burhani' encountered 'Eaglets'. Adam's acquaintances had gathered in large number and the lunch was awaited with anxiety. The plates, bowls, glasses and spoons were brought and the tables were set. They were garnished with delicacies, pickles and poppadum included.
The attendants were then treated to tasty halwa and delicious chicken biryani while glasses of buttermilk flowed in abundance quenching the thirst.
It was a delightful experience. Within no time the sumptuous lunch had been absorbed. The gathering was then relished with with the choicest of paan(beetle leaves).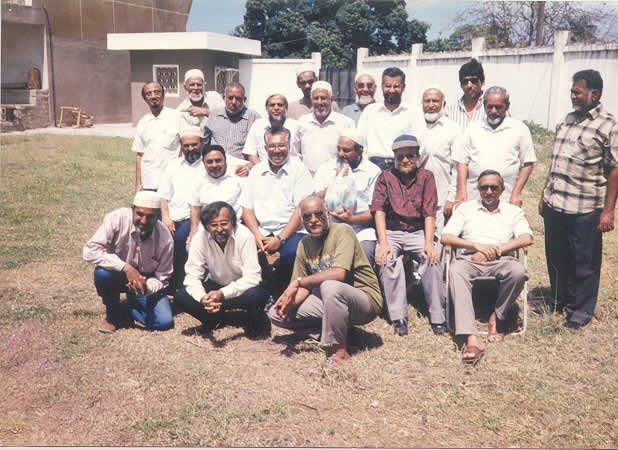 The Limra Group
---
| | |
| --- | --- |
| Last updated November 2007 | Copyright © Abdulrazak Fazal 2007 - All Rights Reserved |