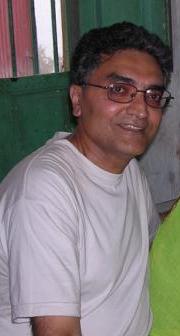 It has been quite an experience visiting Zanzibar after 33 years! I was not keen at all to go but it was my wife, Shehnaz and the kids who wanted to see what it looks like now! At times I was tearful to see the place in such a state of ruins but it is still the most beautiful place in the world - the beach, the color of the sea water, the taste of water, the sunset and even people are unique in Zanzibar!
We went also to Dar and Mombassa but non-compares to the hospitality of Zanzibar! I managed to eat almost all those Zanzibar fruits - matufa, mustaferi, kungu, embe muyuni,ganderi, madafu and shokishoki. Doriani was not in season.
I thought I would be able to meet at least one of my African classmates - but I think they have all moved out! The place looked like a different country to me and for the first time in my life I realized that I do not belong there anymore! People I remembered mostly over there was my grandmother Bibi (i.e. Mrs. MD Kermalli - "Fatu Tendee") and my father Bappa (Hussein Nasserali Fazal). I went to Chungani Raha Leo but the place unrecognizable! It was on Friday. People were just coming out of a mosque in Raha Leo that's when I asked someone about where exactly is the cemetery! An old man then showed me where it was. He even remembered that it was an "isna ashery" Muslims cemetery.
At Darajani, I was able to see the road where Karume made us build the damn thing! By the way the Hotel where we were staying (Tembo Hotel) is just next to Forodhani Mchanga Secondary School! That's the school I went when I passed my ENTRANCE exam (announced over the radio!) with the help of a very close relative! When the school was closed, we were then moved to St Joseph (Tumekuja Secondary School).
When we left Zanzibar, a small sign at the Airport said "corruption is illegal"! That's one thing that has changed - nobody harasses or asks you for pesa ya chai any more! Of course "maskini" are still around but you have to look for them!
Memories and memories! I do not think, though, that I would want to go again to that part of the world - once is enough! The place has too many memories..................
- Nasir
Zanzibar Photos (August 2003)



Page 1



Page 2



Page 3



Page 4



Page 5



Page 6



Page 7



Page 8



Page 9



Page 10 (Dar photos)



Zanzibar Videos (Aug 2003)



Hajj Photos (Dec 2006/Jan 2007)