Photos Scanned And Provided By:
Mohamed Nathoo
P. O. Box 21795, Dar-es-Salaam, Tanzania
Email:
mhan@cats-net.com
Phone Nos:
2120741 (Office); 2152150 (Res.); 0744-274-022 (Mobile)

to Mohamed Nathoo's Sports - National Level - Main Page


to Mohamed Nathoo's Main Page
SPORTS - NATIONAL LEVEL - PAGE 4
The Quadrangular Conqueror
At 5.50 on Tuesday evening, the 16th of October, 1984, Tanzania recorded a historic victory at the Coast Gymkhana ground and regained the " Sir Robert Menzes" trophy after lapse of 16 years.
As the jam packed ground was vibrating to the throb of victory chants, the jubilant Tanzania captain, Mohammed Nathoo, was of the center of it- eyes flashing, arms high, hugging players and officials, smiling incessantly and gyrating to the shouts and hand claps like a hero. It was his moment and he fully deserves it.
Mohammed may have batted unsuccessfully scoring just 43 runs in the tournament, so unusual of him, but definitely survived with spirit intact to face the future of Tanzania's cricket. Here below Mohammed talks of his role and qualities that eventually enabled Tanzania to clinch the Quadrangular Tournament.
Indeed I feel proud that this prestigious tournament is won by Tanzania after a long period and under my captaincy. I have been representing the National Team since 1972 when we played against Nigeria under the captaincy of Bhadru Bhamji. Since then I played under various captains, I myself had the opportunity of captaining the side in 1977 and my experience has revealed a lot to me. When I was entrusted with the task of captaining the side I felt it appropriate to gather analyses of my past experience and prepare responsibility.
Though the past teams had good players, the team lacked oneness. Club politics was head and shoulder above the national prestige. It was therefore my turn to overcome these drawbacks.
Good spirit and oneness amidst team mates is of great essence. How to build team spirit? We have to create it. I saw to it that on arrival at the ground the players greeted each other, encouraged their fellow mate even if the player failed to perform, refrain from sarcasm or insulting remarks on and off the field. Imagine underdogs like India winning the World Cup 1983 and beating the giants West Indies. India generated infectious team spirit and that was its main asset.
Despite playing at home on matting wickets and before our own crowd there was one big disadvantage. Susceptibility of our players to incitement and instigation consider club level politics could have had detrimental effect on the team. I did my level best to disassociate my players from the crowd and sort any issues in the dressing room itself. We were even having a ' post mortem' of the game at the end of the day.
Discipline was another main factor I hinted to my colleagues that we were not coming from the jungles but matured enough to play as a team of 11 players. Cheeriness and no discontentment to be demonstrated even if one has been dropped from the team. Credit must also go to them for rising to the occasion.
Finally it is felt by some people that our competitors were not strong. Uganda batting has always been suspect. But this was their best fielding side in recent years. Malawi fielded their best team. I have been playing for years and I consider their present team better than the previous ones. It was balanced than even our team. Zambia may have brought new-comers but these youngsters were not ordinary ones, they have been performing really well in the local matches.
Anyhow I am happy that my efforts have paid off and we emerged victors. With this achievement I was awarded the same year National Player Of The Year. It was my dream come true.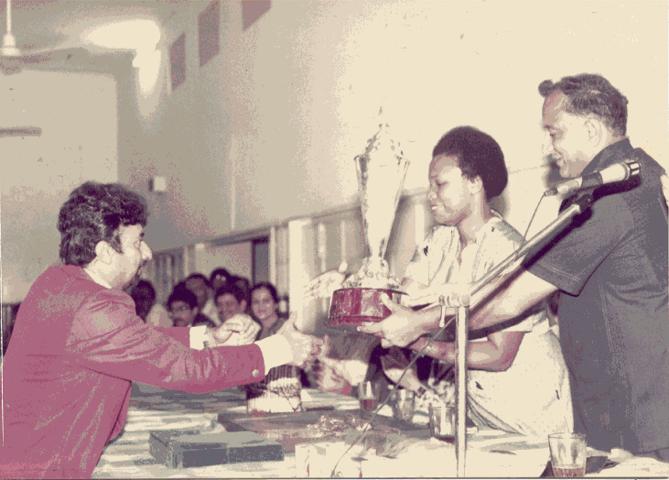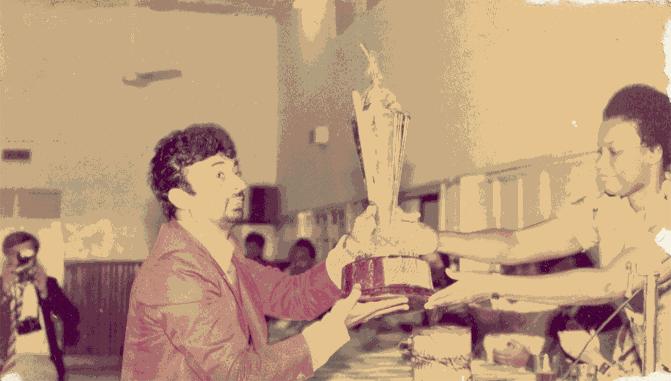 October 1984 - DSM - Tanzanian Minister of Sports Hon. Fatuma Said Ally presenting Sir Robert Menzes Trophy to Tanzanian Captain Mohamed Nathoo.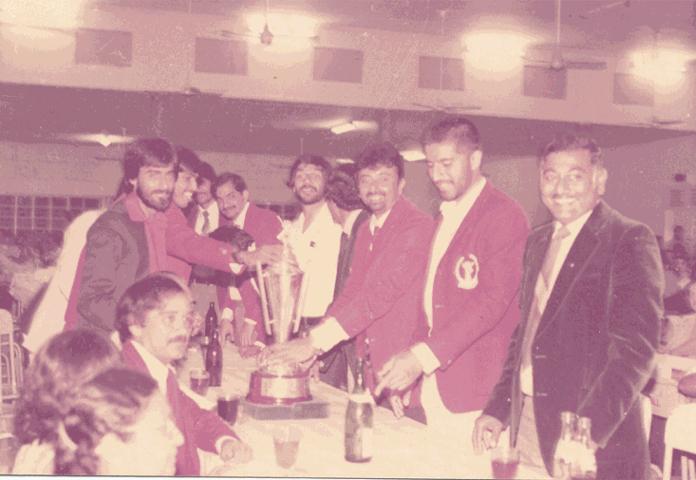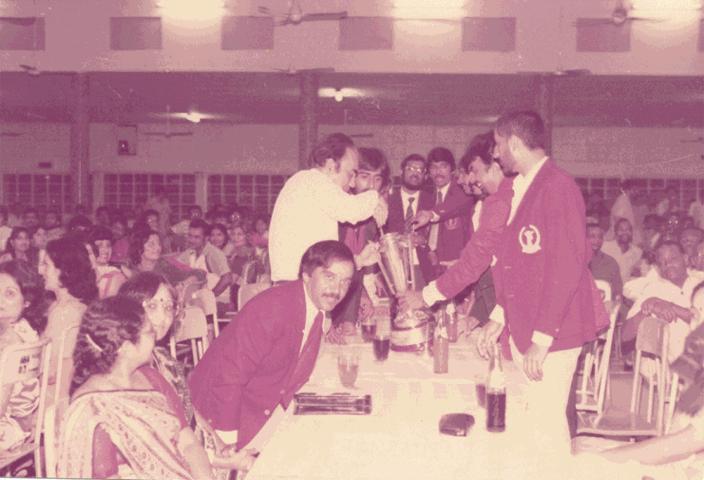 Tanzania players celebrating and rejoicing after Tanzania being Cricket Champions of East and Central Africa after 16 years.

to Mohamed Nathoo's Sports - National Level - Main Page


to Mohamed Nathoo's Main Page
---
| | | |
| --- | --- | --- |
| Last updated December 2007 | Copyright © Mahmood Fazal 2005 - All Rights Reserved | Created By Husain Fazal |