Photos Scanned And Provided By:
Mohamed Nathoo
P. O. Box 21795, Dar-es-Salaam, Tanzania
Email:
mhan@cats-net.com
Phone Nos:
2120741 (Office); 2152150 (Res.); 0744-274-022 (Mobile)

to Mohamed Nathoo's Sports - Club Level - Local Main Page


to Mohamed Nathoo's Main Page
SPORTS - Club Level - Local - 1960s (Page 1)
History will record that in 1968 - 3 a side Final volleyball game between Union Sports Club v/s Aga Khan Sports Club lasted for three days (best of 5 games). Eventually USC beat A.K.S.C. 3 to 2 games. Prior to the game A.K. had a record as an unbeatable side team (3 a side) for almost five years. USC was never beaten then in the volleyball tournament of 3 a side till traditional volleyball was abolished in Tanzania in 1971.
After exodus migration of Zanzibar players to mainland, U.S.C. formed quite a formable side in cricket as well as volleyball.
The players who represented in this historical game in 1968 were-:
A.K.Club.
1. Aloo Visram
2. Aunali Chandoo
3. Firoz Bhamji
U.S.C.
1. Amir Yusuf
2. Mohamed Nathoo
3. Yusuf Kabana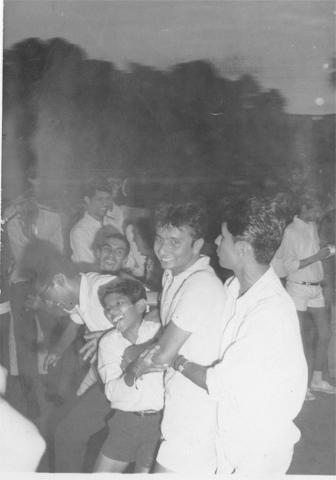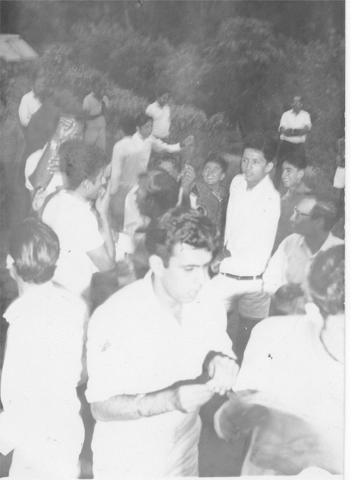 Dar-es-salaam - Union Sports Club fans

Top Photo:

Union fans Muddy, Mohsin, Muslim and Auny rejoicing and congratulating Mohamed Nathoo after the victory.

Bottom Photo: Union fans Bashir, Amir and Muddy chatting after the game.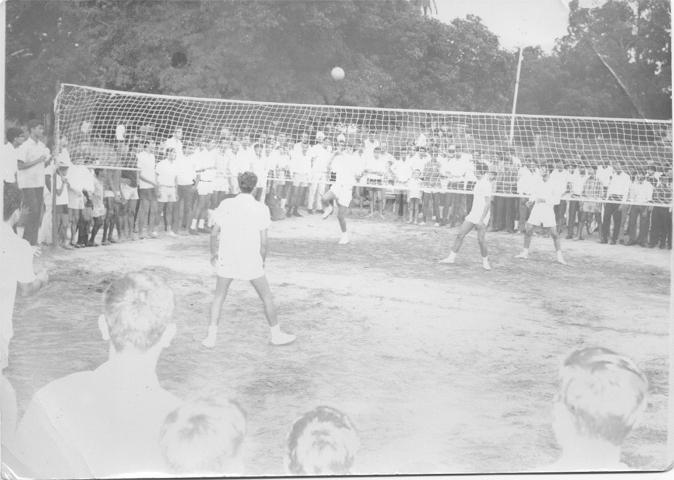 Amir Yusuf replying the ball, Mohamed and Yusuf are watching the ball. Firoz Bhamji is on the opposite side.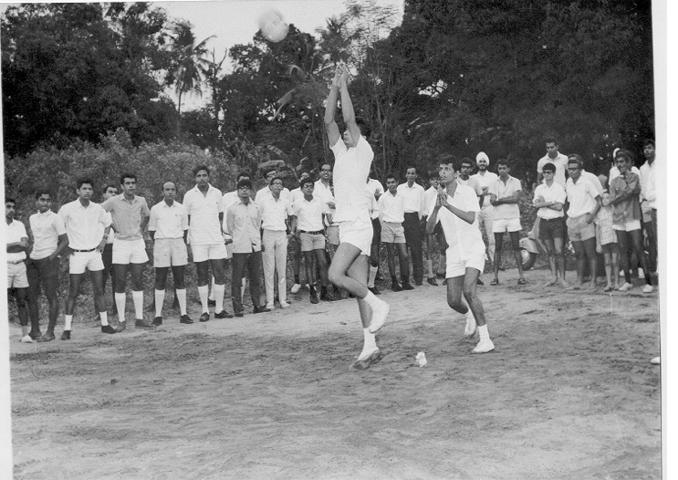 Mohamed Nathoo replying the ball, Amir Yusuf is watching. Among spectators who can be seen are Muddy, Bashir Tejani, Sadiq Somji and Kassamali Bhaloo.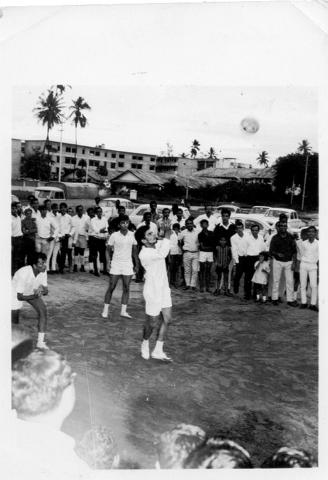 Yusuf Kabana replying the ball, Amir and Mohamed watching.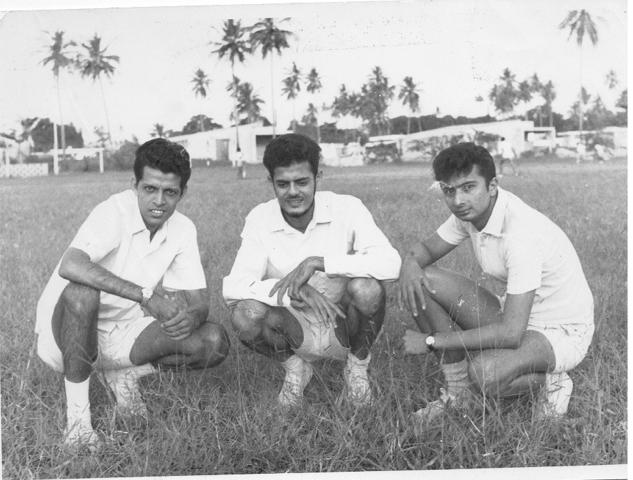 1968 - Union Sports Club Volleyball Champions (3 a side).
L to R: Amir Yusuf, Yusuf Kabana and Mohamed Nathoo
.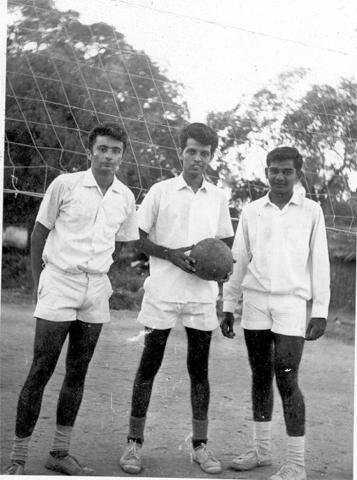 1969 - Union Sports Club Volleyball Champions (3 a side).
L to R: Mohamed Nathoo
, Amir Yusuf and
Liakat Khimji

.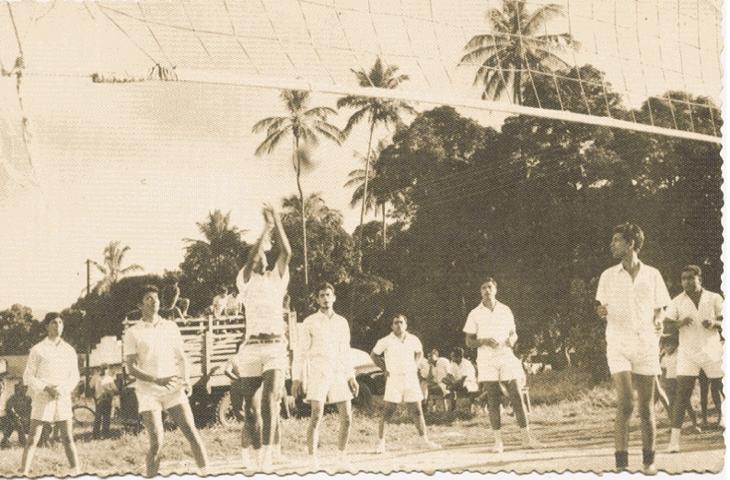 1969 - Morogoro - Union S. C. of DSM playing against Morogor Volleyball team.
Morogoro Volleyball Team had thrown a challenge that no volleyball club in any part of Tanzania can beat their team on their home ground through newspapers and radio broadcasting. Union S. C. of DSM took the challenge and travelled to Morogoro to play them. Union won 2 to 1 game.
Hussein Datoo replies the ball on his left watching Yusuf Kabana, Sabir Dhalla,
Kassamali Bhaloo
, Amir Yusuf and Amir Dharsi. On the right Mohamed Nathoo and Shiraz Rustam.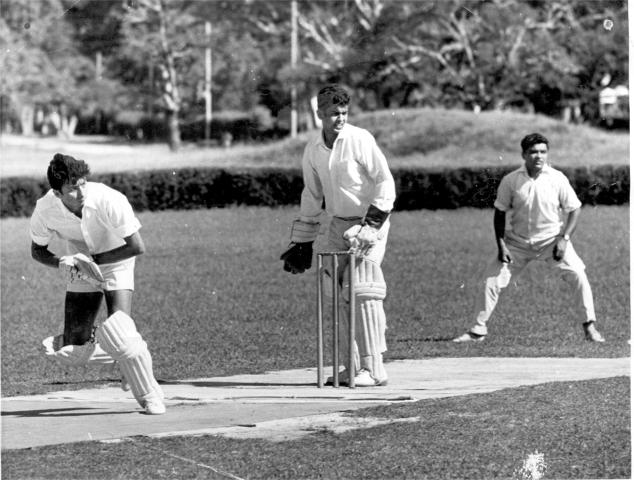 One Of The Saturday Commercial League Match played on Gymkhana Ground In DSM in 1968.
Mohammed Nathoo glances the ball on leg side, Mehboob Soda is behind the wickets.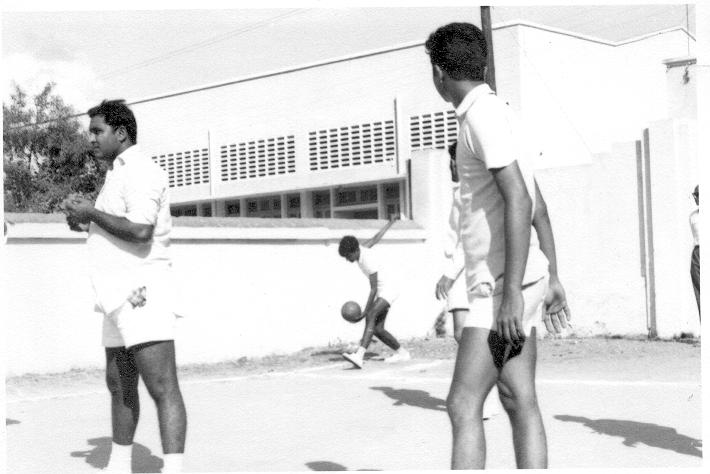 During the Bahadur Cup in Moshi in 1969.
Liakat Khimji serving the ball, Amir Dharsi right front and near him is Mohammed Nathoo.

to Mohamed Nathoo's Sports - Club Level - Local Main Page


to Mohamed Nathoo's Main Page
---
| | | |
| --- | --- | --- |
| Last updated December 2007 | Copyright © Mahmood Fazal 2005 - All Rights Reserved | Created By Husain Fazal |