Photos Scanned And Provided By:
Mohamed Nathoo
P. O. Box 21795, Dar-es-Salaam, Tanzania
Email:
mhan@cats-net.com
Phone Nos:
2120741 (Office); 2152150 (Res.); 0744-274-022 (Mobile)

to Mohamed Nathoo's Sports Club Level - Tournaments Outside Tanzania Main Page
Dec 2001 Dubai - Veteran Cricket Game
The following photographs were taken during the Supreme Sports Festival played in December 2001 in Dubai i.e. The Historical Game between Union Sports Club Veterans (DSM) v/s Rest Veterans.
This was the first time in the history of the Supreme Council Sports Tournament which is 18 years old that a game of the Veteran was fixture by the host country, thanks to Jaffery Sports Club of Dubai and initiatives of brother Anwer Hemraj of Dubai who had made this historical game played. The guest of honor was Muslim Kara the renowned Tanzanian Veteran cricketer and volleyball player of our community (younger brother of FHR). Among the dignitaries who were the spectators of the game were Al-Haj Zulfiqar Khimji (the Chairman Of Africa Federation) and Al- Haj Barkat Rajani (Hon. Secretary Of Africa Federation). At the end of the game the veterans' players of both teams were presented with trophies and track suites by Chairman of Africa Federation.
Names of veteran players for USC (DSM) who participated.
1.
Mohamed Nathoo (Resides in Dsm)
2.
Bashir Tejani
(Resides in Dsm)
3
Yusuf Somji
(Resides in New Jersey)
4.
Kazim Lakha
(Resides in Minnesota)
5. Sikander Fazel (Resides in Dubai)
6. Naushad Kermali (Shado) (Resides in Dubai)
7. Auni Alibhai (Resides in Karachi)
8. Murad Kermalli (Resides in Dsm)
9.
Shakir Sheraly
(Resides in Dsm)
10. Jimmy Peera (Resides in Dsm)
11. Ibrahim Jacksi (Resides in Dsm)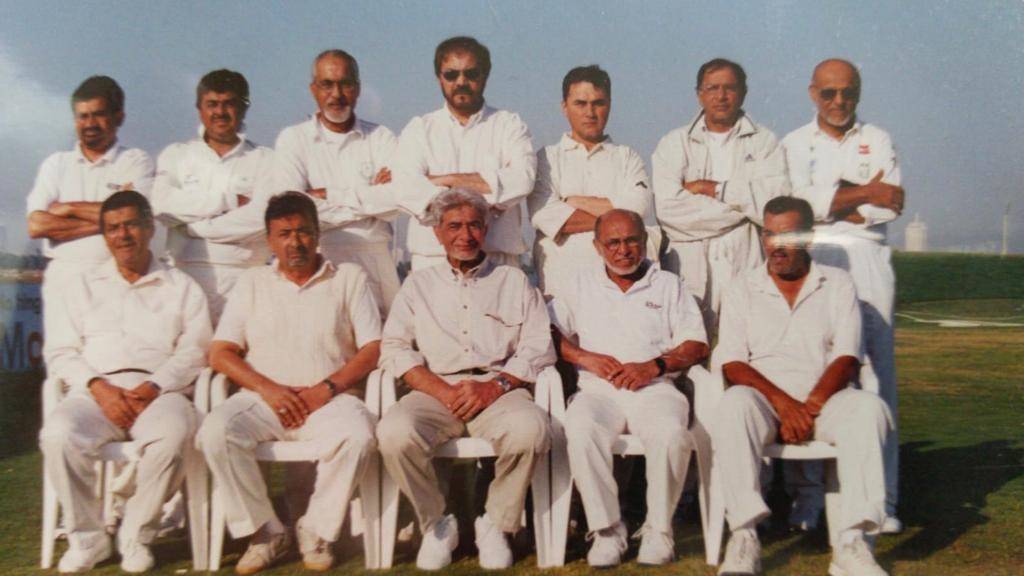 Group Photo of Union Sports Club Veteran DSM Against Rest World Veteran played in Dubai 2001

Sitting from L to R: Murad Kermali, Mohamed Nathoo (Captain) Muslim Kara (Guest of Honour), Yusuf Somji, Bashir Tejani,
Standing from L to R: Kazim Lakha, Jimmy Peera, Auni Alibhai, Naushad Kermali(Shado), Ibrahim Jacksi, Shakir Sherali and Sikander Fazal
Click below to view photos:


Page 1


Page 2


Page 3


Page 4


Page 5

to Mohamed Nathoo's Sports Club Level - Tournaments Outside Tanzania Main Page
---
| | | |
| --- | --- | --- |
| Last updated July 2020 | Copyright © Mahmood Fazal 2020 - All Rights Reserved | Created By Husain Fazal |