TRIBUTE TO KARIM-

14th December, 1998 - The Guardian.

BY: Abdulrazak Sheriff Fazal
(Click here to go to Abdulrazak Fazal's own website)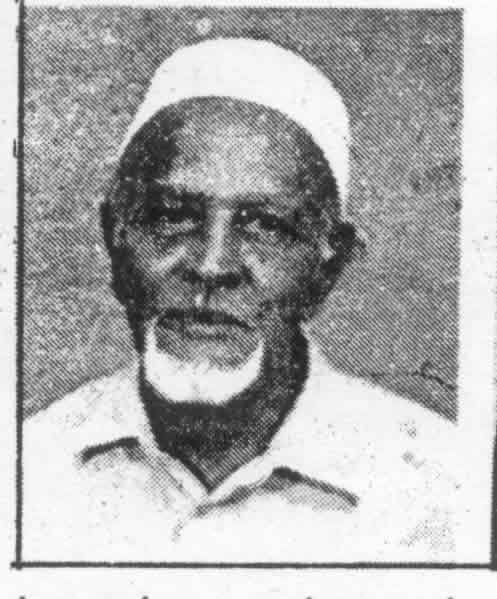 K.T. KARIM
Tanzaniaís cricket fraternity mourns the death of old timer Karim Tayabali Karimjee who passed away in Morogoro on December 7th, 1998.
Known to one and sundry by his initials KT, Karim used to be a great all round cricketer. Born in 1925 in Tanga, Karimís cricket career had begun in 1941 in Daressalaam when he played for the Indian Secondary School in the Isherwood tournament. From 1942 to 1947 he represented his employers, Tanganyika Railways, and from 1948 onwards he became an integral part of Bohora Gymkhana as well as the National Side.
Karim was a highly dedicated and devoted cricketer. Once he flew all the way from Mombasa cancelling his onward trip to join his team in an important match incurring a lot of money at his personal expense unlike todayís cricketers who get motivated only commercially.
Karim was a fine bowler. He began his career as a medium pacer and later resorted to off spins. He was shrewd and could easily deceive batsmen to err. Some of our top most batsmen like Vasant Tapu and Suresh Raval were in great awe of Karim and fell easy prey to him. He was also a fine fielder and usually stood at first slip where he took a number of catches. He continued playing cricket until the 1980s when he was almost 60.
In the olden days Agakhan Sports Club was the finest team and reigned supreme on the local cricket scene but their encounters with Bohoras were always met with stiffness. Karimís greatest cricketing moment was clinching victory for Bohoras against AK Club by taking 9 solid wickets including that of Gullu Kalyan who used to be an elegant batsman and whom Karim used to admire a lot. Karim might have claimed all the 10 wickets had one of the batsmen not been run out.
I can vividly recall the tall and smart figure of Karim in his blue blazer leading the Tuskers team from the mainland and treading imperiously over the first pitch at Mnazimoja in Zanzibar way back in the 1950s and 1960s.
Sadly, in his later days, due to old age and ill health, Karim had become despondent and gone was the arrogance that once ruled the local cricket field. The irony of time had mellowed the once imposing cricketer. Poor Karim could be seen at the cricket grounds seated in one corner along with the limra group and evoking nostalgia.
Karim would often reminisce the good old days when the Bohora team was led by Kassam GM. Kassam was a thorough tactician, and read the game extremely well. There were other teammates of his too like Anvar Dege, Bhom and Alibhai Dilawer but it was Abdulkader Makra and FHR whom he would mention again and again.
"Makra was the fastest bowler of my time. His height and muscular shoulder enabled his delivery generate immence pace. On several instances he broke the stump into two. Once on our school tour of Iringa, Makraís delivery hit one of the batsmen, an Englishman, who turned green and had to be rushed to the hospital.
FHR(Fida Kara) was a great guy. He was the hardest hitter of the ball. I still communicate with him. He is in the UK and keeps sending me the cricket cuttings."
Karim, Makra and FHR formed a formidable trio. In another encounter against AK Club whose main strength, Mamda Kassam, the most feared and craftiest bowler Tanzania has ever produced, was just unplayable and bowled out Bohoras for a paltry 39 runs. The drama persisted when AK batted. Would you believe AK could not achieve the target and got skittled out? The trio did the damage.
One of Karimís favorite cricketers was the legendary Tanzanian spinner Mohamedhusain Waliji who had mesmerized the MCC team that had toured Tanzania under the captaincy of Freddie Brown in the 1950s. Karim would recall his battle against Waliji who played for Government Services while Karim was the skipper of Tuskers. There were no limited overs matches then and Government Services skipper, Liladhar Nathwani, wanted to play safe and declared the innings only at tea-time leaving Tuskers to score 190 runs in some two hours. Liladhar proved wrong for that day belonged to Karim who tore apart their attack that included Waliji. He scored a whirlwind century, his finest and fastest, and gave Tuskers a thrilling victory.
Karim would always grieve the lackluster status of our local cricket today recounting the excitement of those old days when capacity crowd thronged the grounds to witness exciting proceedings:
"We had scored 78 and AK at 75 for 6 seemed sailing smoothly. Then their wickets started tumbling; 75 for 7, 76 for 8 and 77 for 9. The crowd was restless and came out on the boundary line. Amidst thunderous applause AK tied but were denied victory by Haider Patwa who ran out Mamda Kassam from a direct throw. It was a great game and excitement at its highest."
Karim happened to be in Nairobi during the 1994 ICC final match between Kenya and UAE, and had gone to see it at the ground. He highly commended the indigenous Kenyans Martin Odumbe and the Tikollo brothers, and wished Tanzania could nurture such fine indigenous talent.

to USC - Magazine Main Page
Click here to view more - Who's Who in East Africa
---
| | | |
| --- | --- | --- |
| Last updated January 2008 | Copyright © Mahmood Fazal 2005 - All Rights Reserved | Created By Husain Fazal |