JUMA ALEY- SYMBOL OF ZANZIBAR CRICKET

- 1995-The Express

BY: Abdulrazak Sheriff Fazal
(Click here to go to Abdulrazak Fazal's own website)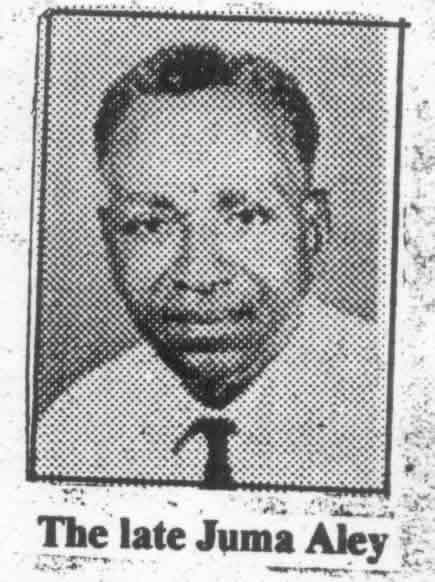 Oh those were the days! This is not in reference to a Shakespearan verse but a Zanzibar prodigy by the name of Juma Aley in those days of compassion and virtuosity in the island.
Juma Aley or Maalim Juma as he was affectionately known passed away last Tuesday in Zanzibar at the age of 80. Mourners at his funeral included Zanzibar President Dr. Salmin Amour and the Chief Minister Dr.Omar Ali Juma.
Juma Aley was a prominent personality, an academic, who played vital role in Zanzibar's educational and political system. However, it is in the context of the game of cricket that this tributary feature talks about.
In the annals of Zanzibar's cricket history the name Juma Aley gets inscribed in golden letters. He learnt his cricket in England and played the game for the London University where he studied.
Zanzibar cricket received a boost after Juma Aley's return from England. He was a key member of the Zanzibar Sports Control Board and Chairman of its Cricket Sub Committee. He captained the Zanzibar Combined on a number of occasions.
Today when so much emphasis is laid on indigenous cricket it worth mentioning that Juma Aley had patronized the game in Zanzibar as far back as 1940. It was he along with Ahmed Iddi who had been instrumental in the formation of cricket teams like 'Arabs' and 'Comorians'.
In particular Maalim Juma was very encouraging to youths who could be seen surrounding him at the first pitch in Mnazimoja and listening to his anglicized accent, and also receiving cricket coaching.
Juma Aley with his posh and polished outlook displayed immense style. He was such a well-dressed and disciplined player that he executed an everlasting impact upon viewers. Those who had known him speak of him with reverence even today. He projected a dignified figure on the cricket field discounting any notion that cricket was a white man's game.
Even today lovers of the game from Zanzibar recall that day in 1956 when amid clapping and applause Juma Aley in his beige colored outfit majestically leading his Zanzibar side onto the field while Pakstani batsmen Hanif Mohamed and Alimuddin following to open their innings.
It was a memorable day in the cricket history of Zanzibar and there was a lot of fanfare in the stone town for the Pakistanis who in turn were immensely impressed by the sophistication and class of the Zanzibar skipper. The Pakistani counterpart Abdulhafeez Kardar paid great compliments to Juma Aley.
Juma Aley was a fine batsman. His cover drives were a joy to watch. In the very first year in 1949 when the Arabs team was formed under his patronage they went on to win the knockout tournament and clinched the prestigious KJ Cup beating Ithnashris in the final.
In fact Ithnashris took a first innings lead but then Juma Aley steered his side to 252 runs with a personal contribution of 85 solid runs. Ithnashris who had to score 202 runs failed to overcome the target.
The huge KJ Cup was brought to Malindi and placed at the Malindi Resraurant. There was a gathering of players and supporters who were relished with halua and kahawa.
The Arabs team thus became a major force in the 1950s and 1960s. They played attacking cricket winning a number of contests and attracting a lot of spectators. They had players like Jawad, Labad, Mehdi, Jaffer, Hadi, Ahmed Bachoo, Chepe, Abdulkadir, Lemki, Sayyid and others.
I had the opportunity of coming across Juma Aley, courtesy Akber Gulamhusain, for a feature in a magazine. He was magnanimous and did not let us down. His write up enhanced the value of that magazine. Later we were supposed to have a sitting session on certain historic aspects of Zanzibar cricket but unfortunately that never materialized.
Juma Aley was a class writer. He avidly followed international cricket and was a great England fan as evidenced from his text: "Kakai in the slips reminded one of Colin Cowdery playing for Kent and captaining England."
In his later life he had become sedate. Gone was that flamboyance and pomp that once ruled Zanzibar cricket. What remained was perhaps some nostalgia as he would recount:
"Sherali Ndege as SN Megji was known among cricket fans was the darling of crowd. The ndege represented his sixes which invariably towered the first pitch at square leg. In the bowling department Ibrahim Abdulhusain created wonders deceiving batsman all the way."
Juma Aley symbolized Zanzibar cricket. He ushered to promote Zanzibar's image in sports and eulogized those who exuded sportsmanship: "Sayyid Nyanya is one of the best sportsmen we have produced. His grocery at the Zanzibar market was a club for all. So is his stores now at Kisutu in Daressalaam."
Alas, Juma Aley is no more and no more remains the store of Sayyid at Kisutu.

to USC - Magazine Main Page
---
| | | |
| --- | --- | --- |
| Last updated January 2008 | Copyright © Mahmood Fazal 2005 - All Rights Reserved | Created By Husain Fazal |