JOHN ARLOTT- THE GREAT COMMENTATOR

- 23rd April,1992-The Express

BY: Abdulrazak Sheriff Fazal
(Click here to go to Abdulrazak Fazal's own website)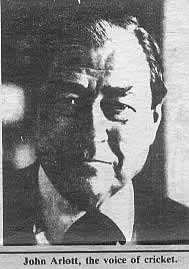 Had John Arlott lived today he would have been the happiest man to see South Africa in action against his favourite West Indies. He had become the key spokesman on the issue of apartheid after his first overseas tour to South Africa as far back as 1948. In fact It was John Arlott who was responsible for making Basil D'olivera settle in the UK and play for England. The move that set off a series of dramatic events and eventually led to South Africa's isolation from international cricket.
"In comes Trueman….bowls to Sobers….and he drives him down to the third man boundary line….four runs".
That used to be John Arlott, the greatest cricket commentator of all time, in the good old sixties. I vividly remember the gullies of Zanzibar's stone town echoing with that incomparable voice of his. In those days BBC World Service devoted a lot of time to cricket commentary during test matches. Alas gone are those days and no more remains John Arlott.
Thanks to recording technology, his audio cassettes can be obtained from BBC shop located at Bush House across Chering Cross Road, London.
Born on 25th February, 1914 in Basingstoke, Hampshire. John Arlott worked as a policeman for 11 years. His emerging talents and confidence led BBC Bristol to give him his first broadcast. Soon he found himself as a BBC literary programmer for their Overseas Services rubbing shoulders with other great announcers.
Cricket had been his childhood obsession. He saw his first test match at the Oval in 1926 when he was just 12 years old. He himself was a mediocre cricketer, rather a slow and dull batsman and an off break bowler of dubious action.
One of his favourite cricketers was the West Indian Learie Constantine. Emulating his acrobatic fielding he got his legs in a tangle and finished up in a startled female spectator's lap while substituting for a fieldsman in Hampshire's game against Worcestershire in 1938 at Worcester.
Incidentally Arlott's first cricket commentary was in 1946 at Worcester when Worcestershire were playing the Indians. He got universally acclaimed as the finest commentator.
His husky, captivating and rhythmic voice became synonymous with cricket. It was a cricketing trademark. Many others sound mediocre when compared to the one and only John Arlott.
When the great Bradman was out off a second ball in his last innings John Arlott had been commenting "….pushes the ball gently in the direction of the Houses of Parliament….Hollies pitches up the ball slowly and he's bowled….and what do you say under these circumstances?"
By the cruelest irony the same famous voice could hardly be summoned at all in his last days. It became completely silent on 14th December, 1991.
The British Prime Minister, John Major in his tribute rightly said "He was the very personification of cricket. To hear a John Arlott commentary was to be there".
His fellow commentator, Brian Johnston said "I think John did more than anybody else to spread the gospel of cricket with his marvelous Hampshire burr. You could smell bat oil when he spoke and picture the village green with its thatched pub and all the players in their flannels".
Indeed to listen to John Arlott commentary was as good as picture an English County with its beauteous surroundings, cathedral, pub and the lush green all around.
He was a modest man and identified most strongly with the English county cricketer. He loved meeting people and moving with them, both famous and commoners, dining and breakfasting with them, talking cricket techniques, sipping afternoon tea, passing the evening away in a rural hostelry and absorbing as much of cricket history as possible. That was John Arlott's heart's desire.
John Arlott wrote a number of books. He was made OBE, honorary MCC memberand also President of the Cricketers Association. There were some sad moments too. His 21 years old son died in a car accident in 1965. He never wore a coloured tie since then, but only a black one. He was also lucky to survive the Manchester United football team air crash at Munich in 1958 as he was to accompany the team but withdrew at the last moment.
In fact John Arlott bade farewell to cricket commentary in 1980 during the England Australia centenary test match at Lords. He was toasted by the entire Lords crowd, the England and Australian cricketers down below and hundreds of listeners all around the world as he came down the stairs from the commentary box waving his red handkerchief to the onlookers.
He stared blankly all around controlling his emotion. When he was presented with an antique watch as retirement gift he became speechless. Out came the red hankie again.
John Arlott spent his last days in Channel Island with his family. He would occasionally return to the mainland such as doing public address at the Oval when old England and old Australian cricketers met, and the sight of the old Roy Lindwall struggling in to bowl from the same end as during his hey days choked John Arlott and made that famous voice for once almost incomprehensible.
The passing away of John Arlott is a sad loss to cricket and all his fans will grieve forever. It gives the feeling of a loss of a dear family member. The congregation at his funeral at St. Anne's Church on Raz Island (one of the Channel Islands) sang the famous harvest hymn John had written for the BBC. His 78 years old contemporary Jack Donovan wavered at the end of a very loving address saying "Rest in peace, John. Goodbye old friend".

to USC - Magazine Main Page
---
| | | |
| --- | --- | --- |
| Last updated January 2008 | Copyright © Mahmood Fazal 2005 - All Rights Reserved | Created By Husain Fazal |