HUSAIN DATOO IS NO MORE

- 13th Feb.1994-The Express

BY: Abdulrazak Sheriff Fazal
(Click here to go to Abdulrazak Fazal's own website)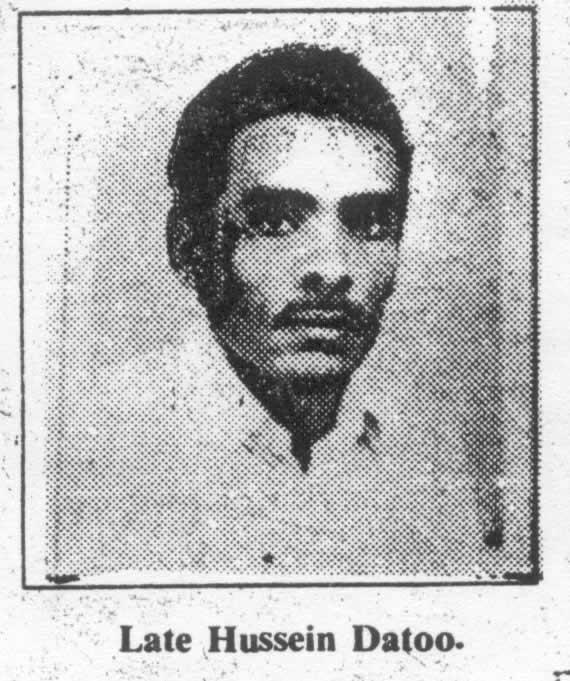 On Thursday the sporting Husain Datoo bade us adieu in London after a brief illness. He was a great jester. He might have pulled one of those stunts on himself. Perhaps it was true. Alas it was destiny striking a cruel joke to snatch away Husain.
Just a couple of years back I had made his profile for one of the magazines. As usual he was all fun, joking and lively. Rightly it has been said that nice people die young.
The saying 'he is a jolly good fellow' rightly applied to Husain. He had a vivacious and pleasant nature that made him a perfect sportsman. For over thirty years Husain was actively associated with sports, be it football, cricket or volleyball.
Born in 1945 in Tanga Husain formed an instant obsession with the game of cricket and volleyball, and became a regular member of the Karimjee Secondary School team. He was a right handed batsman and in those days he used to bowl medium pacers. In volleyball he played in all the positions. He would participate in tournaments between Tanga and Mombasa which in those days featured regularly.
However, it was in volleyball that Husain excelled and coupled with his amiable nature gained instant recognition with all the teams when he moved to Daressalaam. He mainly played for 'Morning Stars' and 'Union Sports Club' and even captained the teams for a certain period of time. When playing volleyball Husain was all enthusiasm and nothing could distract him from it. During evenings he could be traced nowhere but only on volleyball grounds. As a volleyball player Husain toured different parts of East Africa participating in various tournaments. He was a famous figure in the East African volleyball fraternity.
Though not outstanding, Husain was fairly a good cricketer. His cricket career was mostly associated with 'Union B', C and Veterans. In fact Husain even occasionally played for the 'A' team and his proudest moment in cricket was in 1973 when he happened to be part of the Union team that had won the Sunday league championship after 19 years. Though he hardly played that season he heroically performed the role of twelfth man and of which he always remained proud.
Husain would vividly recall some of his great cricketing moments such as leading the 'Union C' side consisting of the kids sometime in the 1980s and beating the big boys of 'Union B', then the champions of the 'B' division. Husain's personal contribution was 67 invaluable runs.
Husain had also once shared a mammoth 139 runs record opening partnership (B Division) with Ibrahim Jivraj for 'Union B' against 'Ekta' scoring 56 solid runs.
Husain's splendid catch at long off at the Daressalaam Gymkhana ground for 'Union B' against 'AK Club B' eventually earned him the best fielder shield for the 1983-84 season.
Husain took a lot of pain in grooming the upcoming cricketers and saw to it that their talent was fully exploited. He often led the 'C' side made up of these raw cricketers. He guided them during matches and practice sessions injecting discipline, seriousness and match temperament. Even 'Union A's current crop of youngsters owe a lot to Husain. It is such services over the years that made Husain a remarkable sportsman.
Of late Husain had been showing great interest in umpiring. At times he brought up some real tactical problems with all that sense of humour of his. As a matter of fact nothing was funny than involving Husain in matters of cricket and he could put everyone in splits with his otherwise plausible reasoning.
Husain had umpired many matches including the National ones. Recently he had umpired Tanzania's match against the visiting Thana Club from India and also the Union versus The Barklays Bank team from Sharjah. Husain had also been on Union Sports Club's Management Committee for several years.
As Bashir Tejani, an official with the 'Umpires Committee', put it, "Husain was a characteristic personality, jovial and friend to all. He never lost his cool unless challenged on principle. He was one of the best sportsmen I have come across, a good cricketer and an excellent volleyball player.
"In the last few years he had been taking a lot of interest in umpiring and was a keen learner of the laws. He was ever ready and willing to officiate a match, irrespective if a 'B' division match or a friendly one. He would turn up on the ground even if notified at the eleventh hour.
"Almost every Monday morning he would call me for clarification of a certain decision. When we met we would elaborate further. Indeed the cricket fraternity in Daressalaam will miss him a lot".

to USC - Magazine Main Page
---
| | | |
| --- | --- | --- |
| Last updated January 2008 | Copyright © Mahmood Fazal 2005 - All Rights Reserved | Created By Husain Fazal |