SUGRABAI OBITUARY - Zanzibar July 2012
Ya Ali Madad,
A sad day.
We have been to Sugrabai for her world famous "Mix" every time we have been to Zanzibar. A trip to Zanzibar without visiting Sugrabai was not a trip to Zanzibar.
Sugrabai was an institution in Zanzibar.
May her soul rest in Eternal peace. Ameen.
Attached find pictures of Sugrabai I took on our last visit.
Cheers
Muslim Harji
E-MAIL: harji@videotron.ca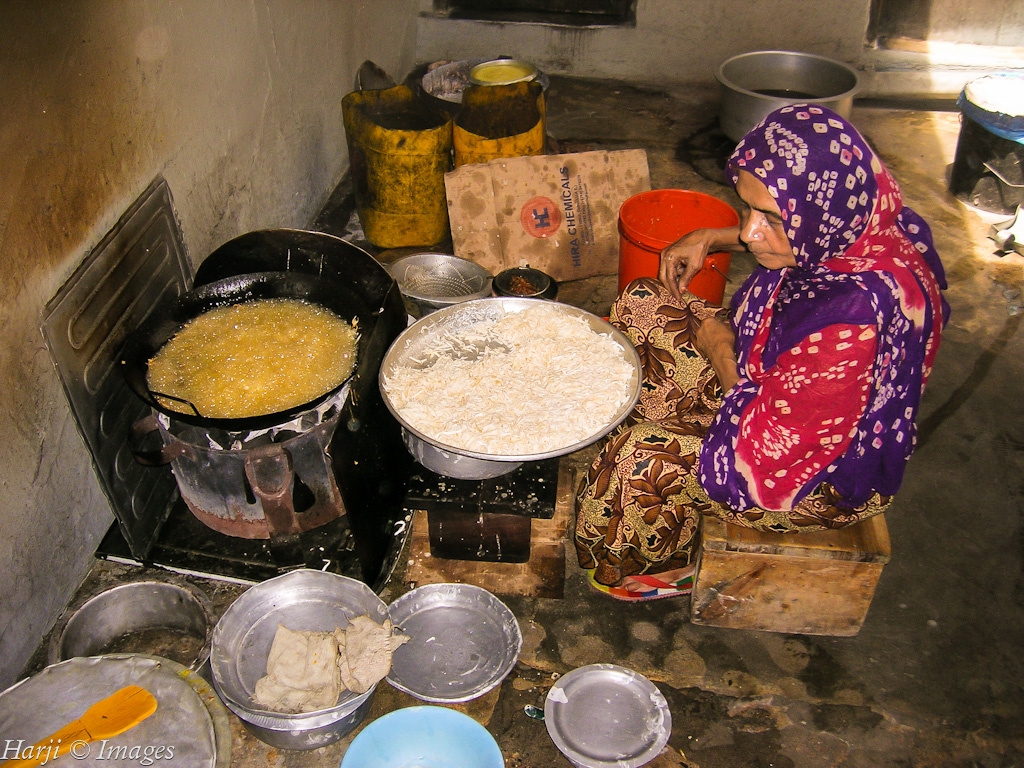 Sugrabai's Kitchen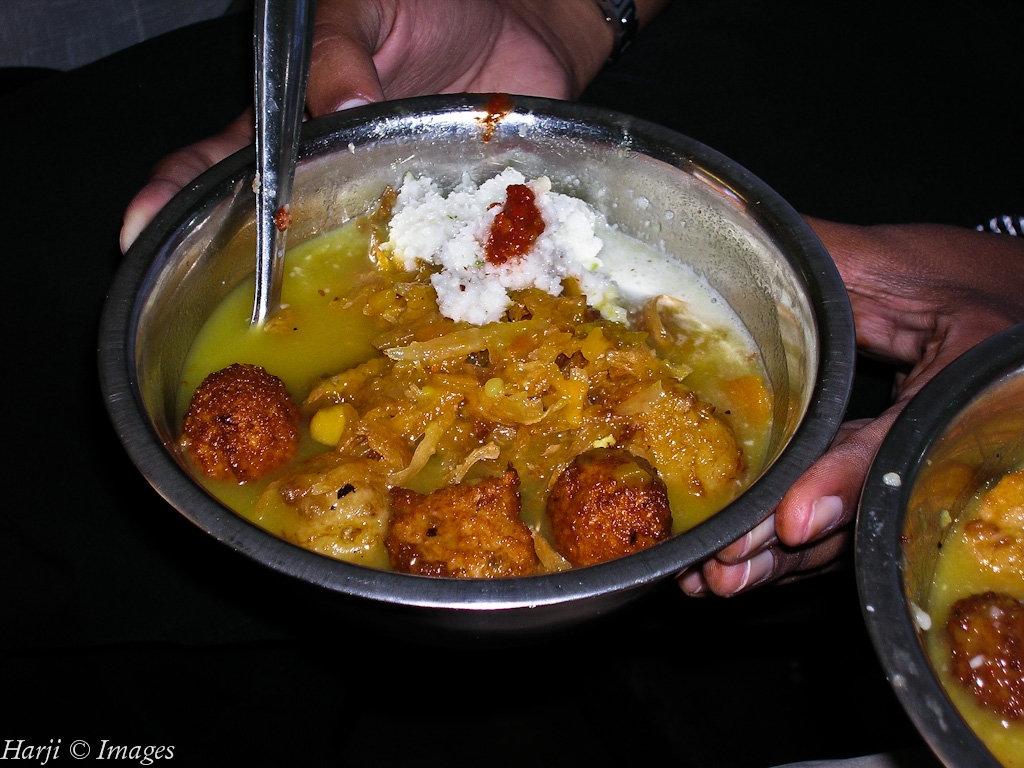 The famous "Mix"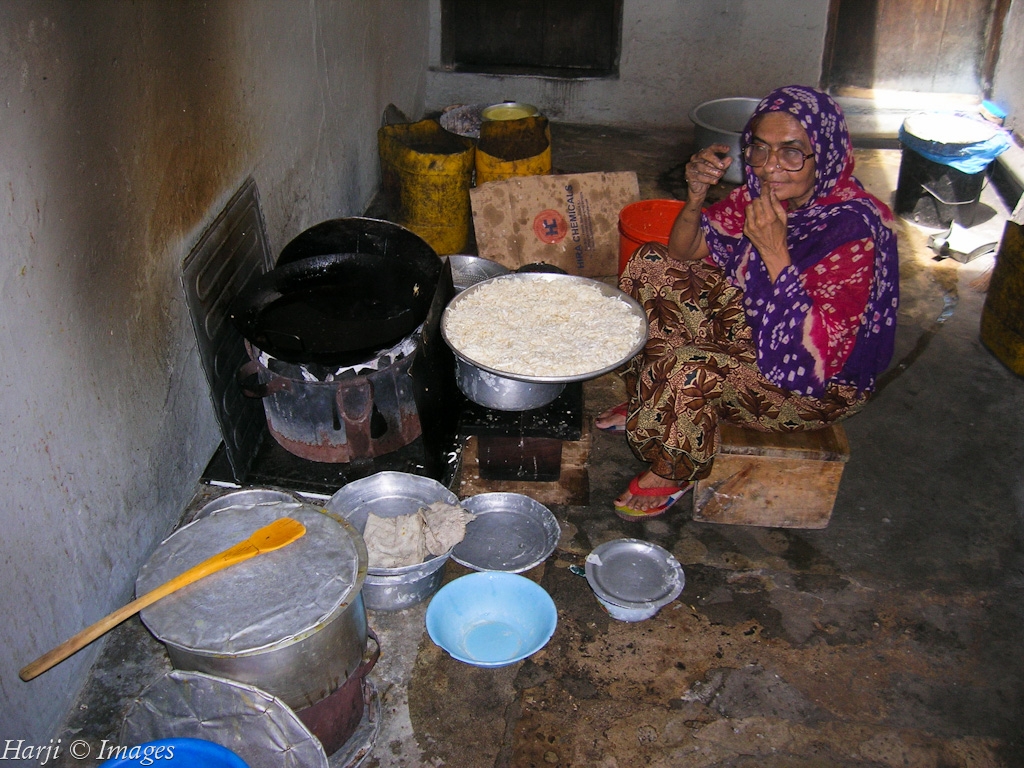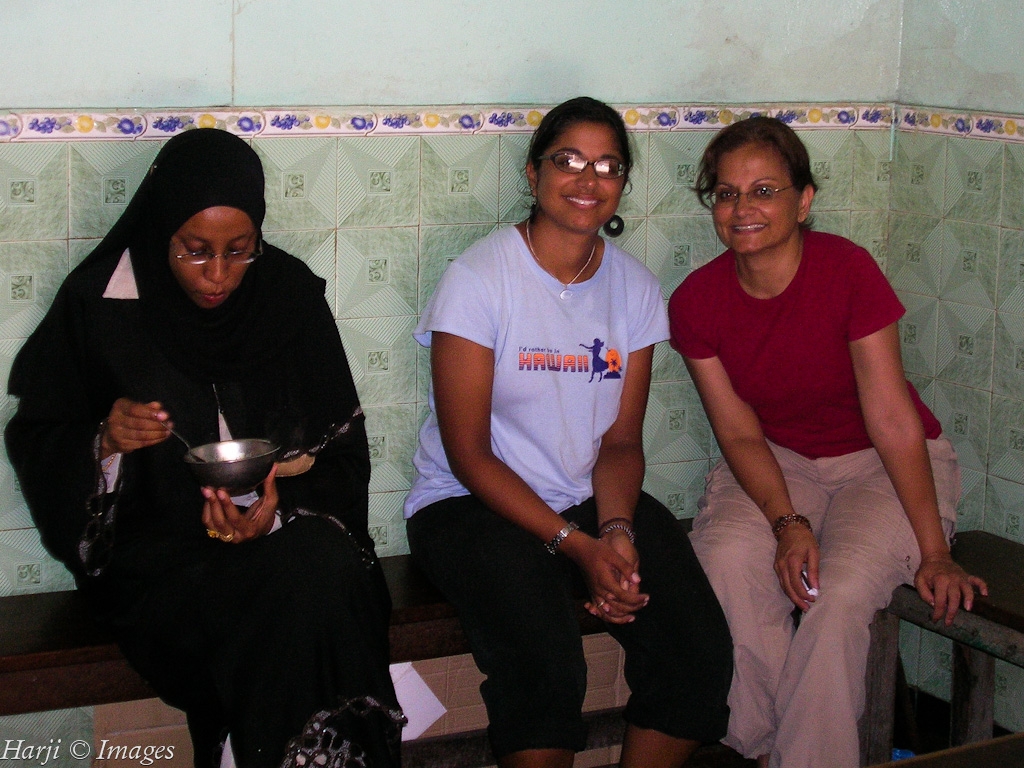 Ayesha and Nevin at Sugrabai's in Zanzibar
INNA LILAHY WA INNA ILLAYHI RAIJUUN.
OBITUARY.
The world renown Zanzibari BAJIA NA ROJO outlet owner SUGRABAI passed away on Thursday at the age of 68-69.
Sugrabai Ahmad was born in early 40 in Mkunazini behind Empire Cinema and was the 4th daughter/child of her parents. The 4 sisters had only one bother Abdallah (Bawa), last of the siblings who died last year. Their father, a construction worker died in 46 when Sugrabai was small and the family had to struggle to survive, their mother making BAJIA and later with boiled potatoes ZANZIBA MIX, ( Bajia, potatoes with ROJO , the sauce with mixture of different chutneys like coconut, tamarind and kokam(velvet tamarind)).
These bajias made of crushed beans ( kunde) were typical starters or biting originating in Cutch, Western India , the coconutchutney was a Zanzibari influence on the fusion of cultures that we have in Zanzibar. There were many Cutchi (Kumbaro ,Khoja) ladies who used to support their families by selling bajias on their barazas .
Sugrabai left school from Class 4. At the very tender age of 11 years she joined her mother and sisters to help the family preparing the mix and selling outside her former school, The Sunni Madressa for Girls in Kajificheni . Later she was also sitting at different Barazas in Stone Town in the afternoons, especially in front Majid Jiddawy's /Sultan Riyami's house selling the mix while her mother and sisters prepared the delicacy in their small house behind Empire as well as sold and served at their door step. Later in the 60s they opened a small restaurant in the building attached to Empire Cinema.
With time Sugra's Bajia, Rojo Mix became very popular amongst Zanzibais and visitors alike, the reputation spread around the world like bush fire and even Lonely Planet Travel Guide recommended it. Today Bajia Mix is as much a Zanzibari delicacy as Sambusa, Biriyani ,Kuku Wa Kupaka , Mkate wa Ufuta etc.
Sugrabai never got married, she dedicated her life to bajia business and supported her family including the late brother. She is survived by her elder sister Zulekha who has been working with her. She will be missed by all who loved to visit her small outlet in Mkunazini.
May Allah The Almighty Rest Sugra's Soul in Eternal Peace and spread her culinary delight to the world - Ameen.
Her funeral just like her brothers was attended by hundreds of Zanzibaris to pay last respect to the legendary person she was. This clearly shows that Zanzibaris respect you for who and what you are and not what position you have on the social, economic or political ladder. It also contradicts the revolutionaries propaganda of 60s , the Wretched of the Erath were among all communities (if no mistaken, except Parsis !)
In Zanzibar and not restricted to Africans or Shirazis.
Mohamed.
A neighbor and native of Mkunazini.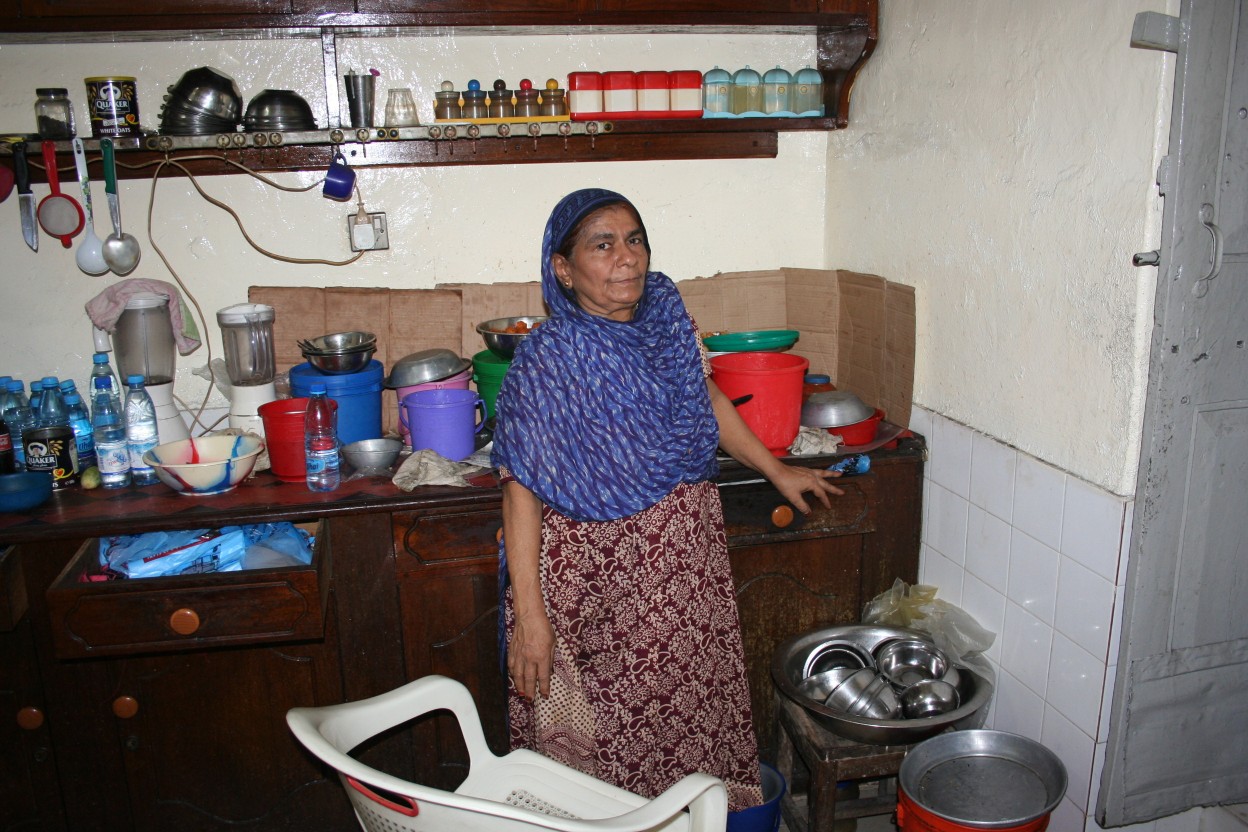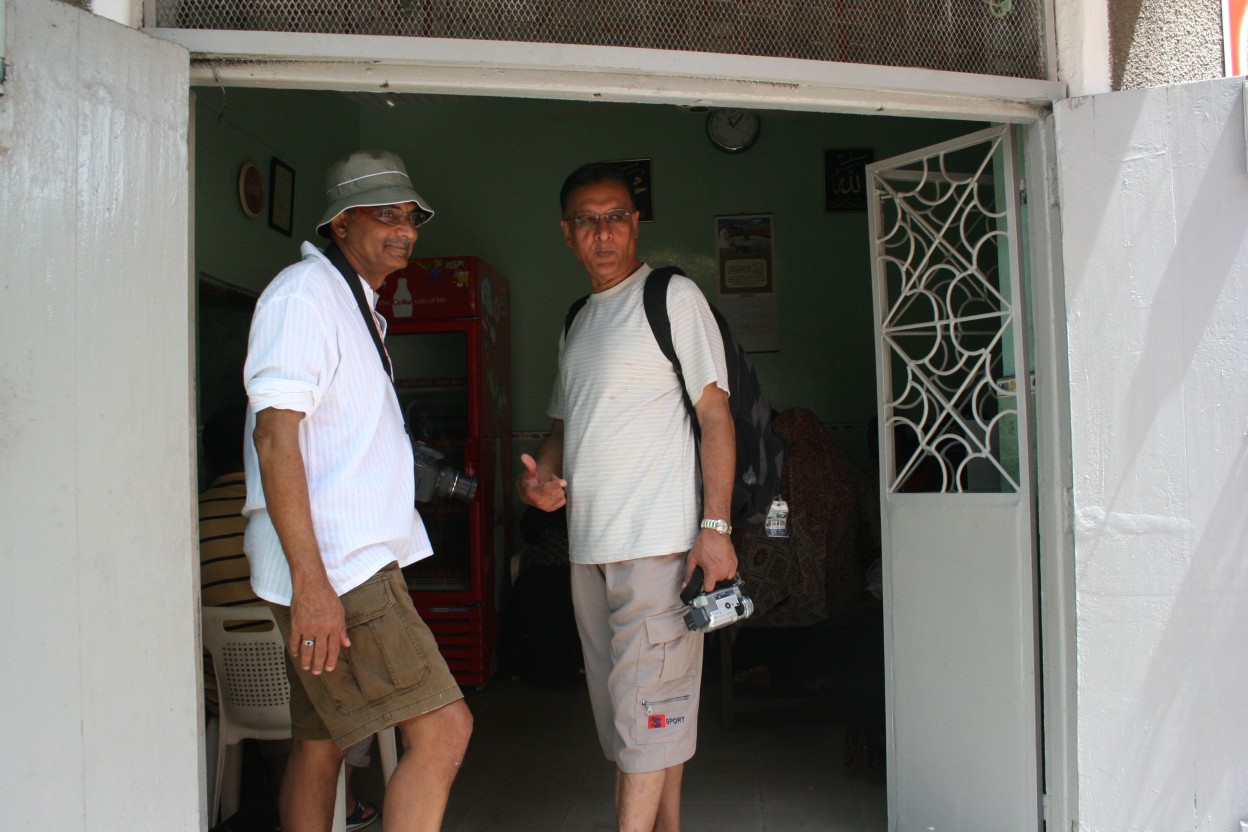 On 7/13/12, Murad Hassanali, muradh@rogers.com wrote:
S/A,
Sad to hear the news of Sugrabai. She and her late brother Bawa were an icon. Bawa was a very contented person. He was my school mate. This is Sugrabai in one photo and in the other one, I am outside the Bajia place. May Allah rest her in peace.
On 7/13/12, Amir Rashid Murad Hassanali,
amir_rashid786@hotmail.com
wrote:
بِسۡمِ ٱللهِ ٱلرَّحۡمَـٰنِ ٱلرَّحِيمِ
( In the name of Allah, the beneficent, the merciful)

Inna Lillaahi Wa Inna Ilayhi Raaji'oon
To Allah we belong, and to Him is our return. (Al-Baqarah 2:156)

It is with deep sorrow to have received sad news from Toronto, Central Canada, North America on the passing on of Bi Sugarabai in Unguja, Zanzibar.
Bi Sugarabai operated a tasty snack house at Mkunazini right behind the former Empire Cinema. The small snack bar was world famous for delicious and tasty bajias, batata, kachori and the mixture, called in Kiswahili "ROJO." It was quite popular with locals as well as tourists. I visited the place almost everyday during my sojourn in my beloved motherland during last September and during my previous visits. I shook her hands and conveyed my condolences to her on the passing on of her partner and brother Mzee Bawa a year earlier. She told me that she missed her brother a lot and he was her "right hand". She spoke fluent Rana Koochi. Bi Sugarabai, Bwana Bawa and their late sister Bi Jillu bai started the flourishing snack bar where prices remained the same despite hyper inflation in Tanzania
We convey our heartfelt condolences to Merhemu's family. For me personally, I have lost one more attraction in my motherland.

Mwenyezi Mungu amghufirie madhambi yake na alaze roho yake mahali pema peponi. Namuomba pia Mwenyezi Mungu awape subra wafiwa vote
na uvumilivu ili aweze kukabiliana na msiba huo, amini (May the Creator forgive all her worldly sins and rest her soul in
eternal peace and we also pray to the Creator to give strength and courage to the bereaved members of her family to bear this tragic loss - A'amin)

Lâ hawla wa lâ quwwata illâ bi Allâh (= 'There is no power or strength except through Allâh')

Bakha Lillah (=Allah is immortal)
Sugra the Zanzibar mix seller is no more. She had her shop behind former Empire Cinema and one has not visited Zanzibar without visiting to go and have snack here. Zainab Badawi in her one square mile BBC documentary also paid a visit here during the shooting of this short video which was shown throughout the world. The best we can do is to ask Allah to forgive her sins and grant her a place in paradise.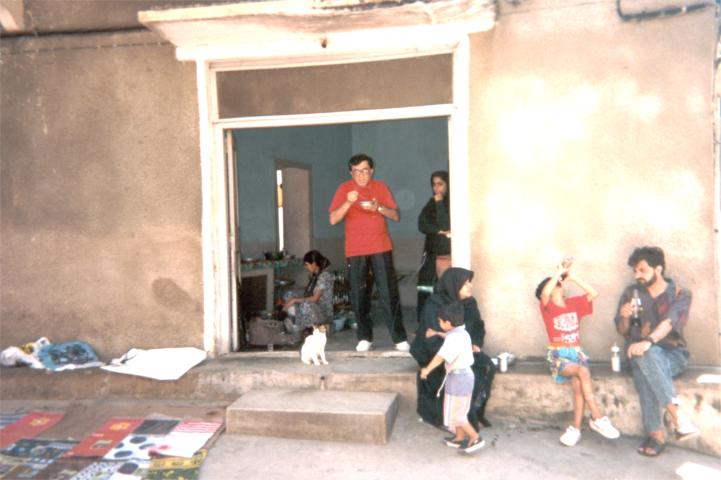 Shenny Dungersi at Sugrabai's place in the 1990s