Photos Scanned And Provided By: Mustafa Pirmohamed
Email:
mpirmohamed@gmail.com

Lindi Notes - General - School Stories


School and School stories



Let me go through the journey of childhood in primary and secondary school in Lindi.

Nursery

Our pre-nursery days were spent at Makumbusho. The World War Memorial with an obelisk in the centre was one place where kids were brought in by parents and domestic aides (called katoto) to play around the green lawns and relax on the benches. The one who took care of me was called Omari. I had met him in 2008 in Lindi. Sadly, he died in 2010. Makumbusho was also the place where Remembrance Day ceremonies were held on 11 November every year!

I probably attended the nursery school at Hindu Mandir, although I cannot be sure. It was one room, that's all I remember - and there was no play area. In the 60s, a new nursery school was built at the seashore (near one of war memorial cemetery and the Arab Fort) by members of the Lindi Club. This new nursery was probably the second building in Lindi with entrance and exit roads for cars (the other one being the secondary school)! Playing for the kids meant using the two see-saws and playing on the beach! The kids from the nursery and kids from the whole town would run to the seashore to watch those small planes landing at the beach. I still don't understand why we do not have such landings anymore! Were they special planes?

Some of the nursery paraphernalia at the new school had attracted some primary school students and they had been taken away by them when no one was looking. This resulted in some heavy punishment for the boys.


Primary

I joined Std 1 at Indian Public School and my first teacher was Jaadi ben (she was fat and that's how she was known to the pupils). I remember the daily morning exercises and her heavy bunch of keys hanging from her waist . She complained to my dad that despite my father speaking good Gujarati and Kutchi I would only speak Swahili. The reason for this was that my mother was Jangbari and spoke Swahili with me. During our time at school we longed for art classes as we were given the black and white art book so that we could cut the pictures using the small scissors. The only other book I remember was the English picture book where we had to identify the pictures with "This is" and "That is" - English reading only. We used slates for writing with pens made of slate material. Paper was alien! We were taught Gujarati numbers and alphabets - to write on the slate. There was this art of "ghuntwu' which meant you kept on writing over a letter of the alphabet over and over until you were good at writing the letter.

For uniforms, we got them stitched by Late Gulamabbas Abdalla Darji and for shoes we went to V V Chavda, who took our measurements and would then make the shoes of our size. These were the same people we visited before every Idd!

Then in Std 2 I remember Ansurya ben who taught us to sing 1 to 100 in Gujarati - really melodious and interesting!. Also, Malik Sir, who always held a ruler in his hand. When he wanted to hit somebody he would always pull up his trousers from the waist and say, "stupid donkey" before making a sign of hitting! He was so kind or 'bhoro' I don't think he hit anybody hard.

At Std 3 we were taught in a Makuti (thatched roof) building and I particularly remember the Geography(Bhugor) lesson in Gujarati - about the Congo and the Thinguji (the pygmies)!. Although English picture writing was taught in Std 1 we started learning to write the first English words in Std 4 - the Cat, etc. and if I remember well, it was teacher Kamruddin Sheikh who taught us. He had beautiful handwriting but was also good at pinching us if we made mistakes!

One of the teachers had complained to my dad that I was copying things wrongly from the blackboard. I needed an eye checkup. And that's how I got my first glasses – 3.5 was the number for both eyes – quite high for my age of 8 years. I believe I was the youngest in the school to get glasses. Those days, children hardly wore glasses. And I was given names, like macho manne (four eyes) and chashmish (the glasses guy). No option. Grin and bear it.

I particularly remember Khandu Sir who took us on a field trip to Lindi airport and made us sit on the platform which was the floor of the older airport building (the World War 2 airport building). The madafu (coconut) vendors sit on this platform these days. He also took us to Mpilipili jungles and we saw sites such as 'Statue of Mary' and old graves! We also supposedly saw the footprints of lions. Ishwarlal Shah taught us English. And then there was Mrs Chilumba who was our first Swahili teacher when Swahili was introduced in Std 6 and the first words were baba, kaka, mama etc.

We started having radio classes. We used to go to the main hall and listen in to the radio programmes beamed from Dar es Salaam. The reception was so poor that most of the time I could hardly hear what they were saying. But we sheepishly went to the programmes and came back to class. No discussion followed. May be the teacher was as unsure about what the programme was about as ourselves.

In 1962, the school name was changed from Indian Public to Stadium Primary and Gujarati was scrapped. Five years of Gujarati language had made us quite proficient. We could read children's magazines like Ramakdu which we obtained from friends or from library. Then in later years we could read magazines like Chakram - (ajab sawalona gajab jawabo), Begam, Chitralekha, etc. Gujarati was also essential to be able to read the Madressa Dinyat books and the Dua book called Majmuo.

The famous English comics and magazines for primary kids were Beano, Dandy, the Classics (Fairy Tales), Spearman (from Nigeria) with Zollo as one of the famous characters. Chase and Ian Fleming books were common in secondary school.

One unique personal item of each boy and girl was that each one would have an Autograph Book. We would give each other those highly decorated books to write some poem, advice and even draw pictures or paste photographs. There would be some sort of competition as to who could write in the most decorative fashion.

Our class 8 was on the ground floor of the 3 storey building. The "mudhmakhi" (bees) problem which sometimes bothered us in higher floors was less. However we had to be particular about noise. Sometimes the headmaster C L Patel would come to admonish the class. C L Patel used to teach us also. When girls were not able to reply to his questions he would tell them - "If you don't study you will land in Makara College (Charcoal college - meaning kitchen)". Some of classmates I remember were the meticulous clean guy Haider Chandoo, who would take out his handkerchief and clean his desk thoroughtly before sitting on his bench every morning. Another student, Bridget Braganza (now Mitchell) was a fan of Cliff Richard and used to sing "When I was young, my father said…". Bipin Raichada, who was and is a singer, used to sing "Summer Holidays and The Young Ones." Bipin, being short, was always a victim of Sheikh Sir jokes! Abdulla Walli used to call himself 'Tony Curtis' – the famous American film actor. Prafulla Shangvi (now Shah) was very good in drawing – neat and colourful.

In preparation for the Territorial exams, we used to attend Coaching classes conducted at night at the madressa. We had many teachers, Yusuf Hasham, Hussein Bhojani and the Supervisor from Boarding – cannot recall his name.

We had group of boys who would write to embassies in Dar es Salaam and ask them to send books about their countries. We would receive glossy books and pictures from different countries of the world. They were a treasure and we would keep them and show each other what we received. The embassies would also sell us their ideologies - so you get something about socialism from Soviet and Chinese embassy, the royal family from the British, and something against communism from the Americans.

This was also the year when the Zanzibar Revolution took place. Then we had the army mutiny in Dar. Dad was fond of newspapers so he would punctually send me to collect "The Standard" from Couths whom we paid on monthly basis. Price was 30 cents per copy. Sometimes when Dad would sit on the coach reading newspaper I would kneel down opposite him trying to read from the opposite side. He would then give me inner pages to read first. He also subscribed to Africa Samachar - a Gujarati weekly from Nairobi. We also subscribed to Government Gazette where we would get news about laws passed in Parliament and Government Notices on several topics of interest. I must say reading bills and notices made me accustomed to legal terms.

Tanganyika and Zanzibar united on 26 April 1964 and the new country was called United Republic of Tanganyika and Zanzibar. Stamps were issued with this long country name! On 1st August 1964, a competition was announced in the Standard Newspaper – the main newspaper in the country. The public were invited to give a new name for our country. We had to write to the Permanent Secretary in the Ministry of Information and Tourism. The prize was 10 pounds equal to 200 shillings. The deadline was 31st August.

During this time, we were being taught about Australia in school. I quickly observed the island of Tasmania south of Australia. I got an idea about the new name - Tan from Tanganyika and Zan from Zanzibar – Tanzania. I took part in the competition. It was announced that 16 people out of 1534 participants from Africa, Europe, Asia and Australia had won the competition. I was one of them. 16 people shared the prize. I received a cheque for 12.50 Twelve shillings and fifty cents. The letter told me that the name selected was actually "United Republic of Tanzania". Although I had submitted only Tanzania, I was still considered among the winners. On first of September or first of October, Mwalimu Nyerere announced the new name of Tanzania. I was 13 years old at that time.

There wasn't much extra-curricular activity in Standard 8. When we started Swahili classes, there was this big stage play which was arranged. Swahili was a new subject in school. As a kid, I spoke Swahili with my mom although in later years we made her speak Gujarati with us. Being good in Swahili the teacher told me to take part in a play based on a textbook we learnt at school. I read the script. However, I declined to take part as I had to say to a girl 'Nakupenda, Lakini...wewe Maskini" (I love you but...you are poor).


I particularly remember the break time - we used to call it recess - when many would run to the canteen to eat 'chana bateta' and some of us would buy groundnuts from vendors. I also remember - and how we were pampered - of two employees who served the pupils with water full time. The drinking water was kept in pots and the two workers would pour water for us in the glasses from which we drank. There was nothing of hygiene in those days - we all drank from same glasses. After some years, water taps were introduced and we had to do away with glasses as we had to drink directly from water tap. Those words which were put on the water tap saying " "Use Water Sparingly'' were the only English words in primary school which I never understood for some time. 'Sparingly' was a strange word.

I started doing some business at school. My aunt Khatija encouraged me to do so. She had gone to Zanzibar and brought a lot of Maka Ubani (Arabica Gum). Kids loved that gum. So she made maka ubani packets from newspapers and I took them to school. I would sell them at 5 cents each. Business was brisk. Everyday I would increase my quota. Somehow the news reached the Headmaster and he called me to stop the business. That was illegal business!

Then there was some legal business also. My friend Kassam Jamhuri encouraged me to make Map Drawings. Our geography teacher had asked us to buy maps of America and Africa - available from stationery shops. Kassam had an idea of drawing our own maps and then selling them at cheaper prices. He provided paper and I drew the maps. We then sold them at 10 cents each. We became business partners! This was short term business as the map requirement by the teacher was over in no time.

Homework was uncommon those days. The only homework which my father made me do, was some maths questions which he would write down on the slate and ask me to solve. In later primary I do not remember any parental involvement in homework. However my dad did teach me book-keeeping when I was in Std 7 at age 13. He asked me to help him write the books of our shop. They were real heavy books - with accounts of 200 to 300 people. I learnt to write books in Gujarati. The words I learned were jame (credit), udhar (debit), rokad (cash book), awro (journal), Kachi khatu and Paki Khatu ( Customer Ledger and Full Ledger), Purant (cash balance), hundiyamar (bank commission), khot watau (profit and loss), mandi warwu (write off), potamel (trial balance). My dad was very particular in balancing the books and would not agree to have any difference in the trial balance totals. A difference of even one shilling was not good. Under his training, I also became very particular about this. Since totals were done manually (no calculator) it was a tedious job obtaining nil difference in debit and credit balances. Yet I would spend hours just to make sure that the small differences were sorted out. For me, the use of accounting software like Tally did not start until after 2000.

My one job at the shop, on some evenings and on weekends, was to deliver invoices. I went to homes and shops all around town. As our shop sold foodstuff and grocery on credit, there was a huge bunch of invoices at the end of the month for those on monthly bills. You could read things like half kilo sugar, quarter kilo supari (Areca nuts), 100 g Jiro (cumin seeds), and so many petty items in the invoices.

It was interesting to observe different customers in our shop. There was a customer who would come to buy only half a kilo of supari but would not trust the supari in the display box and insisted to go to the inside rooms and select supari, piece by piece, from the gunny bag stored inside. He would bring each piece to his ear, shake and listen to any noise emanating from supari and then select accordingly. Another one who when he wanted to buy ghee, would take samples of ghee on the back of his palm, rub it and select the best one from the smell obtained after rubbing it. There was one customer, who would take out a bar of chocolate from the display bottle, and give it to me. He would try to imply that he was more generous than my dad or uncle who would not give me the bar of chocolate every day. He did not pay for it, he was just trying to be good to me.

At the end of primary school i.e. Standard 8, we had the Territorial Exams (now called Secondary School Entrance Exams). Unlike the situation now when a tiny number is selected to join secondary, we had majority selected to join the secondary school. The number of students selected to join Lindi Secondary was 105, including many from other schools.

Secondary School

We were excited to join the secondary school. I felt excited with the idea of going to school by bus instead of walking. Lindi had two school buses and both of them were run by Teeteeko and both went to Lindi Secondary. The one which parked at Lindi Stores departed at 7.00 a.m. and the one which parked at current Kothari shop departed at 6.45 a.m. The fare was Shs. 30 per month. There was a lot of fun to be had on the bus. Whenever the bus reached Mehboob Manji's house, his grandmother would come out, hug and kiss Mehboob several times as soon as he came out the bus. The boys would keep on cheering and Mehboob, out of shyness, would start running away from his grandma. It was fun for boys to see a 15 year old boy being hugged and kissed. As we write today, we come to realize that the love of grandparents is exceptional.

Many boys went to school by bicycles and it was an interesting scene to see the students going down the steep hill at the hospital - at flying speed - when returning home. Some students came in teachers' cars and few on foot. There was a students' hostel at the school for those who came from outside Lindi. The policy of the government was to have a mixture of students from different regions so we had many students from far-off regions.

We had this daily assembly session when we sang the National Anthem with a students' brass band. The headmaster was a strict guy, Rweramila. We did not have such an assembly in Primary school so we found it different. However the worse part of it was missing the assembly. It was a big crime. In later years, we got used to having a few boys sitting in class avoiding the assembly.

The biology class of Form 1 was conducted by an Egyptian teacher Mr Salanti. He always took us out of the class and made us draw trees, flowers, etc. We did not learn much in class. Miss Frederiksen from Denmark, our Maths teacher, asked each one of us to make a name plate on a piece of paper and put on our desk as she wanted to call each one by his or her name. Salanti and Frederiksen got married later on. Sahadevan was our most entertaining teacher. From the time he entered till the time he left, he would make us burst into laughter with his continuous jokes. Geography teacher Kilindo would look outside the window throughout the teaching - never looking at us directly. G D Vashi was our English teacher. An exercise at the end of every lesson asked us to learn about an English proverb and an equivalent in our native language. He had Gujarati proverbs ready all the time. Beno Mhagama, who later became Director General of Cashewnut Authority, actually remembered one of the proverbs "Paani aagar paar bandho" as recently as 2008 when I met him in Dar. Unfortunately Beno passed away in 2011 in Mtwara.

May 14, 1965 (12th Muhaaram 1385) was a sad day in our friends group and our school community. Mustafa Jaffer, our classmate, age 14, drowned in the sea opposite the Provincial Commissioner's house. He had gone swimming with some friends after having the noon nyaz (meal) at the mosque. The whole town had gathered at the beach looking for his body. The next day we went to school as usual, and we were all asked to go and attend his funeral and burial at the cemetery. I remember the solemn walk from school to the cemetery and the few days of grief that engulfed us all. Mustafa's death prompted me to write my first diary describing in detail the whole incident. Just a few days earlier, Mustafa, myself, and some friends had taken a new student, Hindkumar Babla, on the orientation of the school. Mustafa threw a lot of jokes on Hindkumar at that time. We never realized that we would miss his smiling face so soon.

The school changed its policy of streaming students by ability when we went to Form 2. Chemistry teacher Miss Mahida would be remembered for her non-stop lectures. One wondered how she could speak continuously for 35-40 minutes. One of the sad moments was Anwar Dharamsi having to cut his studies due to death of his father. He could not continue schooling as he had to take care of his father's shop in rural Lindi.

With Form 3 there were upheavals. Our headmaster Rweramila had declared something like a "war on discrimination". Black and Brown, boys and girls would be required to sit together. There would be no discrimination. During that assembly session, he gave a long speech with lot of warnings and it became very emotional. Our American class teacher Mr Tom Kelly was taken over by this emotional speech about discrimination. His was the first period. He came to class wrote one line on the blackboard and went away.

A fish pond was constructed and it was good place to gather during breaks. We would feed the fish with groundnuts bought from vendors outside.

Shamba (Manual farm) work had been introduced. We were supposed to clear the bushes on the opposite side of the school. We had been given pangas (matchets) and had to go there often on Wednesday afternoons. We had cuts and bruises as the bushes were thick and we were novices in this type of heavy manual work. If you had a cut, bruises or boils we were treated with home made remedies. Tincture of iodine was the harshest remedy and stung a lot. We had Iodex, Zambuk, Zatpatruz – all available from our shop!

During holidays, students who were in town and who wished to be exempted from Shamba work during school days could come and do the work during holidays. I remember one whole holiday of mine was spent that way. There was no school bus, so we had to go and return on foot. The work done during holidays was much lighter, sowing, weeding and watering the vegetable gardens.

Our Physics teacher was Joe Doucet, an American. He was very friendly and used to crack lots of jokes during his class especially when doing the experiments. He also managed the students' photography club where he taught us how to take photos and develop and print them in a dark room. I was a member and treasurer of that club. Kassam A Kassam was our Chairman. He had a dark room at his home too where we would develop the negatives. Some chemicals were put in a container and the negative strip would be dipped into it and moved up and down a hundred or so times before the negative would be ready. Then we would wait the negatives to dry for some hours before going into printing. It was a tedious job.

I made contact with Mr Doucet after 40 years. Surprisingly he told me he had married a fellow teacher Alison Cropper - a British teacher who took my English Oral exam (Cambridge). Similarly I made contact with our Form 3 Biology teacher Mr Sony Berg – who is now in Australia. Mr Berg, an American, started teaching us in the newly built Biology laboratory. I always linked him with 'mitochondria' – something which we heard from him for the first time and a word which he repeated so often in that particular lecture and subsequent ones.

1968 was our last year in Lindi Secondary. My class-teacher was Miss Helen Tomlinson who taught us English and was a perfectionist as far as pronunciation was concerned. She even made sure that we pronounced the word 'The' properly. She later married Kurban Abji and takes part in London reunion functions for ex-Lindi residents. Mr R M Sheikh was our Maths and Additional Maths teacher. He was an excellent teacher, very patient and able to make you understand and solve Maths problems using his exceptional persuasive abilities. K K Naik taught us Statistics and I remember his famous saying that like everything else, beauty is also relative. A Makonde woman who had a big plug on her lip was the best in her ethnic group – the lip plug was concept of her beauty. Everyone's concept of beauty was different.

Studies became serious and included joint or group study. I remember going to the Ithnaasheri Hostel and sitting with students – one of them Abdulla Walli. I had once gone to Hindu Mandir hostel to study with Vipin Shah. Some came to my home to study. I exchanged notes with my friend Selemani Kalulu, who was staying at the school hostel. I never visited the hostel except when attending an Elocution Competition held one evening in their Mess.

Once, after a joke about the Queen, a student wrote on the blackboard, 'God Save the Queen'. The class was empty and there were only a few students. The class was near the Headmaster's office. Soon the Headmaster passed by and noted the sentence in big letters. He asked who had written that and took the student to his office. The student was caned. I felt that an injustice was done. Although we were an independent country and had been blaming the Briitish for colonialism, punishing someone for mentioning the Queen was not good. When home, I wrote a letter to the authorities in Dar. Not long after I was called to go and meet Regional Commissioner at Mtwara. No reason was given. I am not sure why I was called. I wrote a reply to the Regional Commissioner that I was leaving for Iringa to join Form 5. He wrote back to me giving a date to meet him. When I went to Mtwara, he had gone to Dar and the meeting never materialized. I never learned why he called me in the first place.

We sat for the Form 4 mock exams and on the basis of which Form 5 selections were made. I remember at least 4 names of students who were selected to join Form 5. Aliraza Rajani for Tambaza (Aga Khan) Dar es Salaam, Mohamed Manji for Kibaha, and myself and Beno Mhagama for Mkwawa High School (Formerly St. Michael's & St.George's School, Iringa). Later in the year, we sat what was the last Cambridge Examinations in Tanzania. The following year, the exams were in collaboration with the East African Examinations Council. Now we have NECTA.

Goodbye to Lindi

My trip to Iringa in January of 1969 was a 'goodbye' to Lindi where I spent the first 17 years of my life. I knew I would come back during holidays but from now on the stay would never be longer than two months anyway. It was sad to leave my parents and my seven younger siblings for the first time to join a boarding school about which I had no idea. I had received a letter from the school and a government travel warrant so that I could travel from Lindi to Iringa by bus. It was a 3 day journey, that's all I knew. Education and travel was free those days, thanks to the socialist government of the time.

On the morning of travel, I went with a porter to the Teeteeko bus stand near the Khalfan residence and Novelty Cinema. While I was seated in the bus waiting for the bus to start, I realised my dad had followed me to say goodbye. He waited until the bus departed. This was my first bus trip to Songea. When we reached Tunduru, I got down and asked for the home of Ahmed Hassam, my uncle (Mohamed Hassam's father). I got a royal welcome from my aunt. A warm bed in a cool weather. I remember how cold I felt when, early next morning, I went to brush my teeth in the backyard - the weather was heaven on earth compared to hot Lindi. The second day journey was from Tunduru to Songea where I reached in the evening. My granduncle Taki Versi of Zanzibar was in Songea at that time and on learning that I was proceeding to Iringa the next day by bus vehemently put his foot down and said that no way I was travelling on that rough road alone. He arranged an air ticket for me from Songea to Iringa. Fortunately my friend and classmate Aliraza Rajani was also going to Dar to join Form 5. His brother Mustafa was manager of the East African Airlines office in Songea. We travelled on Dakota and I dropped down at Iringa while he continued to Dar.

Earlier Travels

A second long trip during my childhood was the one, by ship, from Mtwara to Tanga via Dar es Salaam. There were several families who travelled together in that ship. It was an enjoyable journey and an eye-opener for me. My mom used to take us to Zanzibar to visit her parents frequently but those trips were by air. The bus trips and the ship one will be remembered the most.

The other trips which I remember were the road trips to Dar during school vacation. We went by Willy Bus Service operated by Rashid Versi. On one such trip, I remember to have been with Mustafa Sabodo with his newly married wife Nargis Rajpar - on their first trip after marriage. On one other trip, the bus failed to climb a hill and we were told to come out and climb the hill - my maternal grandfather (nanabapa) was with us and he was excused. All other passengers had to leave the bus.

Another long trip which I remember well was the lorry trip to Songea. I was 9 years old and I travelled with my six cousin sisters who had come to Lindi from Mombasa (Dhalla Kanji family). It was in an open lorry. I learned a lot from my older cousins - a lot of games from city guys - We were 'washamba' compared to Mombasa guys. During that trip they carried sweets which they gave to children all the way from Lindi to Songea. From Songea, we also went to Mbinga in smaller vehicle. We visited Late Haider Musa Jaffer in Mbinga and also went to Mbamba Bay and swam in Lake Nyasa. My cousin, Gulzar Saini, now in London, has the following recollection of the trip:

The last trip I made to Songea was in 1960. Our mode of transport was an open lorry loaded with sacks of sunflower seeds, covered over by mattresses and sheets. These were our beds for the 2 nights it took for the journey. The bushes were our toilets and we went into the tall grasses in trepidation, lest a lion was hiding in the vicinity. On several occasions, we saw a pride of lions walking along the roadside. People who travelled from one village to another on foot, often dug themselves a little tunnel and slept there for the night. A lantern was hung at the front of this small tunnel to scare the wild animals. This always fascinated me. Fancy sleeping in the jungle with wild animals around you. We heard stories of how on several occasions, man-eating lions had attacked farmers and wandered into the nearby village.

We stopped over at Mingoyo, Masasi and Tunduru. There must have been a couple of other places that we stopped at – however I can't remember the names of the villages. Wherever we stopped, we were invited to stay for tea or a meal.. Nothing was too much trouble for our hosts.

I clearly remember reaching Tunduru at 2am and knocking at the door. Nargis Masi (Mohamed Hassam's mother) would wake up the servant and get him to slaughter a chicken from the backyard. This would then be cooked immediately (yes, in the middle of the night) This happened every time we travelled to Songea.
We always went to Peramiho on every visit to Songea. There we visited a butterfly museum, a school, the hospital, churches and some orchards, overgrown with tangerine trees. Masa (Hassanali Ladha Dinani) would visit some missionaries whilst we were in Peramiho. The missionaries ran schools, orphanages and churches. We always returned with a huge stock of tangerines.

On this 1960 trip, we also went down to Mbamba Bay at Lake Nyasa. I remember the journey being very scenic as we drove round perilous mountain passes and went down winding mud tracks. By the end of our trip, we were covered in red sand. Our hair was more red than black.

In Songea, we rode on bicycles and walked to the 'shamba' which was roughly a mile away. The was a plentiful supply of guavas and berries in the shamba.

Friday was a special day for the not so well off people of Songea. A crowd of about 50 beggars would sit outside Masa's store waiting for alms. We were given the privilege of giving 10 cents and a bowlful of salt to each beggar.

Songea at the time was a small village with a few Asian families.. There was only one tiny bookstall in the place. There was no electricity and when people moved about in the evening or night, a lantern bearer preceded the group of people going out. There were no tarmac roads. All the roads were mud tracks. I can't remember anyone owning a car. People had trucks (pickups) or lorries. There must have been a primary school, but certainly not a Secondary one.




Translation of Gujarati Poem taught at school - O Laxmi

Contributed by: Gulam Dinani

O wealth you are one amazing deity
Any and all greatness gets thrusted, only because of you
You are the factor both for unity and disunity
You cause mankind to either wander all around aimlessly or to settle in peace
For you, son fights with father and daughter with mother
The rich for riches, brother fights, the brother
You cause the learned to be ignored, while stupid are honored
Verily, various sorts of flatteries are accoladed in this world to the rich
No one ever is satisfied by you, whether one has, tens of thousands or multi millions
The more one earns, the more greedy one gets
The more the riches, the more the unhappiness and a cause of unexpected demise
In a wink, the catapult is slung away with the shot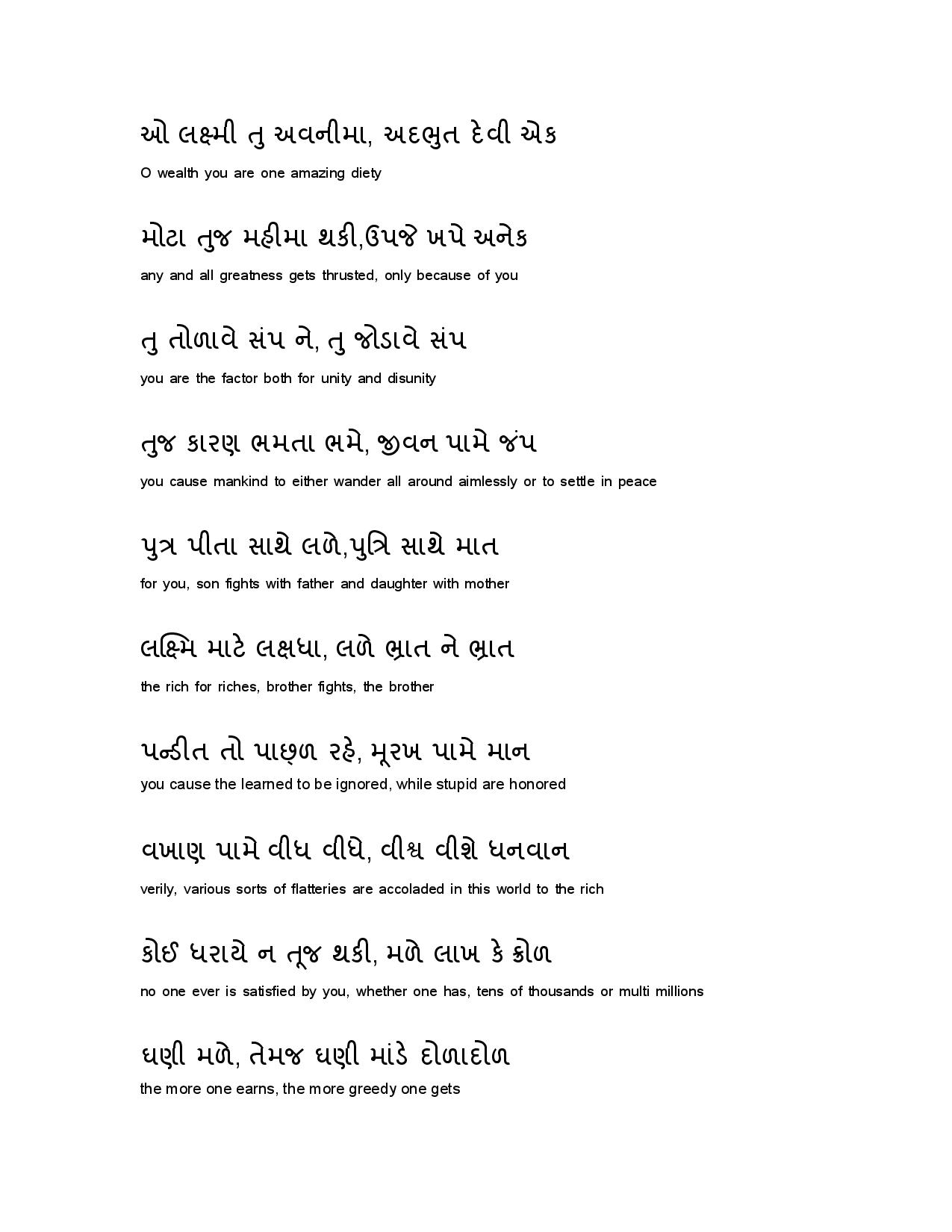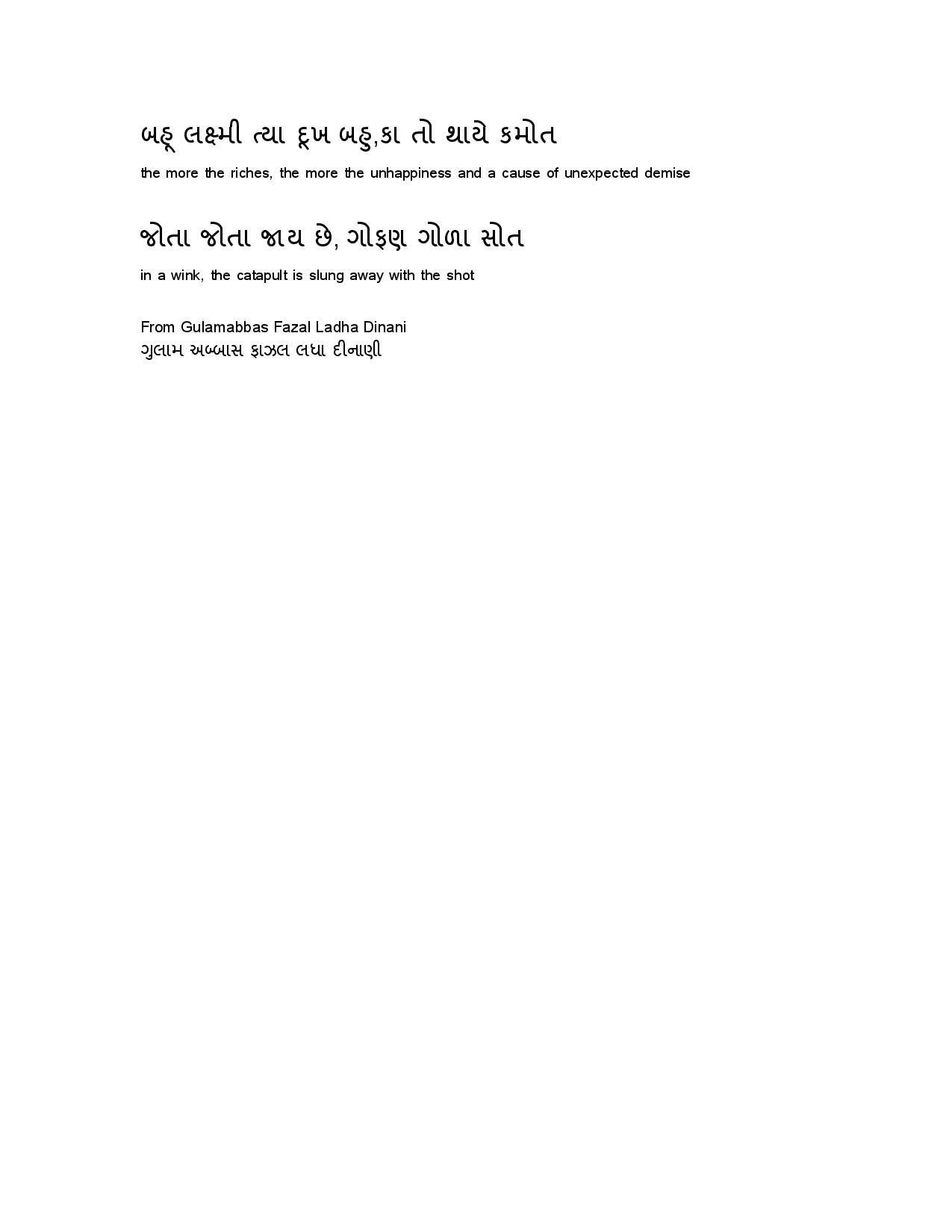 Click here to view PDF file version of above poem
Gujarati Textbook Std 3 1959 with poems like
Andharu Lai Gai Raatne...
Ame Ramakda.....
Rudo Juo aa Ruturaaj Aawyo....
Jalkamar dar Chhand baara (Naagdaman)....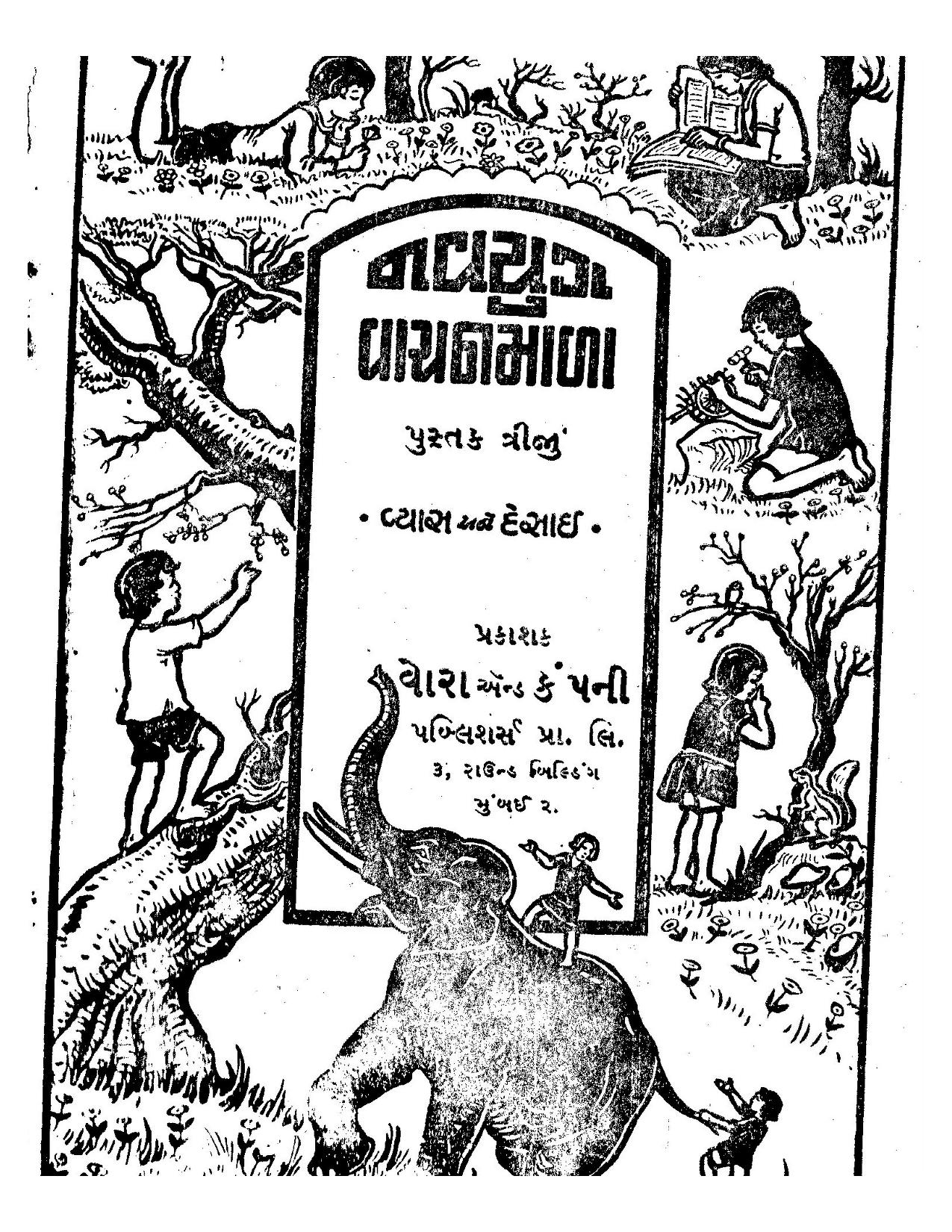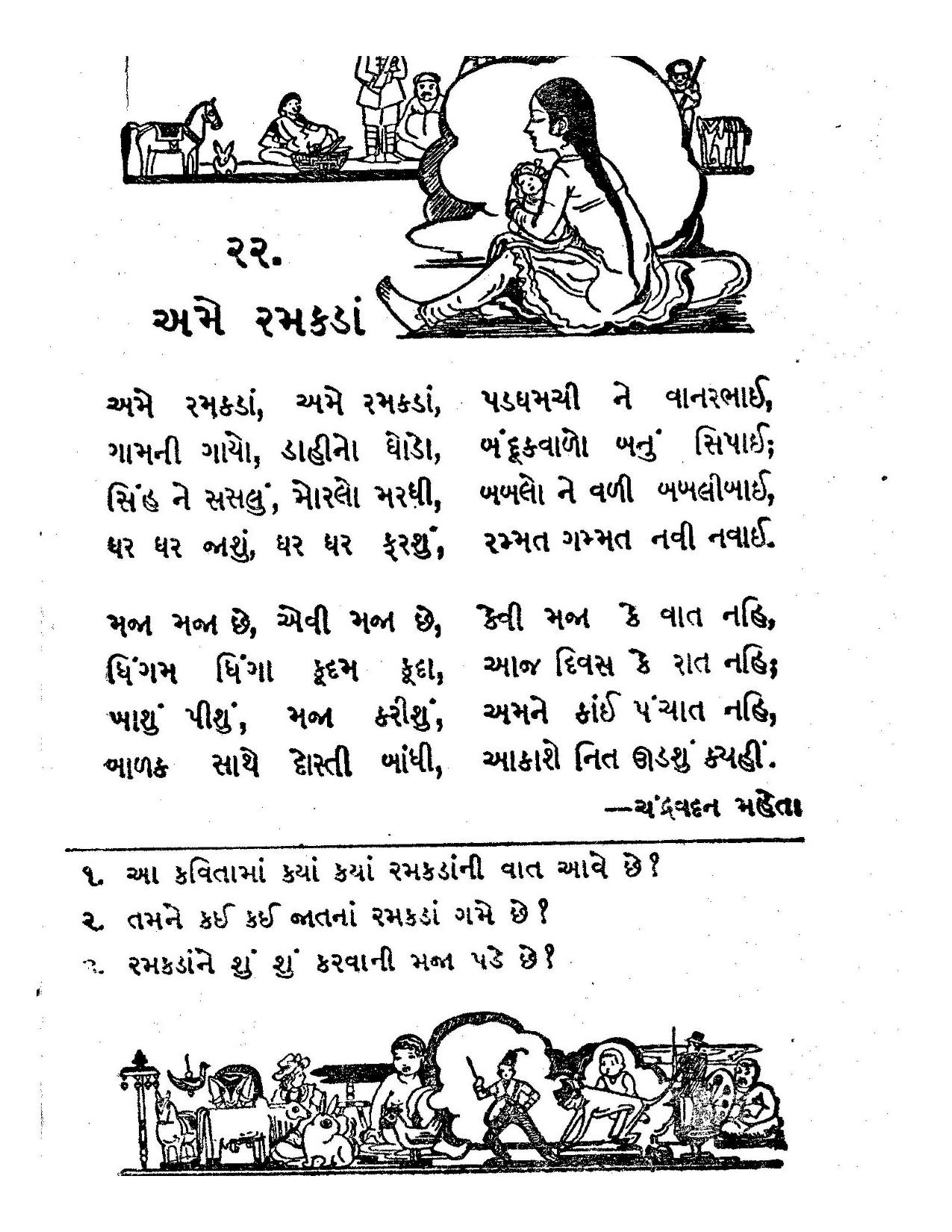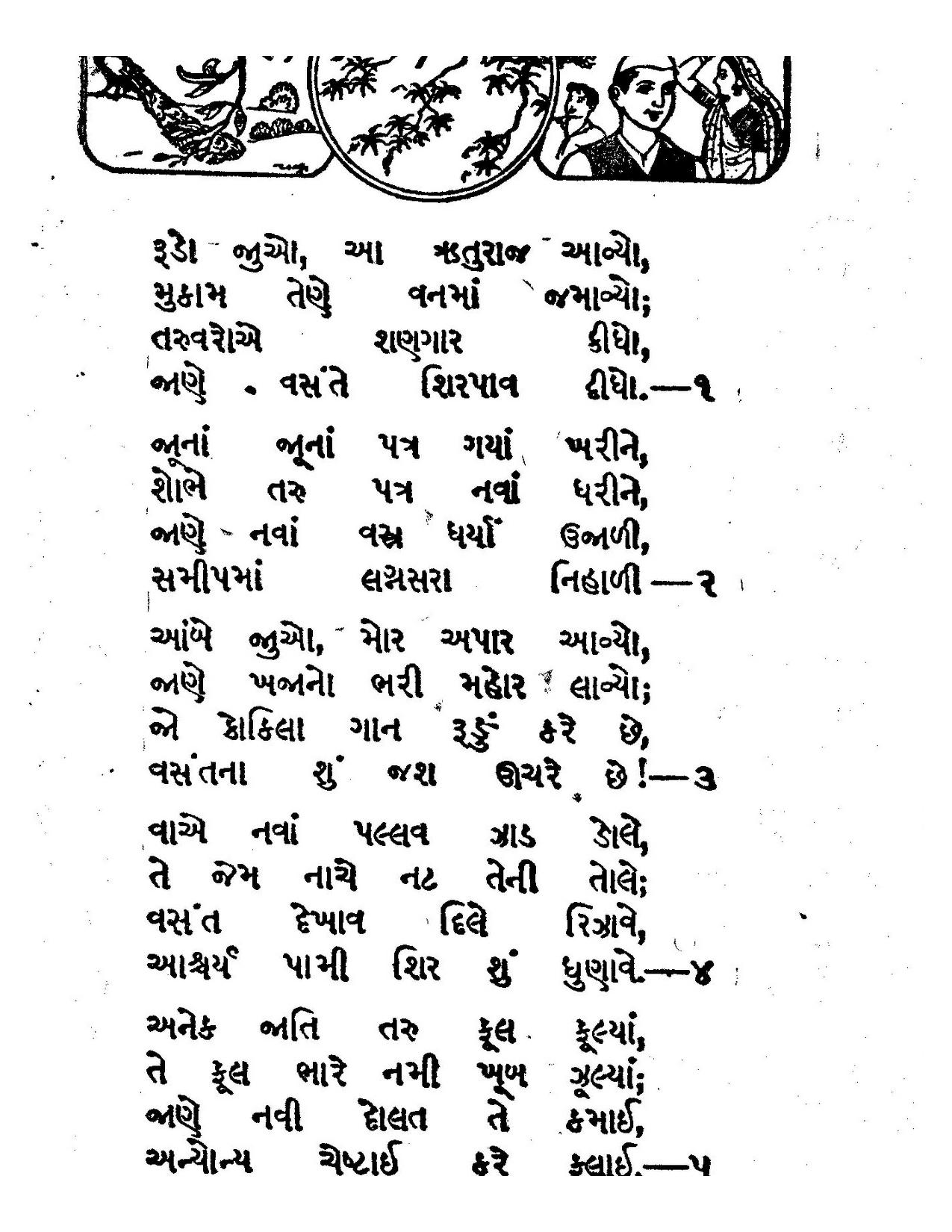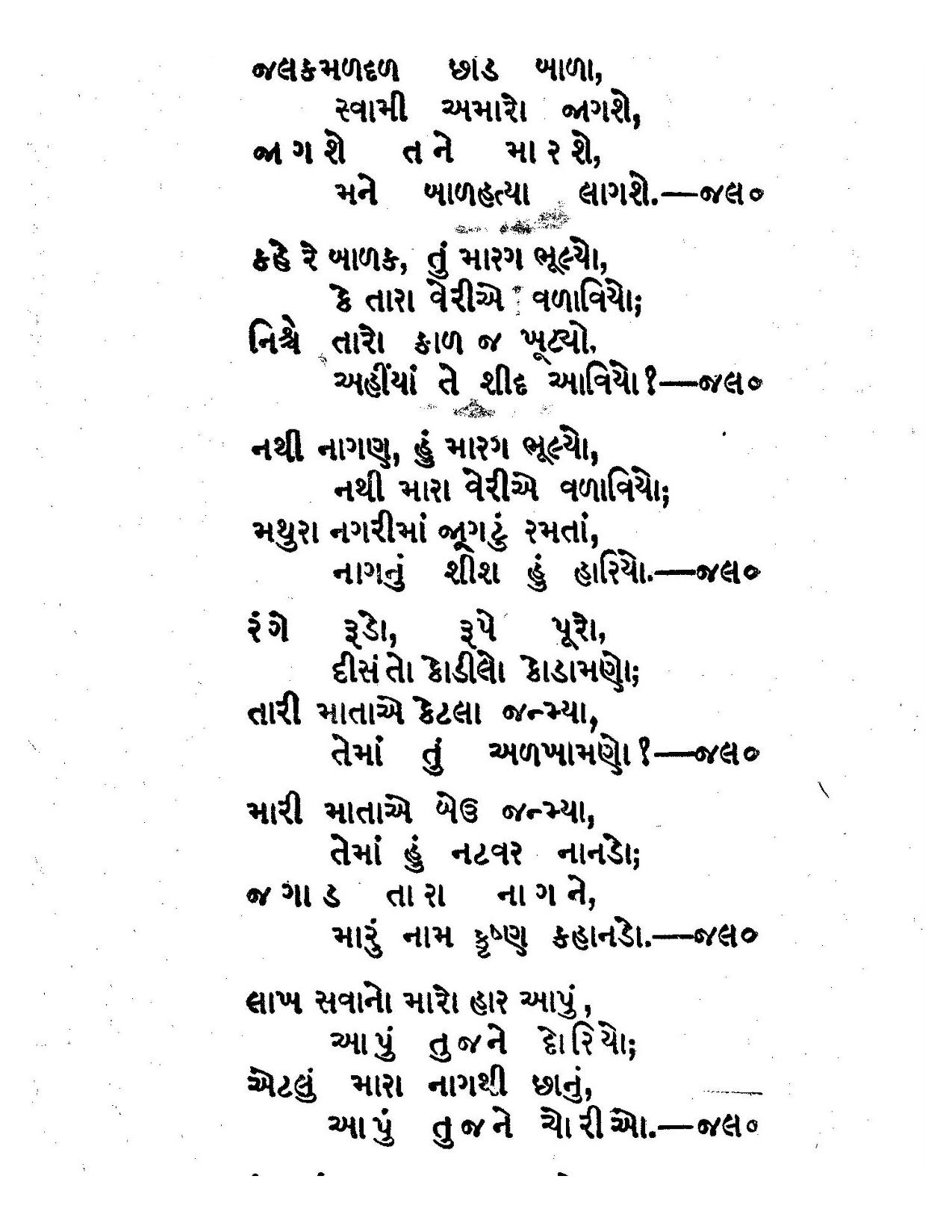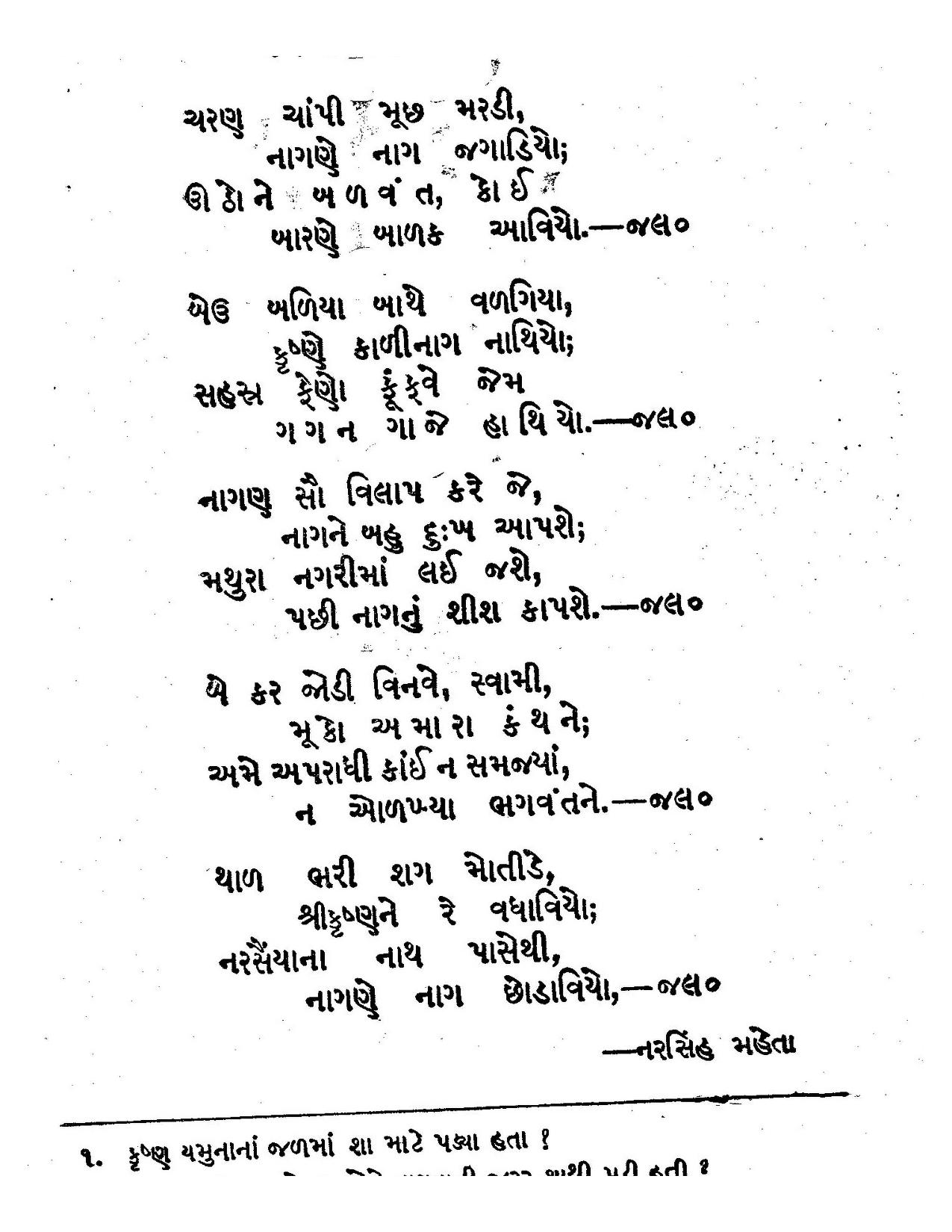 Gujarati Textbook Std 3 1959 with poems
---
| | | |
| --- | --- | --- |
| Last updated November 2013 | Copyright © Mahmood Fazal 2005 - All Rights Reserved | Created By Husain Fazal |