Photos Scanned And Provided By: Mustafa Pirmohamed
Email:
mpirmohamed@gmail.com

to Lindi Notes - General Main Page
Lindi Notes - General - Geography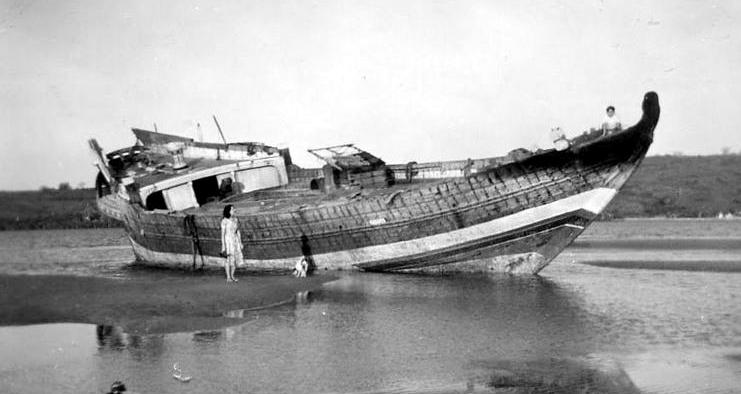 1952 - Cyclone in Lindi - An abandoned dhow from Kutch, India at Rasbura Lindi. It carried Mangalore roofing tiles for Lindi Hospital under construction. The cyclone resulted in many roofs to be blown off in Lindi Town.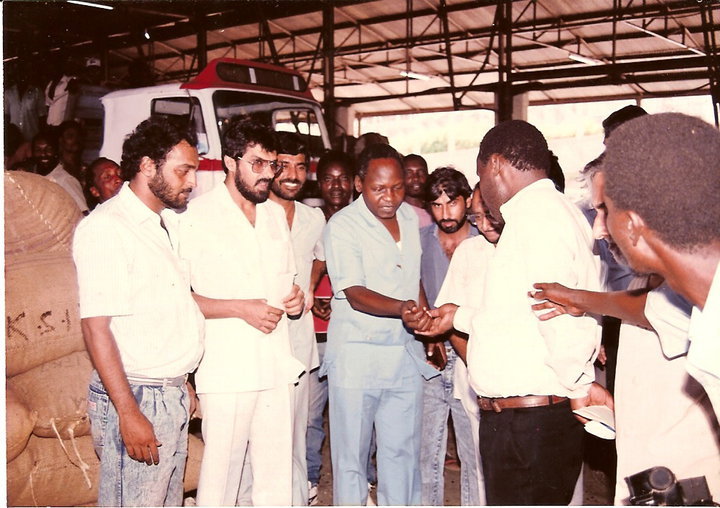 1992 - Lindi Floods - Donation by Dar KSI Jamat Picture shows Aliraza Rajani - President; Mustak Fazal, Ebrahim Ladhu, Hussein Dhanji and Zulfikar Visram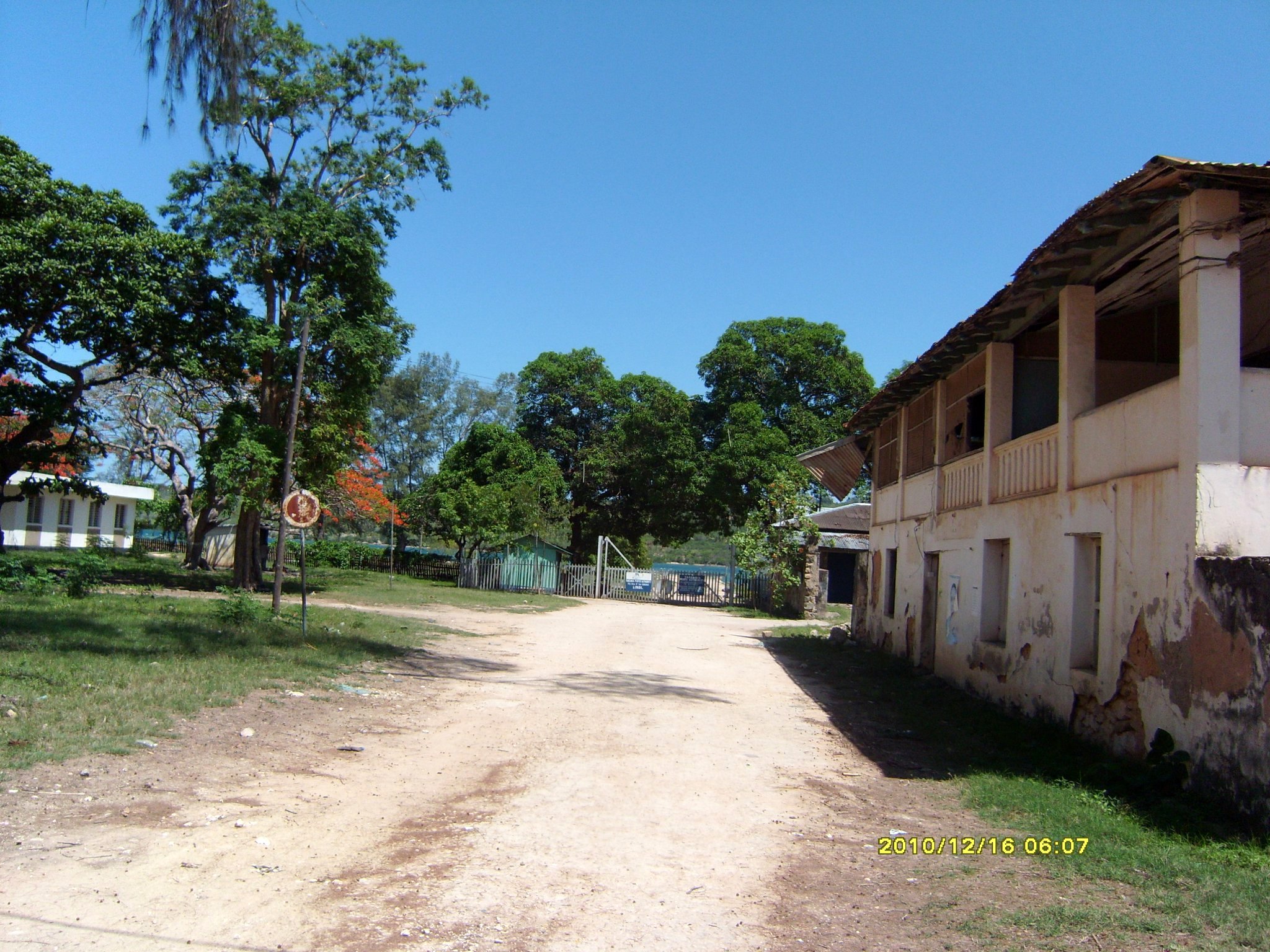 2010 - Road to the port near Makumbusho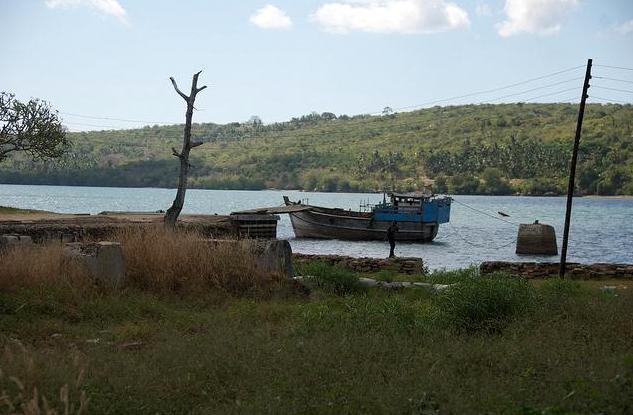 2010 - Lindi Port (photo by Sameer Kermalli)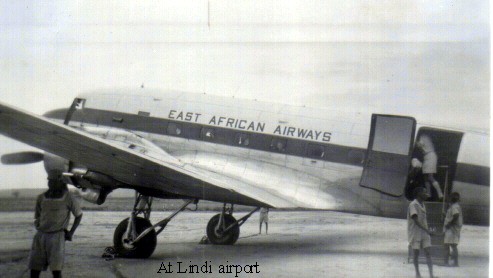 1957 - Dakota at Lindi Airport (

photo by Tony Edwards)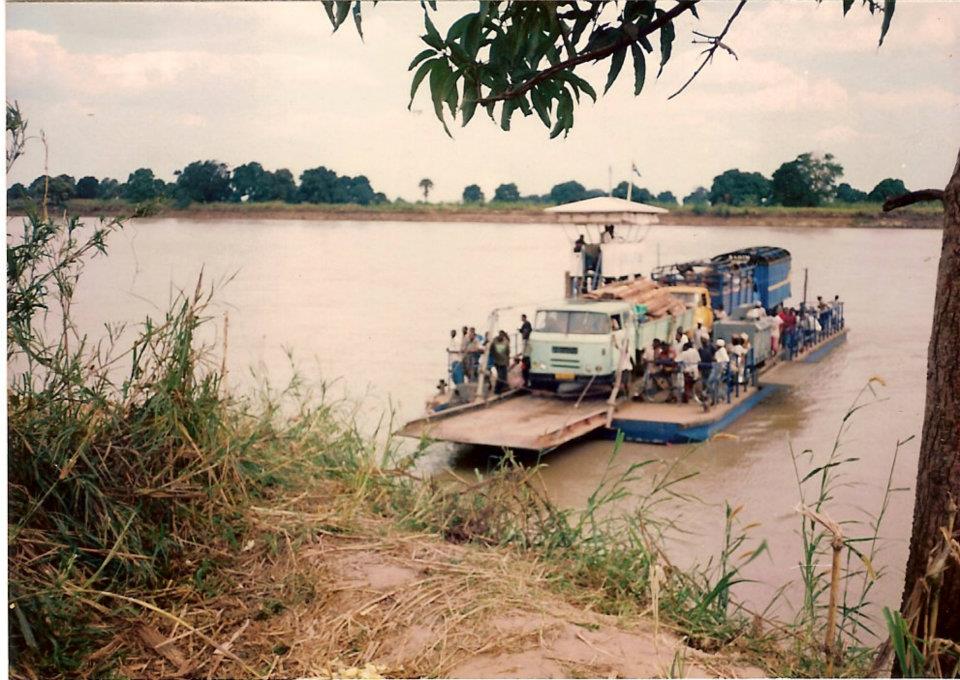 1993 - Ferry over Rufiji

Geography & Administration

Lindi means a depression in Swahili or Makua (the local tribal language) – It was so called because it is in a depression and surrounded by hills - Kitunda, Wireless, Mtanda, White Hill and Mmongo.
Lindi Town lies at Latitude 10 deg South and Longitude 39 deg East, It is believed that the centre of town is actually below sea level; hence the move to build government and other offices at Wireless Hill.

The region has 6 Districts:

Lindi Urban, Lindi Rural, Liwale, Kilwa, Ruangwa, Nachingwea.

Lindi Urban (Town) has 13 wards:

Ndoro, Makonde, Mikumbi, Mitandi, Rahaleo, Mwenge, Matopeni, Wireless, Nachingwea, Rasbura, Mtanda, Jamhuri, Msinjahili

Lindi is a coastal town located at the far end of the Lindi Bay, on the Indian Ocean in southeastern Tanzania. The town is 450 kilometers south of Dar es Salaam and 105 kilometres north of Mtwara, the southernmost coastal town in Tanzania, and gives its name to the surrounding Lindi Region, one of the most sparsely populated areas of the country. The town population was 41,549 as of the 2002 national census.

Lindi is located at the mouth of the Lukuledi River. Its port facilities are still rudimentary, allowing one or two small cargo and passenger boats at a time, and cannot accommodate ocean-going ships. The region was once an important sisal-producing plantation area, especially Kikwetu, which surrounded the Lindi airstrip, 25 kilometres north of town.

Source: http://en.wikipedia.org/wiki/Lindi#External_lines


Transport and Communication

Transport is one of the greatest problems for Lindi. The road from Dar to Lindi has finally been constructed after nearly 40 years since it was first discussed about. The bridge over the Rufiji River is called Mkapa bridge. There is still a 60 km patch on this road which has to be paved. One of the reasons for the poor development of Lindi has been the lack of proper transport. It is also believed that the building of deep-water harbour at Mtwara in 1954 and the collapse of the Groundnut Scheme in 1951 during the British era all contributed to the economic decline of Lindi.

Air transport is unreliable. Sometimes Lindi airport remains closed for months in the absence of scheduled flights.
In 1950s East African Airways had daily flight starting from Nairobi. There was one flight going to Durban passing through Lindi. Also there was one flight once a week passing through Mbeya, Iringa, Njombe and Songea. It used to bring fresh vegetables for Lindi people. (Source: Jayanti Patel)

I remember those days of air travel when if one wanted to fly from Lindi to Dar, the flight would take us to Kilwa first. All of us would be told to disembark at Kilwa where we would take rest at the airport and then re-embark onwards for the journey to Dar. I think the planes were called Dakota. Relaxed life!

Following the collapse of EAA, Air Tanzania took over. Then we had Eagle Air, Precision Air and others during the last 30 years. Air traffic from Dar is now mostly diverted to Mtwara. Too bad for those wishing to go to Lindi directly!
Lindi port used to have passenger ships like MV Mombasa which used to anchor far from the jetty. Passengers then had to travel by motorboats to get into the ships. The smaller motor schooners which brought cargo from Dar and other ports used to anchor at the jetty. The two nearest small ports are Mingoyo which was used during first World War by residents of Lindi to flee in boats from Lindi when they feared attacks. The other port is at Mkoe-Rushungi - which was mainly used to load sisal which was brought to Lindi.

Telephones

The earliest phone was the cranking type - we used to call it ice-cream machine. If you wanted to call someone, you would crank, round and round and round, for the operator to respond. The cranking would go on for a long time if the operator was some lazy fellow. You gave him a number - starting from 1 to 300 - these were the number of phones in Lindi. He would then connect you – this would be at his discretion. If you were a friend, he might connect you fast.

There was this system of reverse charge call. You told the operator to connect you to a distant call - STD call - Standard Trunk Dialling and tell them that the charge would be paid by the receiving person. One particular incident where this system was abused was amusing. A person travelled to Dar and made a reverse charge call to Lindi to inform that he had reached Dar. Now, in order to save money, he told the operator that his name is Ponchi Gayo (meaning he has already arrived - in Gujarati). The operator would ask the Lindi guy whether he was ready to bear the reverse charge call from someone called Ponchi Gayo. He refused the call, but got the message!

to Lindi Notes - General Main Page
---
| | | |
| --- | --- | --- |
| Last updated August 2012 | Copyright © Mahmood Fazal 2005 - All Rights Reserved | Created By Husain Fazal |