Abdulrazak Sheriff Fazal now has his own web site!
Click here to go to Abdulrazak Fazal's own website on Zanzibar

GULAMHUSAIN ISMAIL DHARAMSI (GOLO)

- Dec.1984-USC Magazine

BY:

Abdulrazak Sheriff Fazal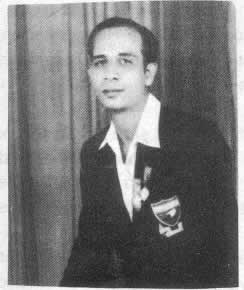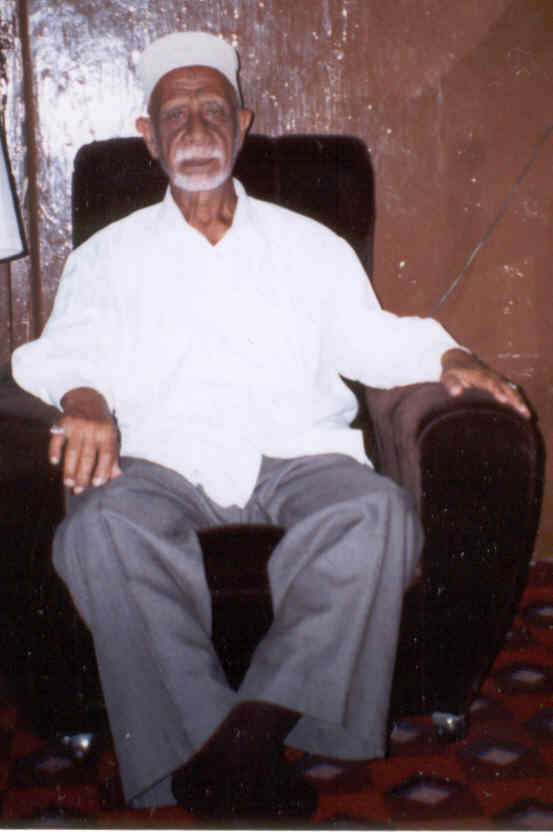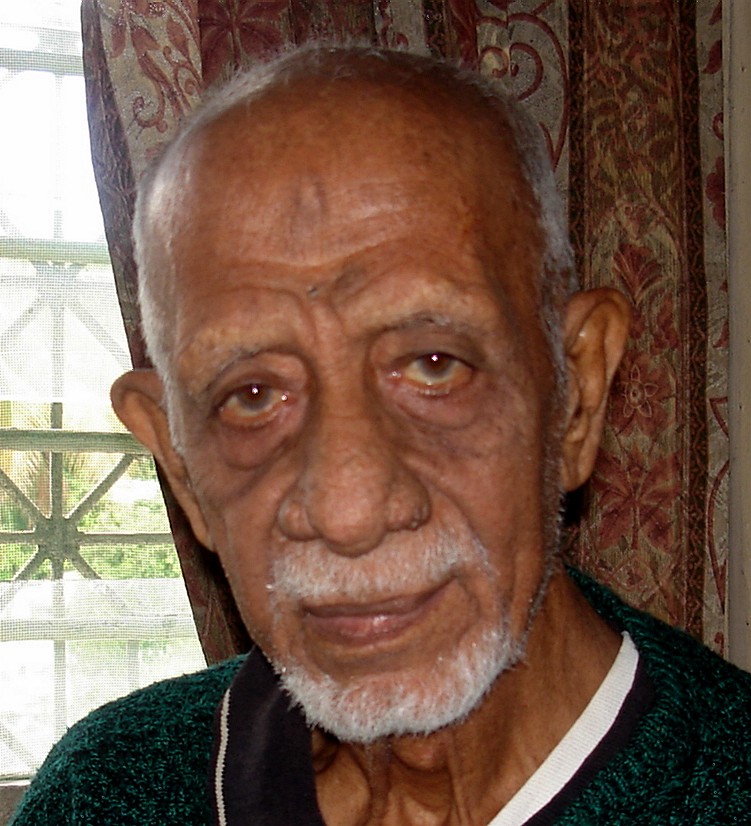 (Deceased on Dec 13, 2007)
Today Gulamhusain Ismail Dharamsi can be seen in one corner of the mosque engrossed in his recitals and in complete anonymity with the hullabaloo of today's cricket unlike yesteryears' 'Golo' who was synonymous with Zanzibar cricket and the island's fastest bowler of his time. Gulamhusain or Golo as he was popularly known symbolized Ithnashris' cricket and they took great pride in him.
Zanzibar was the place where East African cricket was most deeply rooted and from it emerged spectacular bloom like Gulamhusain. Today when in Zanzibar this game of cricket is long submerged in the annals of time, the lingering and recounting of Gulamhusain provide profound sentiments to the past inhabitants of the island.
Even today when an old timer visits Zanzibar, on his way to the old town from the airport, he has to be driven via 'Mnazimoja' where he will visualise the great Gulamhusain with his right arm action thundering up to the wicket to bowl and the noisy Ithnashri crowd chanting " Golo, Golo….". Alas 'Mnazimoja' is a haunting ground today, it bears a forlorn look without its cricket, and its Golo far from it, obscured on the mainland.
Gulamhusain, born in 1929 in Zanzibar, learnt his cricket in the gully of 'Sokomohogo' where he resided. Daily after the morning prayers he ran for an hour building up his physique. He also played football and volleyball. He played cricket for his school ESM from 1938 to 1943. He represented Ithnashri Gymkhana from 1944 to 1958. Since his initial playing days Gulamhusain gained instant recognition. He won the 'ball award' in his very first season in 1944 and went on to win several more. His fiery pace had the batsmen trembling.
The 'Sunnis' were a mediocre team in Zanzibar but in the year 1950 they performed appreciably reaching the semi finals of the KJ Cup against Ithnashris. They bowled out Ithnashris cheaply and then gained a first innings lead. Though Ithnashris performed well in the second innings building up a huge total, defeat seemed inevitable as 5 Sunnis wickets lay intact and only 20 minutes time remained. Time factor was decisive or else the fate of the game depended on the first innings result. The noisy Ithnashri supporters were bemused but their Golo did not let them down. In a startling bowling performance and within the span of 20 minutes he bowled out 'Sunnis' claiming the remaining 5 wickets.
In another exciting encounter in the year 1951 against the 'Hindus' Ithnashris were bowled out for mere 72 runs but the climax was to follow. Incidentally Gulamhusain who had just returned from ziarat was made to play that vital game and he obliged claiming the highest number of wickets. The Hindus were bowled out for only 67 runs, 5 short of the target.
Gulamhusain represented Zanzibar Combine in 1949 along with Noorali Jessa, Russi Madon, Gulamal Kabana, Ahmed Iddi, Juma Aley, Ibrahim Patraiwala and some others. He spearheaded Zanzibar's bowling attack then onwards till 1958 when he retired from active cricket.
In 1952 in Zanzibar's memorable 'Pardhan Ladak' contest against the strong Daressalaam side consisting of Mamda Kassam, Gullu Kalyan, FHR, Muslim, Rajani, Meredew, Bressler and others Zanzibar were bowled out for 101 runs at Daressalaam's Gymkhana ground. In reply Daressalaam were 76 for3 with Muslim of the famous FHR-Muslim duo scoring 50 runs. The crowd was jubilant chanting victory slogans as only 26 runs were needed for an outright win. Then burst Gulamhusain on the scene, with hankerchief tied around his forehead, he tore apart the Daressalaam side for 86 runs. In that devastating spell Gulamhusain claimed 7 wickets. The Governor of Tanganyika, Sir Edward Twining, was to attend the game in the evening and present the trophy but Gulamhusain had finished off the game before tea time.
The contest resumed in 1953 in Zanzibar and the Daressalaam side came with vengeance strengthening their side with KR Patel, the star batsman from Tanga, and challenging the Zanzibaris. Gulamhusain was immune to their boisterousness and that day even God seemed to be on his side as he was just unplayable on the cement pitch and coir matting of Zanzibar. Imagine the whole Daressalaam side was bundled out for just 39 runs. Gulamhusain took 8 wickets including the one of the century maker, KR Patel, whom he clean bowled for zero. The humiliation he had inflicted upon the mainlanders was unbearable.
On that particular occasion Gulamhusain the Zanzibar Sports Control Board honoured Gulamhusain with 'Special Medal' for his splendid bowling performance. It was the only instance in Zanzibar's sports history that such an honour was bestowed upon a cricketer.
In the year 1953 Ithnashri teams from Daressalaam and Mombasa assembled in Zanzibar and played against each other. Zanzibar emerged victor and Gulamhusain was adjudged the 'Best Bowler' which won him an award.
In 1956 the great Pakistan side visited Zanzibar. There was lot of fanfare in the island and posters announcing the historic arrival of the star Pakistani cricketers were stuck all around. Incidentally the game coincided with wafaat and Gulamhusain despite persuasion by ZSBC officials and prominent community members refused to play. The non availability of Gulamhusain led ZSCB to contact Nairobi to reschedule the itinerary and change the date of the Zanzibar game to facilitate the presence of Gulamhusain. Gulamhusain rose to the occasion and grabbed 4 Pakistani wickets including the prize one of Waqar Hassan.
That episode revealed many facets of Gulamhusain and has a lot of bearing on his personality; his prominence as far as Zanzibar cricket was concerned, his ethical values for he was a man of principles and above all his deep devotion for the Ithnashri faith. After that incident ZSCB obtained schedules of sacred observance from various communities so that their respective matches did not coincide with those events.
Gulamhusain was also a useful batsman and had the honour of scoring a century for his school ESM against Cosmo 'B' side. In 1953 Zanzibar were on the verge of defeat against the powerful Kenya side as they had only 2 wickets left and more than an hour remained. At that stage Gulamhusain defied the Kenyans playing out time and enabling Zanzibar a draw. At the end of the match Gulamhusain's fingers were swollen. It was the beating he had received from Jabbar and Jalla, Kenya's formidable duo of fast bowlers.
One of Gulamhusain's innings that I remember very well was against the Hindus in 1960 at the Khalifa ground. He had made a comeback after retiring in 1958 and plenty of his fans had gathered to see their hero in action again. He did not disappoint them and played a whirlwind knock of 50 that included some 4 to 5 sixes.
Cricketers arrive and depart the scene but the memory of Gulamhusain will always be cherished. Today what strikes most is Gulamhusain's simplicity and modesty. We salute this grand cricketing personality

to USC - Magazine Main Page
Click here to view more - Who's Who in East Africa
---
| | | |
| --- | --- | --- |
| Last updated December 2007 | Copyright © Mahmood Fazal 2005 - All Rights Reserved | Created By Husain Fazal |