JAFFER MANEK - EAST AFRICA TRIP TRAVEL NOTES & PHOTOS
Travel notes and photos - Stone Town (Part 2) and Jumbiani

Mon Dec 20, 2004
Yesterday morning I tried to get my mobile phone repaired. A tiny bit of seawater got in when a wave splashed against me at the beach. It does not work any more :-(
Then I went into the Palace Museum. Entry 3,000 sh. It has the furniture of the last Sultan. Not much left there and the ceiling has big holes from rainwater leaks. One room is dedicated to Princess Salme who was half Russian. She eloped with a German army man and lived in Germany and turned Christian. There is a Princess Salme Society who are trying to publicise her. A diversion to Zanzibar history, n'est pa?
Then I walked to the Anglican Church. There is an underground chamber in the grounds where the slaves were locked up in a tight space before the auction. Auctions were held where the church alter is. The visitors signature book was signed by people from various countries.
There is a cluster of statues with a large name plaque with Swedish large corporates as sponsors. Would the corporates put up a similar plaque in Ku Klux Klan locations in southern USA?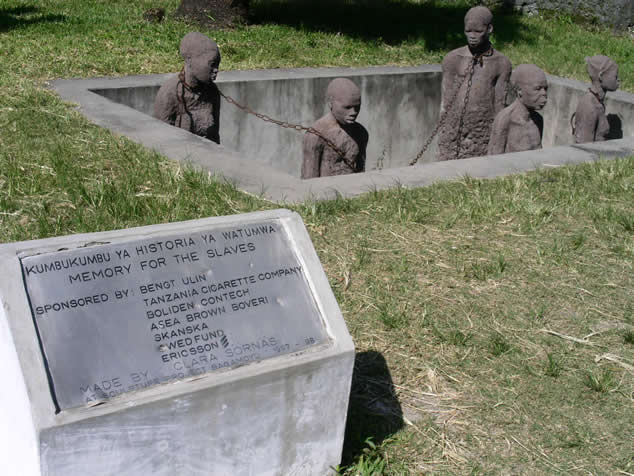 An African middle-aged couple arrived. We started talking. These visitors did not appear knowledgeable as they did not know the slave auction spot was where the alter is now. I was telling them that at least the Arabs married their slaves and Islam encouraged freeing of slaves, whereas the slave trade from West Africa was bigger and nastier, example, the Ku Klux Klan is a problem, the civil rights movement under Martin Luther King in 1960s.
They were surprised when I told them the British started abolition of the slave trade because the French sugar farms in the West Indies were making profit whereas the British sugar farms were losing money. The British imperial power was surely not so benevolent to abolish the slave trade for altruistic reasons only.
I went to Foradhani (open air kitchen and informal eating for cheap) after sunset. Had the "Zanzibar Pizza", (600 sh) pastry with onions, tomato, minced beef, chilli, covered up as a rectangle and then baked in tiny bit of ghee. I had five sticks of beef mishkaki (100 Sh each) and chips (400 sh). (2,000 sh for one pound sterling, 1050 sh for 1 US dollar). Amazing prices and an amazing setting under the stars by the waterfront.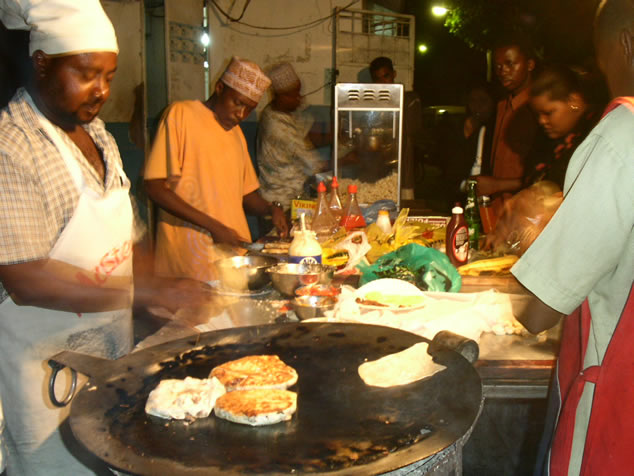 Then I found one stall who had mandazi. At night there are no "inzees" (House flies). So, I ordered one and a chai wa maziwa. They asked me to sit at a table and benches with about eight people sitting there at any given time, people having a cup of cha and then moving off. That is Rashidi's stall.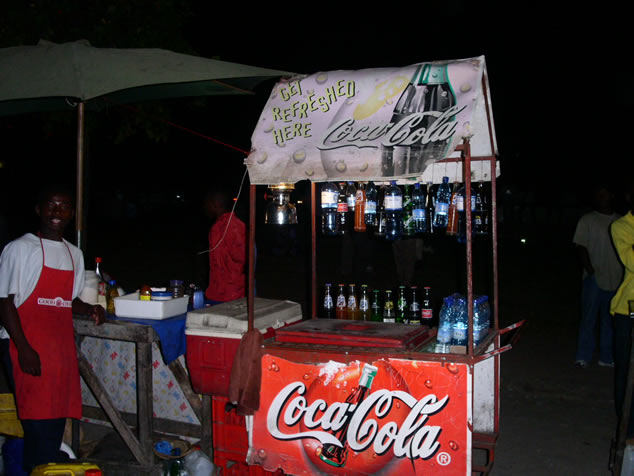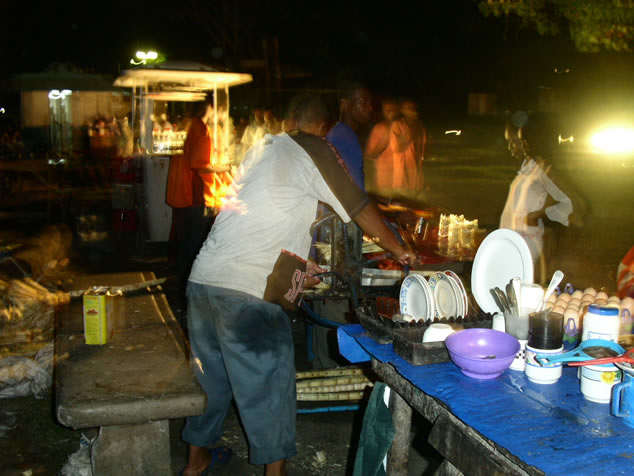 There were many tourists too, Dutch, Norwegian and others. The two local men sitting next to me talked to me. They told me most vendors were not Zanzibaris, the majority were from Pemba and those who sold curios were from Masai and Arusha and also Dar es Salaam. It was great to see all having free flowing chat with people arriving and leaving. These two also said the Aga Khan has put up a board about plans to renovate the Foradhani waterfront and they do not know if this food culture is going to continue as prolifically as it does now. So, this could disappear and be replaced by sanitised cement landscape that yields profits to corporates.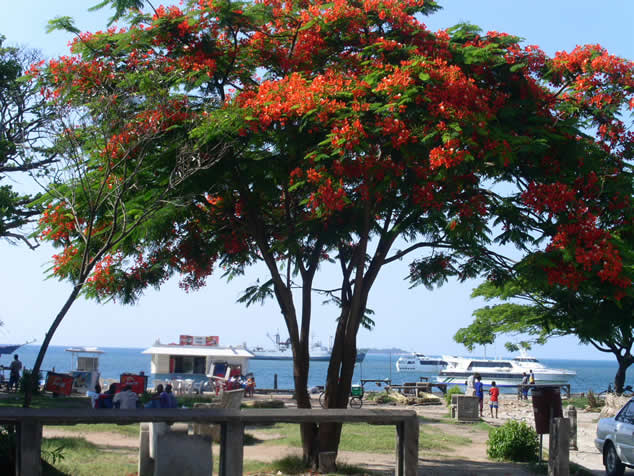 Today, I went to Nungwe, (northern most tip of Unguja Island) to try to see if I liked a hotel there to stay over for a few days before the New Year. As it happened all five little hotels were full up. One had a 90 dollar deluxe cottage available but that is too expensive for me as a single person.
I had lunch on one of the platform restaurants just where the waves crash on the beach. The whole place is small and rapidly expanding. I predict this will be like the next Aya Nappa in Cyprus or Costa Del Sol in Spain or those tourist spots in Florida. The prices are about three times as in Stone Town, the quality of food and amenities is not better than that in Stone Town and there are all those Rastafarian types walking around trying to fleece the tourists. Looks and feels very artificial, commercialised and like any other tourist trap! The road to Nungwe is good tarmac for the first half, but pot holed dusty road in the next half, bone juddering.