Travel notes and photos - Nungwe, north tip of Unguja Island of Zanzibar, January 2005
Mon Jan 31, 2005 4:10 pm
Apologies for an interruption. I was away for a few nights in Nungwe (north tip of Zanzibar - Unguja Island). I stayed at a self-contained room for US dollars 15 per night. It was basic but clean with running water and electricity. The hotel was owned by a Muslim Arab man and so there was no alcohol on the hotel premises. This hotel is for sale - contact me if anyone is interested (around US dollars 250,000)
The hotel is on a slope facing the sea, cannot sea sunset from this point but can see sunrise from the corner. At night I slept to the roar of sea waves, they crashed on the beach on high tide. At low tide, a friend and I walked all the way to the reef, avoiding the sea urchins (black ball with brittle spikes). Saw many star fish of various colours, coral of many types and a few other creatures. Fishermen with wooden spear-shaped sticks were hunting for octopus, squid and moray eel that hide under the rocks. Many fishermen put fish traps made of palm leaves, triangular shape with a small opening for the fish to get in. They caught changu (snapper), red snapper, coli coli, sardines and others.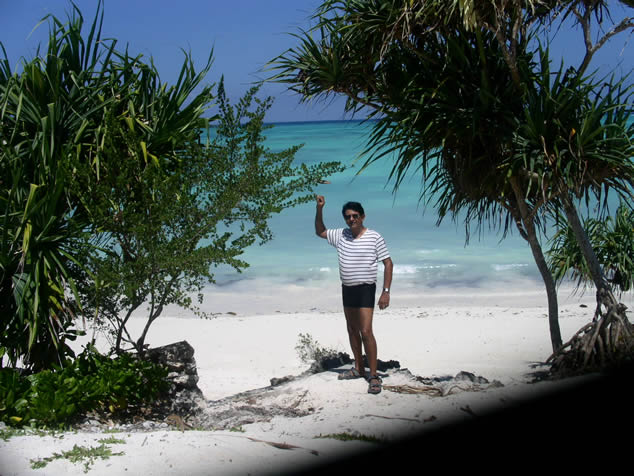 I had a straw hat on since the sun was very strong. Must put coconut oil in the hair to prevent it drying up.

It was low tide between 9 a.m. in the morning and 1 p.m in the afternoon. At low tide many sand banks of fine powdery white sand were above water level. In the shallow water at the edge of a sand bank I took the opportunity to lie horizontally as if I was in a bath tub, and the water was so hot too. Just heavenly.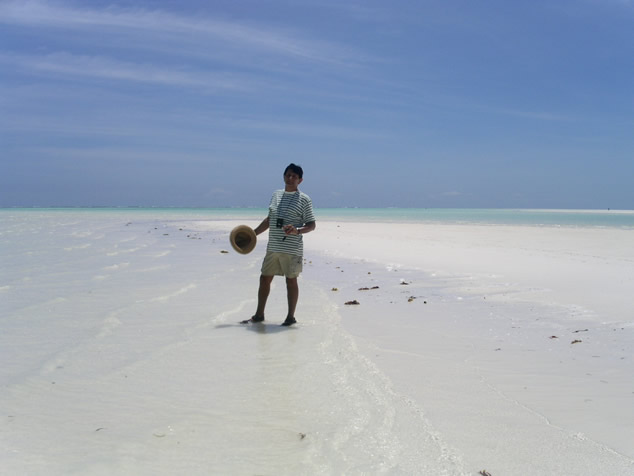 Sand banks as in tourist brochures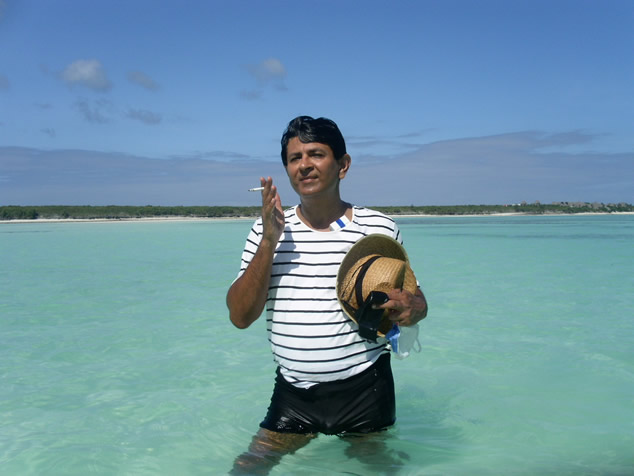 Having a cigarette break while doing the hard work of wading a mile out to the reef at low tide,
avoiding sea-urchins. Ah such a tough life.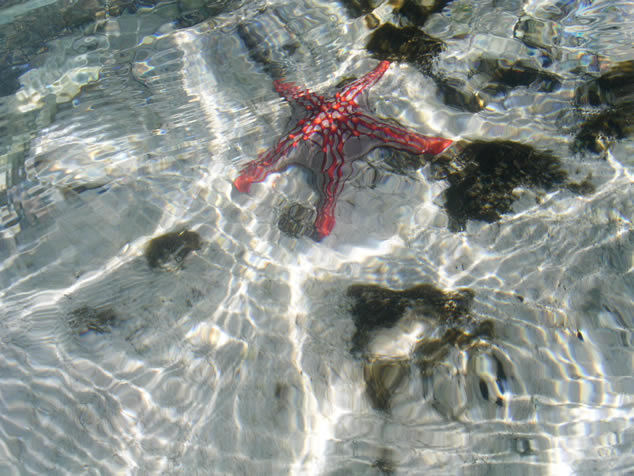 Star fish in water at low tide. I saw red ones, grey, blue, yellow and green ones too.
Camera got soaked and so no more photos.
I carried my camera and took a few amazing photos while walking to the reef - the land then drops to about 600 meters after the reef. Unfortunately, I lost my balance and fell into the water. My camera was in plastic bag. My hand hit a rock, the plastic bag ruptured and the camera got water. My smallest finger on the left hand got a dozen spikes of the sea urchin. I removed several of the big spikes by hand but the small ones had to be removed later at the hotel by the waiter - he did it with a sewing needle. It did not hurt and has healed very well. At least now I can say I have experienced the sea-urchin spikes!
The day before, a European woman doing a similar walk to the reef at low tide was stung by a sting-ray fish. She must have stepped on it to be stung. She was carried out by four persons, poor thing. There is a risk but then what is life worth by taking no risk?
We went to Nungwe tourist village to see sunset and have a nice meal at one of the several waterside restaurants. "Big Fish" restaurant is run by an Ismaili chap called Sadru, who used to live in Canada for a while. I had a long chat with him in Kutchi.
One evening, my friend and I went to "Ras Nungwe Hotel", only about five minutes walk away. Sat by the swimming pool at the middle level on the slope. We witnessed the most glorious moon-rise soon after the sun had set. Then came the a corridor of shimmering moonlight reflecting on the sea water, across two bobbing boats and a sun umbrella on the beach providing shade for those who sit on the beach during day time. The moon rose slowly higher. Enchanting sight. On our way out, we saw about hundreds of hermit crabs underneath shells on the steps - they scuttled away to make way for us. Wow.
Next day we took a taxi to Mwtambwe. Stayed at a flintstones style little hotel. The bungalows (one room, shower and W.C. and verandah and breakfast) for US dollars 10 per night. How affordable. The garden was white soft sand with a few tropical shrubs. There were hardly any flies or mosquitoes. The beach was a little bit busy with cultivation of sea weed which was visible at lowest tide. The village was a quarter of a mile away and the auction of the fish catch coming in from individual fishing boats was a delight to see.
We went on a snorkeling trip on an "ungarao", a kiswahili word for a long slim boat carved out of a single log of wood, and with a triangular sail. The boat was operated by two fishermen in their early twenties. They pushed the boat along the shallow water with long wooden sticks thrust to the land below. Got to the open channel facing Menba Island (has an exclusive hotel charging hundreds of dollars per night, Bill Gates was there a few months ago). They put the sail up and we travelled at a brisk speed. The water changed colour from light blue to dark blue - the fisherman said it was 600 meters deep. I had to hold on to my straw hat due to the wind. Got to the other side and did snorkeling. Such exotic fish, coral and rocks. Walked on the outer edge of the reef, spotting various creatures such as sea spider (five legs). We were out in the sun for around eight hours. We got dark although we wore T-shirts part of the time. The best thing was the boat used wind power i.e. no motor or petrol.
We saw the outside of Matambwe Beach Bungalows hotel. It is a luxury five star hotel with every mod con but expensive too. The man sitting next to me on the plane yesterday had stayed there and showed me photos and talked about it. But that is a different type of tourism experience. Seeing Africa by staying at cheap hotels is the real experience.
Next day we took a taxi to Stone Town, took the ferry to Dar es Salaam. On arrival, the porters at the jetty tried to hassle us but we had our bags on our backs and we walked briskly for a few minutes to New Africa Hotel. I have perfected the art of travelling with minimum luggage - got it down to 12 kilos of luggage. My bag has a zipped compartment which you unzip to expose the shoulder straps to put the bag on the back when desired.
My companion wanted to stay at another town hotel. A man glued on to us walking on the street. He would not stop walking alongside us, obviously to get a small commission from the hotel we went at since he would claim he brought us there. So, we branched off to J.J. Restaurant on Samora street. Had "dagga and ugali" and fried changu fish and matokay (boiled green banana) and fresh passion fruit. Fresh meal for 2,000 T sh per dish (about two US dollars). Dagga is anchovies from Lake Tanganyika (west Tanganyika) sun dried and then in a light curry sauce. We then walked onwards to the hotel and the same man materialised and walked with us although I told him in Kiswahili to leave us alone. These street hawkers are the human "inzee" (house flies).
I found zambaraho (jamboora) - in Hindi "kala jamun" as the hotel duty manager informed me. Also I got small but very sweet mangos and also the red almond fruit. I had a problem. I had a 10,000 shillings bank note. It was Saturday afternoon and banks were closed. I went to the Internet shop, the bohri mithaiwalla (Indian sweet shop), a snacks restaurant, a busy restaurant, other shops but no one would give me change. I am sure they have change but I think it is their attitude about not giving change. Anyway, a jeweller gave me two 5,000 notes. Then I went to madaf man to have three madafs at 150 T sh each. Could barely drink two and a half of them. The madaf man went to a nearby stall holder and got me change. Then I could buy the fruit.
Walked back to the hotel. Washed and ate the fruit. Watched a debate on BBC TV with Claire Short and three other speakers about Iraq democracy.
At 6.30 pm I went to the Ishna-Asheri mosque. It was Eid-Ghadeer celebrations. The mosque was full up with men. I know a few people and so took the opportunity to shake hands and talk. It was air conditioned and rather cool as I was used to 33 degrees, breeze and humidity. So, I felt a bit cold. After the namaaz (congregational prayers), I went on the open air baraza along with others. Each person got a plate with a cup of tea and seven different snacks including mandazi, kachori, pakora, samosa, etc. Chatted more with people.
Three of us, a friend, myself and my long standing friend Abdulhusein Akber Nathani (Takim's Holidays) drove off to my favourite Indian food restaurant - Bali's. We got a lovely table under a small makuti in the open small garden. The owner, Gulam, was introduced to me. He asked if it is the same Jaffer Manek who writes the travelogue? Wow, how wonderful to be a writer on EAcircle? He said he had seen nothing for a few days on EAcircle. So I explained I was in remote parts of Zanzibar where the Internet was not easily available. He gave me permission to mention him and his restaurant on EAcircle (I do not mention names unless I have permission). We had crispy chicken - the secret recipe, crispy prawns, lamb chops, kebabs, naan and fruit juices. Then we had my zambarahu fruit for desert. Such wonderful food. If you go to Dar es Salaam you just have to go to Bali's Restaurant.
Next day I got on the hotel's courtesy coach at 7 am. I checked out and sat in the bus. The hotel staff ran up to me and gave me my ruby ring. How nice of them to check my room and bring me my valuable I had forgotten in the hotel room. I forgive the inzee types.
An uneventful 9.5 hours on British Airways and I am back in gray and cool London at 10 degrees centigrade. Kwaheri lakini ta roodi tenna!