MOHAMED NATHOO PHOTOS COLLECTION

Photos Scanned And Provided By:

Mohamed Nathoo

P. O. Box 21795, Dar-es-Salaam, Tanzania


Email: mhan@cats-net.com
Phone Nos: 2120741 (Office); 2152150 (Res.); 0744-274-022 (Mobile)

OTHERS - 1950s
Zanzibar - 1954 Pardhan Ladak Memorial Cricket Shield

Zanzibar XI v Dar-es-salaam XI - Zanzibar held Championship for 3 successive years

Standing left to right:

Risley (Umpire); H. Kalyan; R. Bresler; A. Fernandes; Yusuf H. Juma; S. Patel; M. Singh; R. Meredew; Dharmsi; Bulsara (Manager Z'bar Team); R. R. Jaffer (Dar Comm. Member); K. Harris; Mohamedhussein; Mansoor; Suchak; K. Shah; Y. Sachoo; Harji Mawji; Gajendra; Ibrahim; Jaffer Rahim (Z'bar Umpire).

Sitting left to right: M. Kassam; G. H. Ismail; G. Kalyan (Dar Captain); Duly (President - Dar Cricket Assc.); G. P. Bowler (Z'bar Captain); Rajani; P. S. Talati.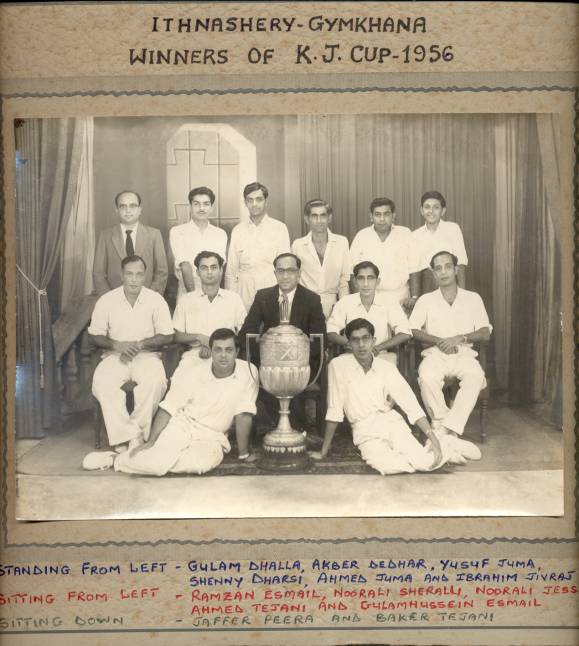 Zanzibar - 1956 Ithnashery Gymkhana - Winners of K. J. Cup

Standing from left to right:

Gulam Dhalla; Akber Dedhar; Yusuf Juma; Shenny Dharsi; Ahmed Juma; Ibrahim Jivraj.

Sitting from left to right: Ramzan Esmail; Noorali Sheralli;

Noorali Jessa; Ahmed Tejani; Gulamhussein Esmail.

Sitting down: Jaffer Peera and Baker Tejani
1958 - Zanzibar's Ithna Asheri Gymkhana - K. J. Cup Winners

Standing left to right:

Muhsin Alidina(Scorer); Yusuf Kabana; Bashir Nasser; Jaffer Peera; Ahmed Juma; Yusuf Dhalla; Akber Gulamhussein; Mohamed Walji(Babu).

Sitting left to right: Noorali Sheralli Megji; Baker Tejani; Gulamhussein Ismail;

Mohamedhussein (Mamdhu) M. D. Kermalli; Mohamed Issa (Mamadoo); Yusuf Ali Nathoo; Yusuf Juma.
1958 - Zanzibar - Ithnashery Gymkhana and Jaffery Sports Club - Mombasa on Khalifa Ground (Football Match)

Standing from L to R:

Sungura(Referee); Haider Walli; Mohamed Nathani; Mahmood Khaku; Dhushan ; Yusuf Karim; Murtaza Chandoo; Gulamabbas Tommy; Asgher Khaku; Sultan Lakha; Amir Yusuf; Pyarali; Merali and Hassan Tori.

Sitting from L to R: Sajjad Khaku; Hussein Hirji(Mamdu B); Gulamabbas M. T.; Nazir Nasser; Sikander Nurmohamed; Rhemtulla Rhemtulla; Roshan Merali(Chuzi); Abdul Kanji and Sultan Nurmohamed.
1956 - Zanzibar - Kokoni Sports Club Ithnashery Youth Team.

Standing from L to R:

Akber Kassam(Mashumu); Agha Hadi; Hussein Kassam(Kake); Mohamed Bachoo(Showboat); Agha June and Ibrahim Juma(Bhulo).

Sitting from L to R: Hussein Hirji(Mamdu B); Amir Yusuf; Murtaza Chandoo; Murtaza Jaffer(Haaluwa) and Raza Chandoo.

Sitting Centre: Muslim Jivraj.
Ithnashery Gymkhana Club Zanzibar sports visit to Tanga and Mombasa on the invitations of Ithnashery S.C. and Jaffery S.C. respectively in 1959.

From L to R :

Yusuf Nathoo, Bashir Nasser and Mohammed Kassam(James) about to board East African Airways flight at Zanzibar Airport.

to Mohamed Nathoo's Others main page

to Mohamed Nathoo's main page

to Old Group photos page

For more history talk click here to go Let's Talk About History Page


Quick Names Index