Photos Scanned And Provided By Shenny Dungersi of UNGUJA TRADING CO.
SHALWAR KAMEEZ, LENGAS AND SARIS
SHIRIEN DUNGERSI COLLECTION
1 OLDHILL STREET, RICHMOND HILL, ONTARIO. CANADA. L4C 9T8
TELEPHONE NO: (905) 737-5612
E-MAIL:
UNGUJATRADING@ROGERS.COM

to Shenny's Sports Photos Main Page
Tanzania sqaud for Quadrangular Tournament to Uganda in 1978
Sitting from L to R : Kutbudin Dossaji, Amballal, Kazim Lakha, Alnoor Fazal, Mahmood Rahim and Ramnik Valambia.
Standing from L to R : Sheikh (Umpire), Adam, Subash Rathod, Zulfikar Yusufali, Bashir Tejani, Raza Kara(Team Manager), Taher Amiji, Aunali Chandoo and P.D.Mehta.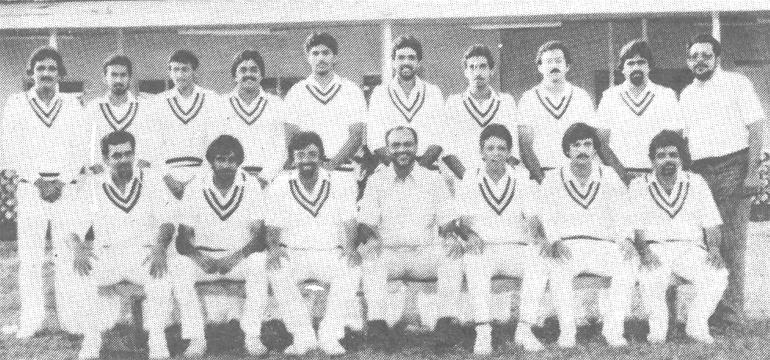 1970s - Dar-es-Salaam's Ithna Asheri Union
Winners of Metha Shield for Sunday League for a Tenth Year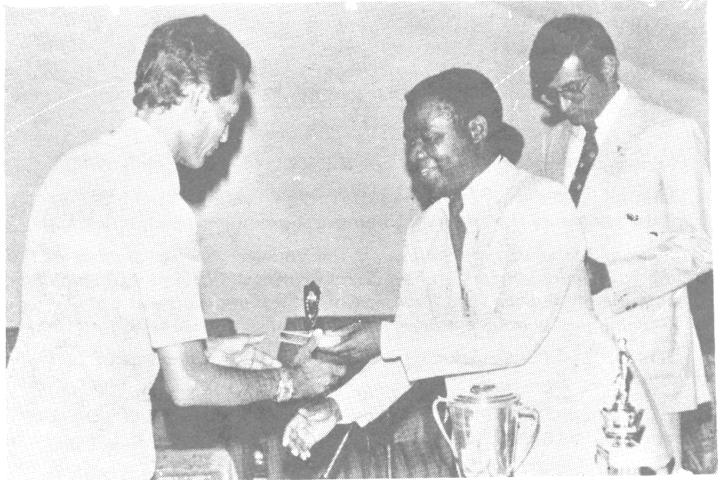 1970s - Dar-es-Salaam's Ithna Asheri Union
Amir Yusuf being presented with a trophy in Malawi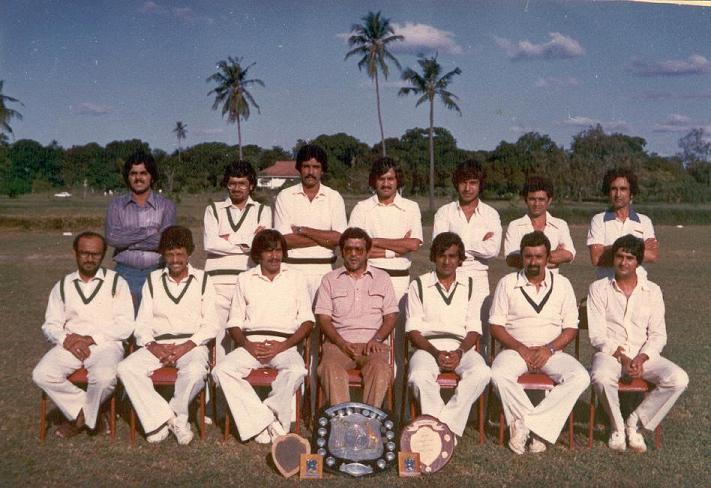 1979 - Dar-es-Salaam's Ithna Asheri Sports Club Cricket Team

Standing left to right:

Afzal Peera(Jimmy), Kazim Lakha, Hasnain Tejani, Sajjad Lakha, Naushad Dhanji, Abbas Satchu, Hussein Hassanali Ahmed Hussein(Dr. Who).

Sitting left to right:

Sikander Fazel, Amir Yusuf, Shakir Sheraly, Murtaza Alidina (Chairman), Liyakat Khimji, Mohamed Nathoo, Amir Gulamhussein Dedhar
1974 JAFFERY SPORTS CLUB MOMBASA – TRIPLE CROWN WINNERS

.

BACK ROW L TO R

– RAZAHUSSEIN MERALI, MOHSIN NAZERALI, AMIR MERALI and MURAD KHAKU,

MIDDLE ROW L TO R – MOHAMED KASSAMALI, AUNALI KANJI, MAHMOOD M.M. JAFFER, SIKANDAR PYARALI, GULAM KHAKU and MOHAMED A.P.

SEATED L TO R - HUSEIN D. PANJU(SHENKO), PYARALI KASSAMALI, MAHMOOD KHAKI (CAPTAIN), G.S. KHAKU (OFFICIAL) SULTAN NOORMOH"D, GULAMABBAS M.T. and GULAMABBAS JANMOHAMED.

to Shenny's Sports Photos Main Page

Click here to view more Cricket photos collection from Mohamed Nathoo

to Old Group photos page

For more history talk click here to go Let's Talk About History Page


Quick Names Index