Abdulrazak Sheriff Fazal now has his own web site!
Click here to go to Abdulrazak Fazal's own website on Zanzibar
AMIR GULAMHUSAIN DEDHAR - USC Magazine-1987.......By: ABDULRAZAK FAZAL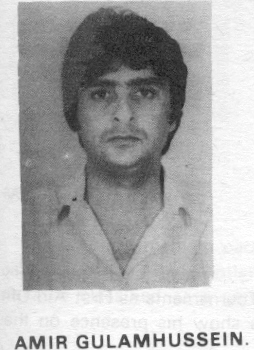 Even Today Amir gets reckoned as a ferocious bowler, no mean complement for somebody who is over 40 and whose cricket career has stretched for three almost three decades. Indeed it is a remarkable achievement since the cricket career of a fast bowler rarely lasts that long.
Born on 4th July, 1944 in Zanzibar the tall and well built Amir established himself as a left arm fast bowler who moved the ball either way. He made debut for his school ESM in 1957 and played for Ithnasri ĎBí in 1959. Soon he was promoted into the ĎAíside where guided and inspired by his elder brother, the late
Akbar Gulamhusain
, Amir created great impact. In his very first game against the strong Arabs side he took 4 wickets conceding only 24 runs. His achievements with the bat were also no meager, he batted with correctness and gusto notching a few fifties. He thus became Ithnashri Aís both opening batsman and opening bowler.
In a prestigious game against Mombasa Jafferies in 1961 Amir swept through their innings claiming 11 wickets in two innings and winning the best bowler award.
The 1964 Zanzibar Revolution made Amir leave for the United Kingdom where he continued with his cricket and played for one Insurance Company during weekends.
The second phase of Amir begins in 1979 when he returned to Tanzania and joined Union Sports Club. To date Amir spearheads Unionís bowling attack Amirís comeback coincided with Unionís most glorious era when they clinched all the trophies and remained unbeaten in numerous games at a stretch. Amir was very much instrumental in those victories; as a matter of fact the biggest advantage or psychological edge that Union had over its opponents was obtaining early breakthrough from Amir. Amirís initial bowling spell always accounted for those early wickets. His fiery pace had the batsmen trembling.
To cite one example was this thrilling game against Coast Gymkhana watched by a capacity Sunday crowd sometime in 1980. The Coast bastmen were just reluctant to face Amir who wrecked their innings for mere 67 runs. On that occasion Amir clean bowled 6 of their batsmen.
Although past 40 Amir on his day is even today unplayable. He amply demonstrated that last season when he struck vital blows for Union and enabled them win the championship for the tenth consecutive year.
In the recently concluded AG Tarmohamed tournament Union were bowled out for just 107 against Metro of Zambia and defeat seemed inevitable. Then Amir in a devastating spell bundled out Metro for only 63 and claimed 5 wickets without conceding a single run. That was an exceptional bowling feat for in East Africa no bowler has taken 5 wickets for no runs. At the end of the tournament he was duly awarded the ĎBowler of the Tournamentí that he had also previously won in 1982.
One of Amirís spectacular bowling feat was recorded in that 1982 tournament when against the strong Universal side of Zimbabwe he grabbed 4 for 18. Amir in that day was his usual volatile self and had Universal reeling at 79 for 5 with the cream of their batting including a couple of world class batsmen back in the pavilion.
Undoubtedly Amirís contributions for Union have been immense and he has inscribed his name in the history of Union. He shall always be remembered as one of Unionís best and fastest bowlers in their history. Amir is happily married with two children and to keep cricket in the family tradition he is presently grooming his son to follow his footsteps.

to Old Group photos page

For more history talk click here to go Let's Talk About History Page


Quick Names Index