Travel notes and photos - 14 Dec 2004 to 30 January 2005 plane delay.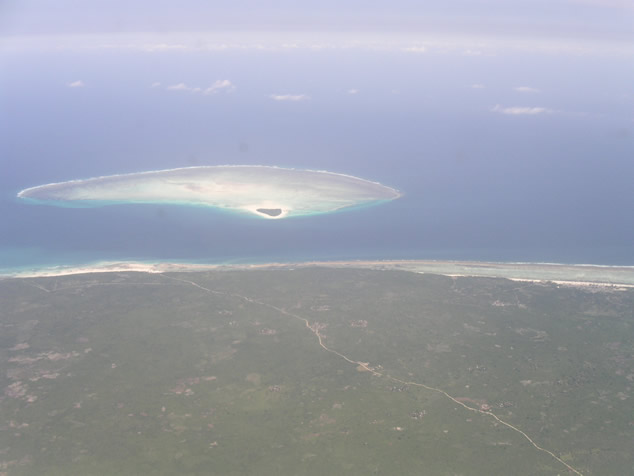 Nice view of Mwenba Island. The Aga Khan has a hotel there, the only inhabitants. The fan-like area is the reef with tidal movement and very exotic fish and sea creatures. The blue bit between the land and the island is 600 meters deep! Three weeks after, I crossed that with a friend in an "Ungarao" - the dug-out canoe with a triangular sail and went snorkeling at the right hand side of the reef and snorkeled and walked on the reef at low tide, discovering and inspecting a variety of sea creatures.
Mombasa has not changed. Ndia Koo (Main Road) near Fort Jesus and surrounding streets are block paved from European Union funding. The old streets are looking much better.
Mombasa is less hot and humid compared to Zanzibar.
The Mombasa Kiswahili is different, example:
Zanzibar: Mimi na omba soda moja. (I request a soda - omba can also mean beg)
Mombasa: Letiya soda moja. (Bring a soda)
You can see it is ordering in Mombasa whereas it is requesting in Zanzibar.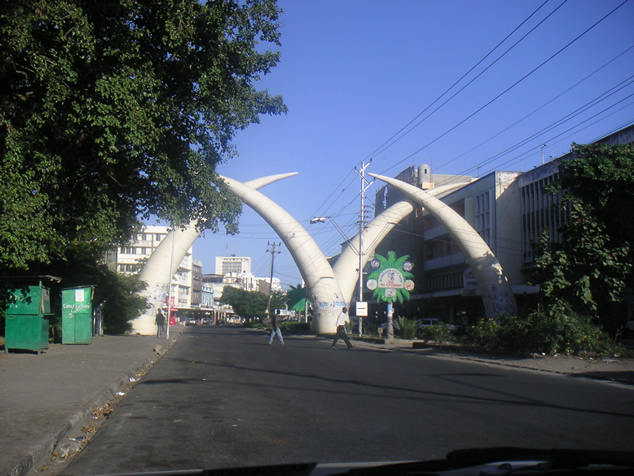 The famous tusks on Moi Avenue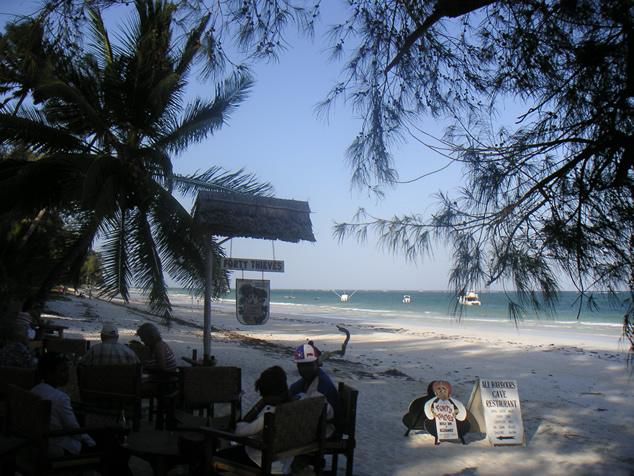 A restaurant at Diani Beach, south of Mombasa. It is less congested here than in Bamburi

Yesterday, with friends I went on the Tamarind Restaurant boat dinner cruise in the creek. It was a wonderful experience. Since I spoke Zanzibari style Kiswahili with the crew, they gave me extra Malindi halwa and charged the local price, not the double tourist price.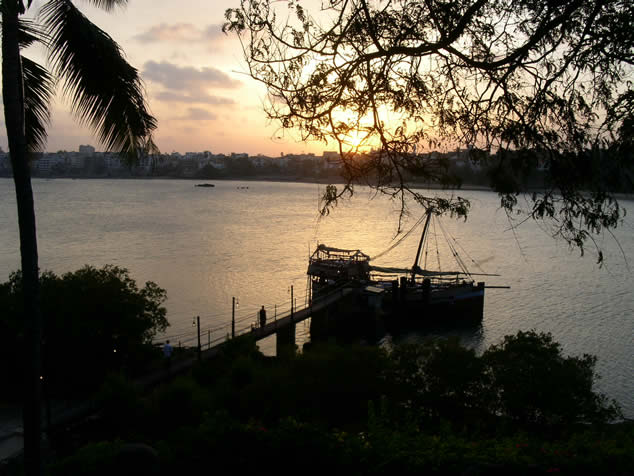 The boat at the end of the pier on the creek.
Photo taken from the restaurant on the side of the hill.
It is owned by a Kenyan of English origins, third or fourth generation there and speaks fluent Swahili.
Previous day I bought Victoria (tangy fruit) and ate it with salt and red chili powder. Also, I found zambaraho (Jamboora) and scoffed them. And sweet mangoes, Ambay. Also, got a packet of Booya (red like raspberry, sweet and tangy taste). Also, had madafs. And mishkaki and swahili fish curry at Yul's restaurant in Bambury, the best swahili coconut fish curry so far.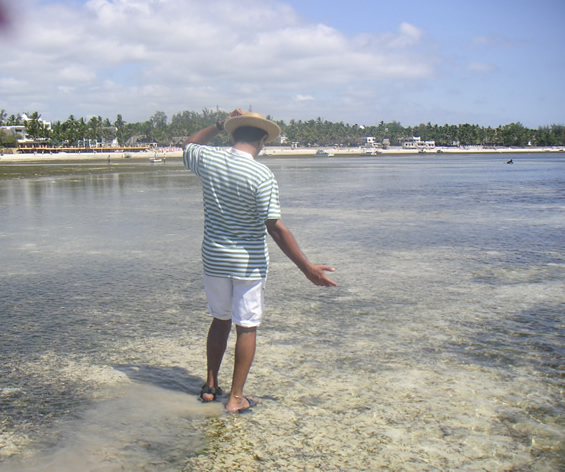 Bamburi at low tide, avoiding sea-urchins and strong sunshine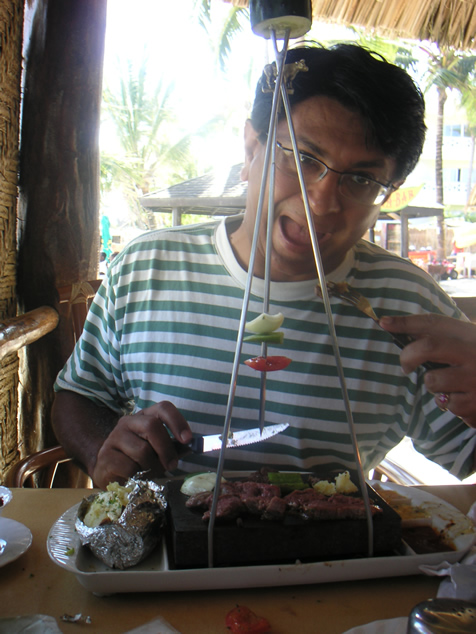 Having steak pieces on spike at Yul's Restaurant, lower them onto 400 degrees hot slab of stone.
But suddenly the inzees arrive. Trying to shoo them off.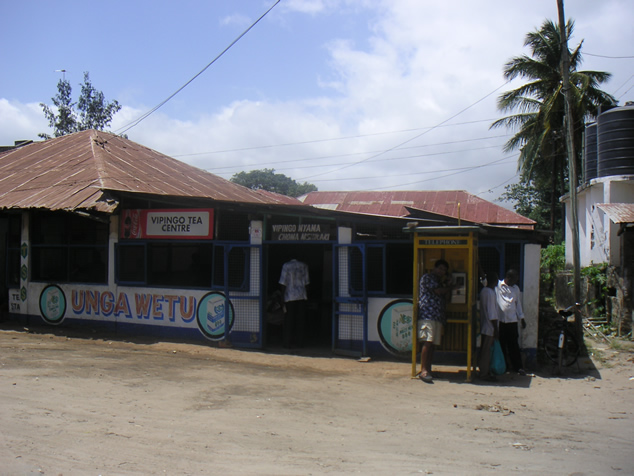 Vipingo: the locals must break journey here on the road half way from Mombasa to Malindi.
Mishkaki at the world famous Vipingo Tea Centre is a must; but the phone was not working.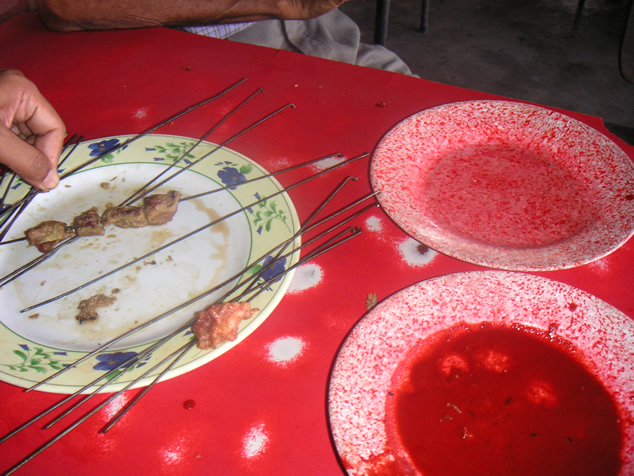 If you look closely, you can see the barbeque metal skewers are really bicycle spokes.
How many miles do they have to be on the bicycle wheel before they are ready for this purpose?
True recycling here! But the mishkaki tastes excellent with mandazi and tangawizi drink. :-)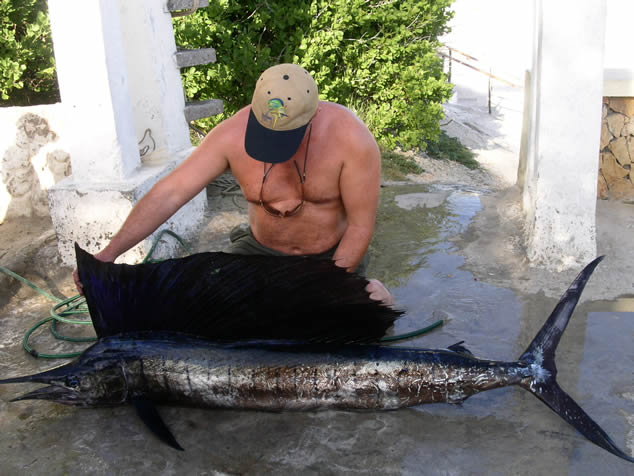 At "Ocean Sport Hotel", Watamu Bay, some tourists go deep-sea fishing early in the morning.
This man caught a "sail fish". He said it was in the sea after the land had disappeared from view.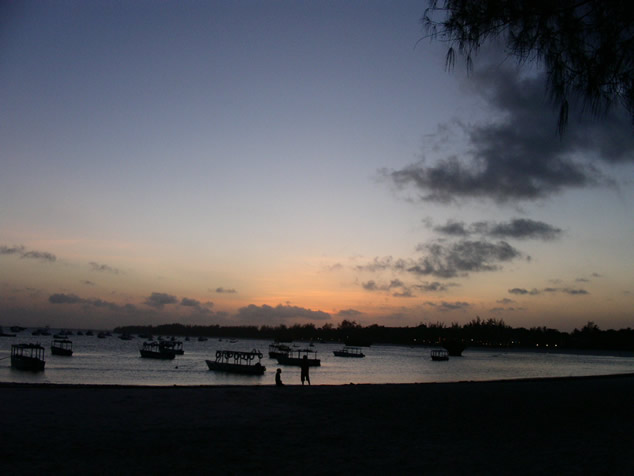 Sun rise at Watamu Bay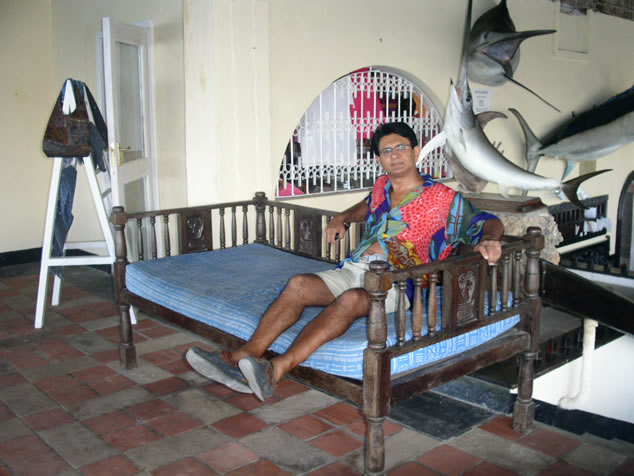 Yours truly on an Indian style sofa-bed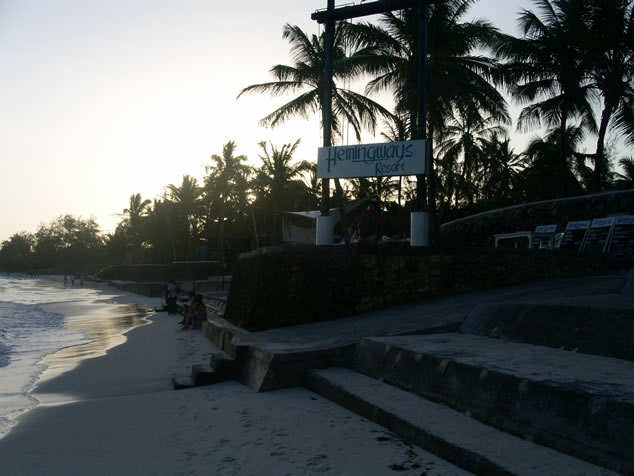 Next door is Hemingway's hotel, a five star establishment with prices to match.
Popular with white Kenyans from the Kenyan Highlands.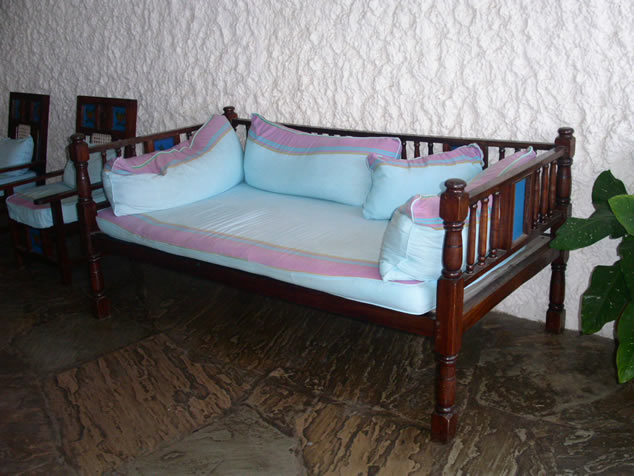 An Indian sofa-bed at Hemingway's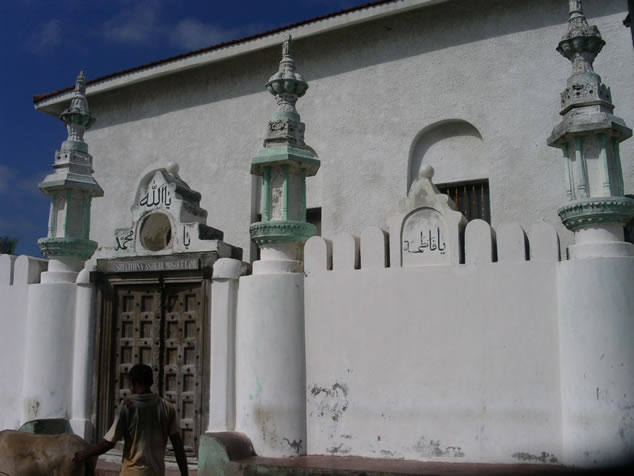 The old KSI mosque at Lamu seafront. When was it built? 1870?
One of the earliest KSI mosques, older than Zanzibar KSI mosque.
No KSI of Indian origin live or go to this mosque, but it has many local worshipers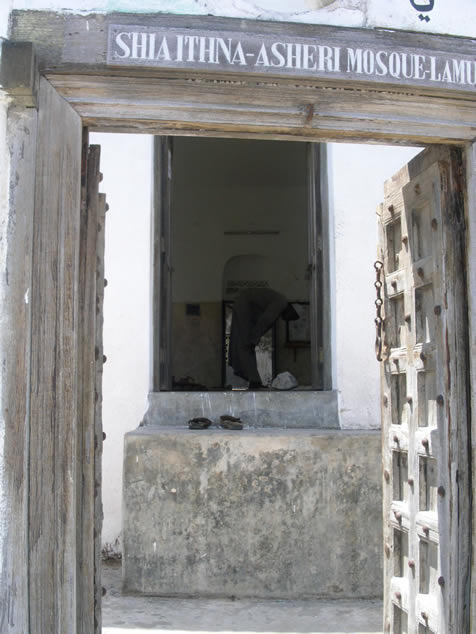 Prayers done in full view of the sea after the seafront roadway.
And sea breeze too.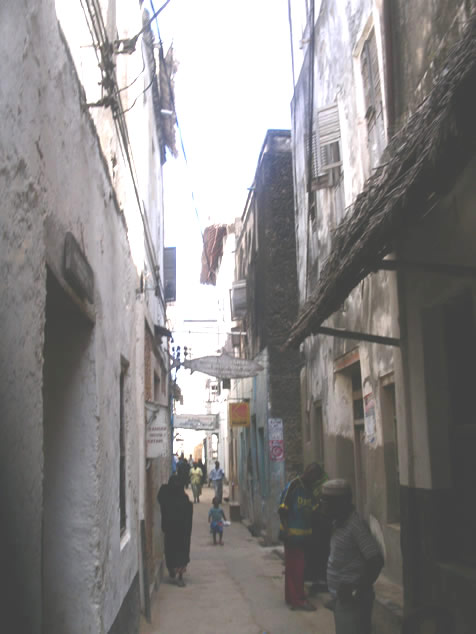 Lamu alley parallel to the seafront walkway. People on donkeys rush past in these alleys.
Smells of open gutters and donkey droppings.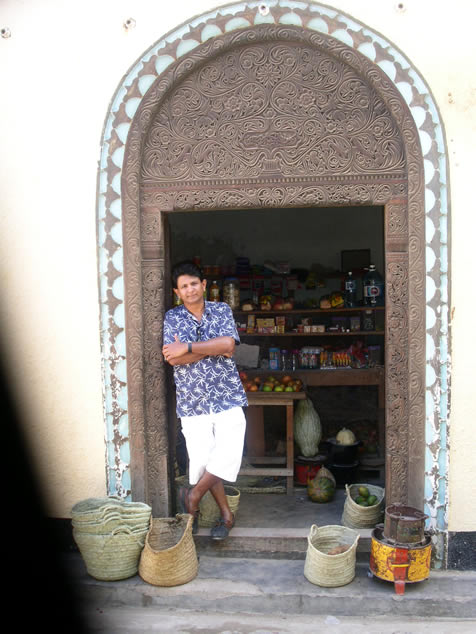 At a Lamu corner shop selling groceries, kikapu (straw bags) and sigiri (charcoal stove)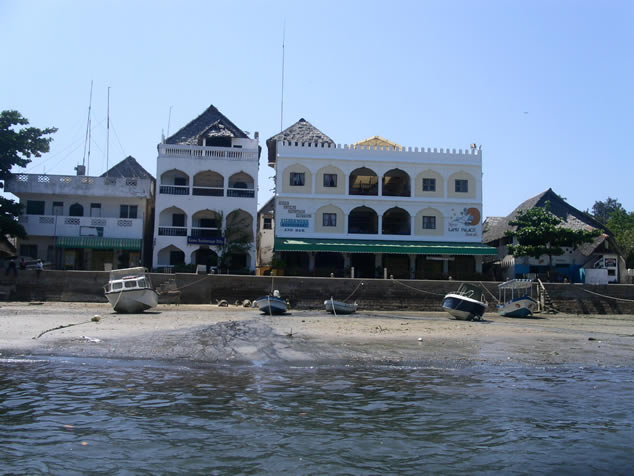 Stayed on second floor left hand windows. Low tide here. Drains empty here also and go past the boats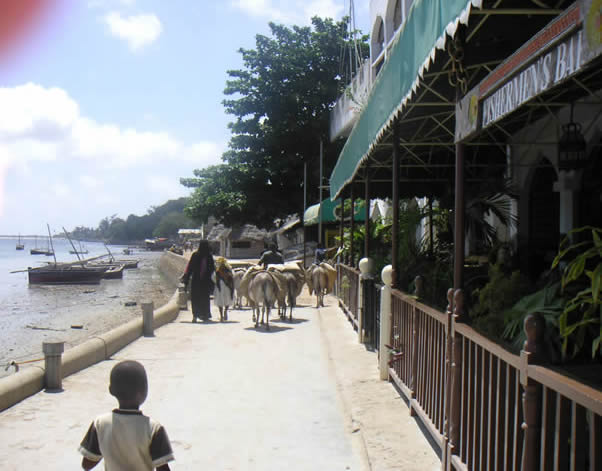 Lamu seafront walkway with donkeys doing freight transport and passenger transport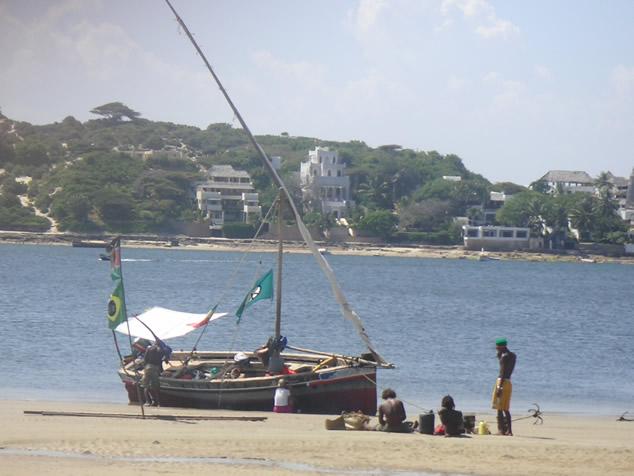 View of Lamu side from Shella Island, 20 minutes by boat from Lamu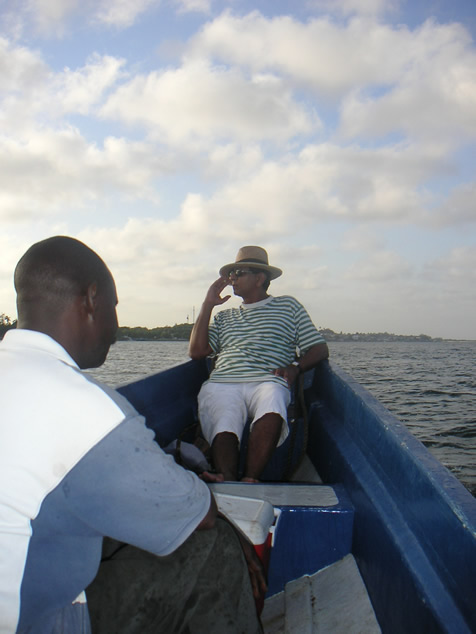 Returning to Lamu on the hotel's small motor boat