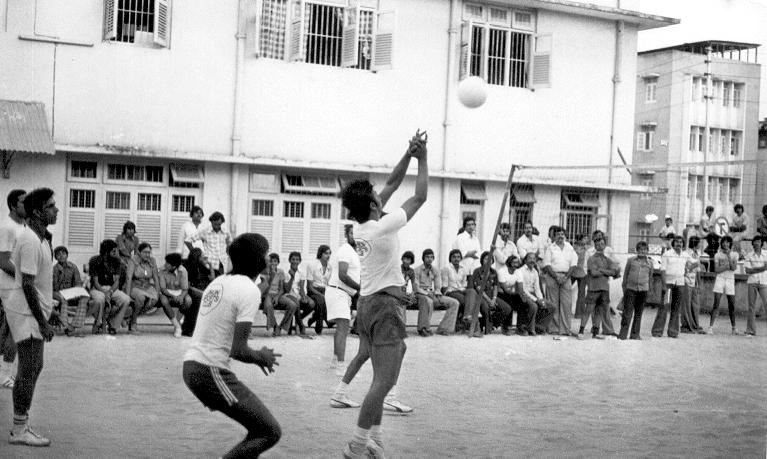 1971 - At one of the volleyball matches between USC v/s Vyamshala on Vyamshala Ground.
Mohamed Nathoo replies the ball, extreme left Kassamali Bhaloo, Bashir Tejani & Hasnain Gulamhussein..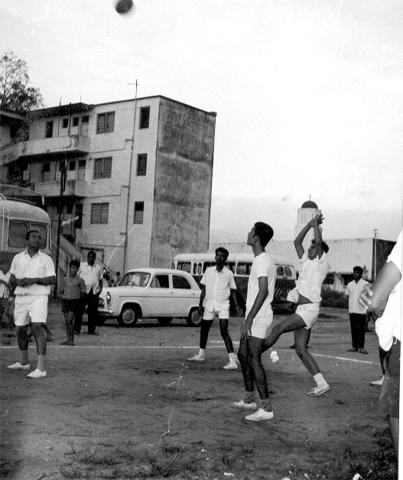 1971 - DSM - Friendly Game between DSM and Zanzibar.
Mohamed Nathoo replies the ball, Naushad(Ghaba) Damji(left), Amir Yusuf (right) & Vasant(front) watching.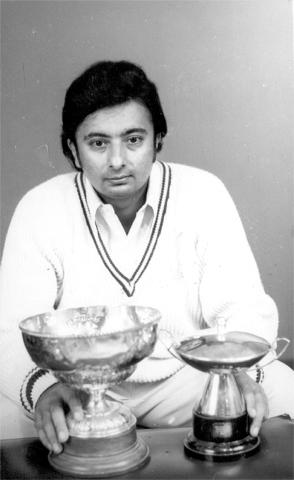 Mohamed Nathoo poses with Abul Fazal trophies, nominated as Sportsman of the Year 1975 by Africa Federation of Khoja Shia Ithnashery Jamaats.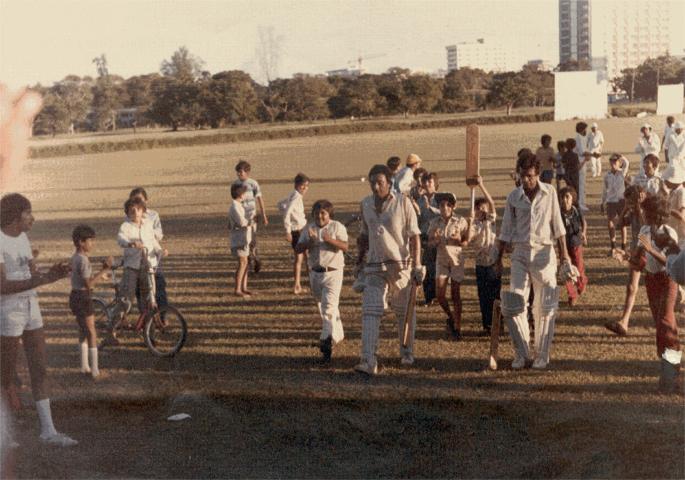 1979 - DSM - Game won by Union S. C. against Metro S. C. match played on Gymkhana Ground.
Mohamed Nathoo and Amir Yusuf walking in after the victory. Union fans and kids rejoicing.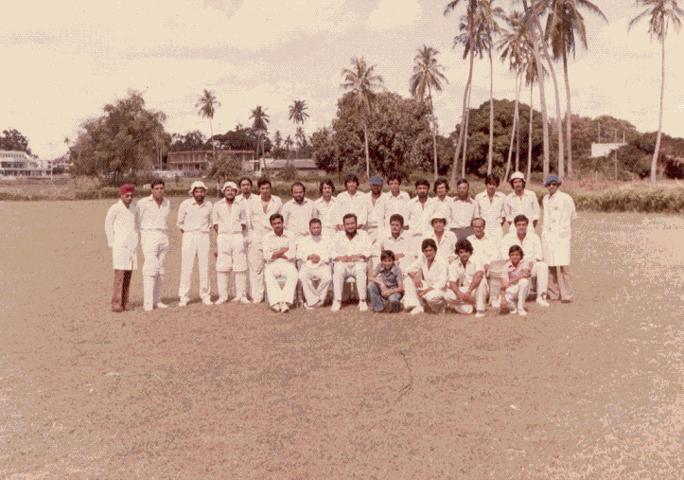 Group photograph Union S. C. - DSM and Metro S. C. - Lusaka in the Unimet Trophy Competition in DSM in 1979.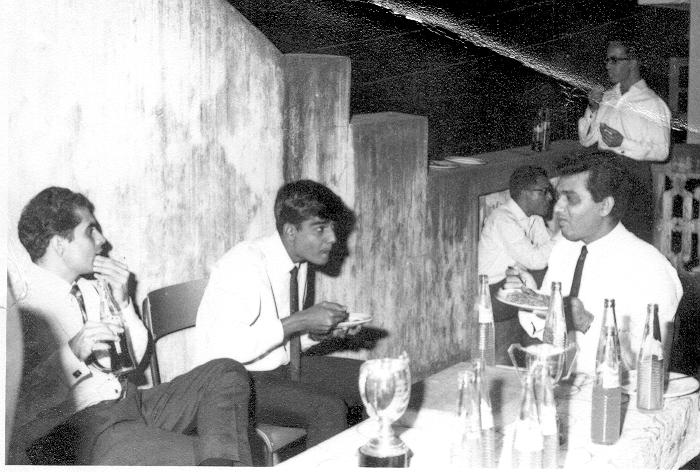 In one of the Union S.C. function at Husein Madressa-DSM roof top in 1970.
How is Biriyani? Liakat Khimji is asking Saleh Jacksi. Aunali Yusufali sitting at extreme left and Abdul Hasham standing at extreme right.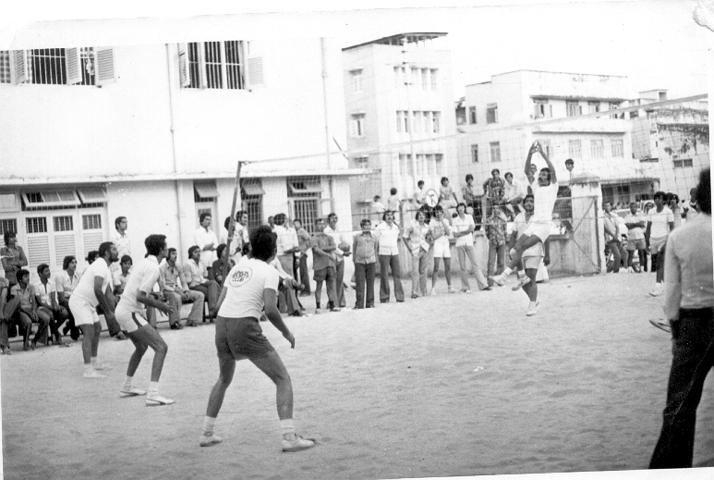 During the volleyball league match between Union "A" and Union "B" on Vyamshalla court-DSM in 1978.
Waiting to reply the ball Union "A" net players from L to R : Haideri, Amir Yusuf and Mohammed Nathoo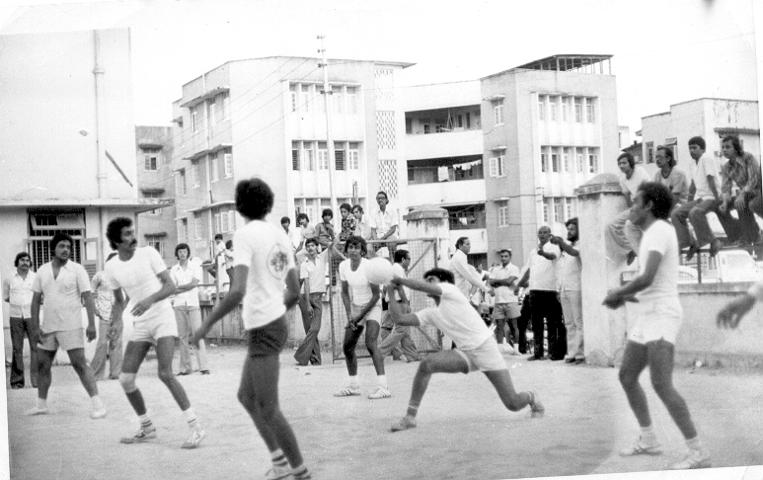 For Union "B" Murtaza Datoo replies the ball, net players from L to R : Dicky, Ali Khalfan and Shakir Sheraly, Backline Liakat Khimji(on the right) and Husein Datoo(on the left).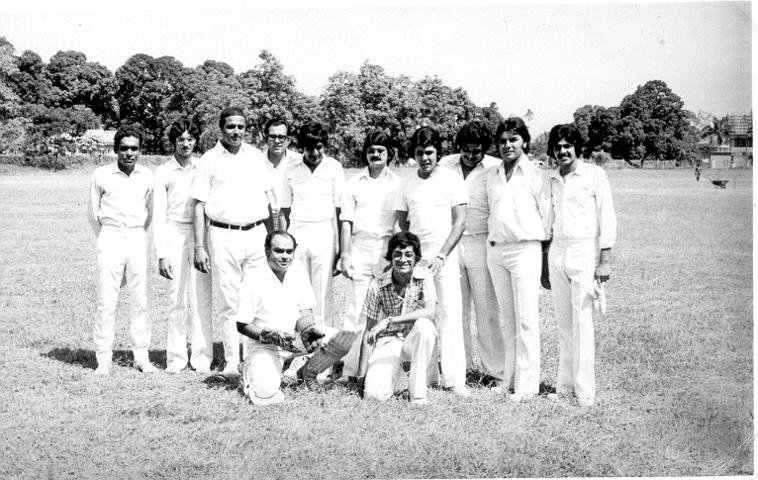 Union S. C. "B" Saturday League Cricket Champion-1976.
Standing from L to R : Husein Datoo, Nasir Taki, Kassamali Bhaloo, Ibrahim Jivraj, Liakat Khimji, Iqbal Damji(Bali), Liakat Aloo, Dicky, Husein Sultan and Jimmy Peera.
Siiting from L to R : Sabir Dhalla and Mahmood Panju.