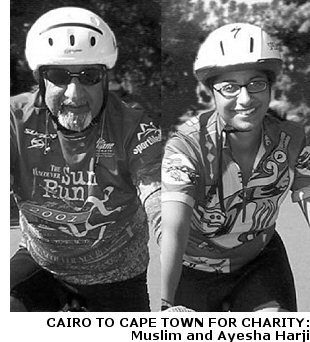 When Muslim Harji, 58, closed his bulk food store at Parc and Bernard last February after 28 years, it wasn't for a life clicking a remote on the La-Z-Boy.
On Saturday, Jan. 14, the Beaconsfielder launches a calf-punishing, shin-splitting journey across Africa on his two-wheeler, accompanied by his daughter Ayesha, 22. The duo will pedal 11,900 kilometres from Cairo to Cape Town to raise money for the Aga Khan Foundation, a philanthropic organization that builds health, education and other infrastructures in underprivileged countries.
"It's manned by volunteers, so 100 per cent of your donation goes towards the cause," he says. "You get a tax break and every dollar is matched by CIDA (Canadian International Development Agency) so a dollar becomes two dollars and then other foundations match it. It goes up to three or four for every dollar you give."
The duo will make the four-and-a-half month, 150 kilometre-a-day trip, along with about 30 others. All pay $11,000 to organizers Tour d'Afrique, a fee the Harjis are footing from their pocket.
Daughter Ayesha is prepared for the potholed perils of third world cycling. "They warned us some parts of the roads are very dangerous because of the drivers," she says. "They'll come really close and sideswipe you if you're not careful."
The recent International Relations grad from Mount Allison, says, "The trip will put a face on the work that's being done and it'll give me a chance to see the countries where my parents were born."
Her parents were fourth-generation Africans, and were evicted from Uganda in an ethnic purge concocted by insane dictator Idi Amin.
Muslim Harji returned to Africa to climb Mount Kilimanjaro five years ago when he witnessed the inroads the Aga Khan people had made. "I was in the middle of nowhere, it was a tiny village near the base camp, I walked to the road and saw a small Aga Khan clinic catering to the local population," he says. "It's a very grassroots operation and does a lot to fight illness and disease."
Those who want to pitch in to the Harjis' Pedal for Hope cause can call 697-3758. To learn about the Aga Khan Foundation, see http://www.akfc.ca.